We are all in this together!
Dunrovin Ranch collaborates with our virtual front porch community. Together, we make the DaysAtDunrovin website (we call it D@D for short), broadcasts and programs both responsive and engaging. The DaysAtDunrovin website facilitates community conversations. Our unique website integrates both sides of the screen. Those of us at the ranch participate in real time with our members in all manner of fun broadcasts including group projects, contests, games, and other activities that we cook up together to explore our mutual interests.
We at Dunrovin Ranch consider ourselves to be YOUR boots on the ground and operators behind the curtain. Help us make this the best place in cyberspace. Get engaged. Give us feedback. Make suggestions. And most importantly, have fun with us enjoying this special place.
DaysAtDunrovin is all about using Dunrovin Ranch as a place of common interest for socializing, making friends, learning things together, and creating community. Take a moment to learn about ways to interact with the community and how we make it such a friendly, safe place for everyone.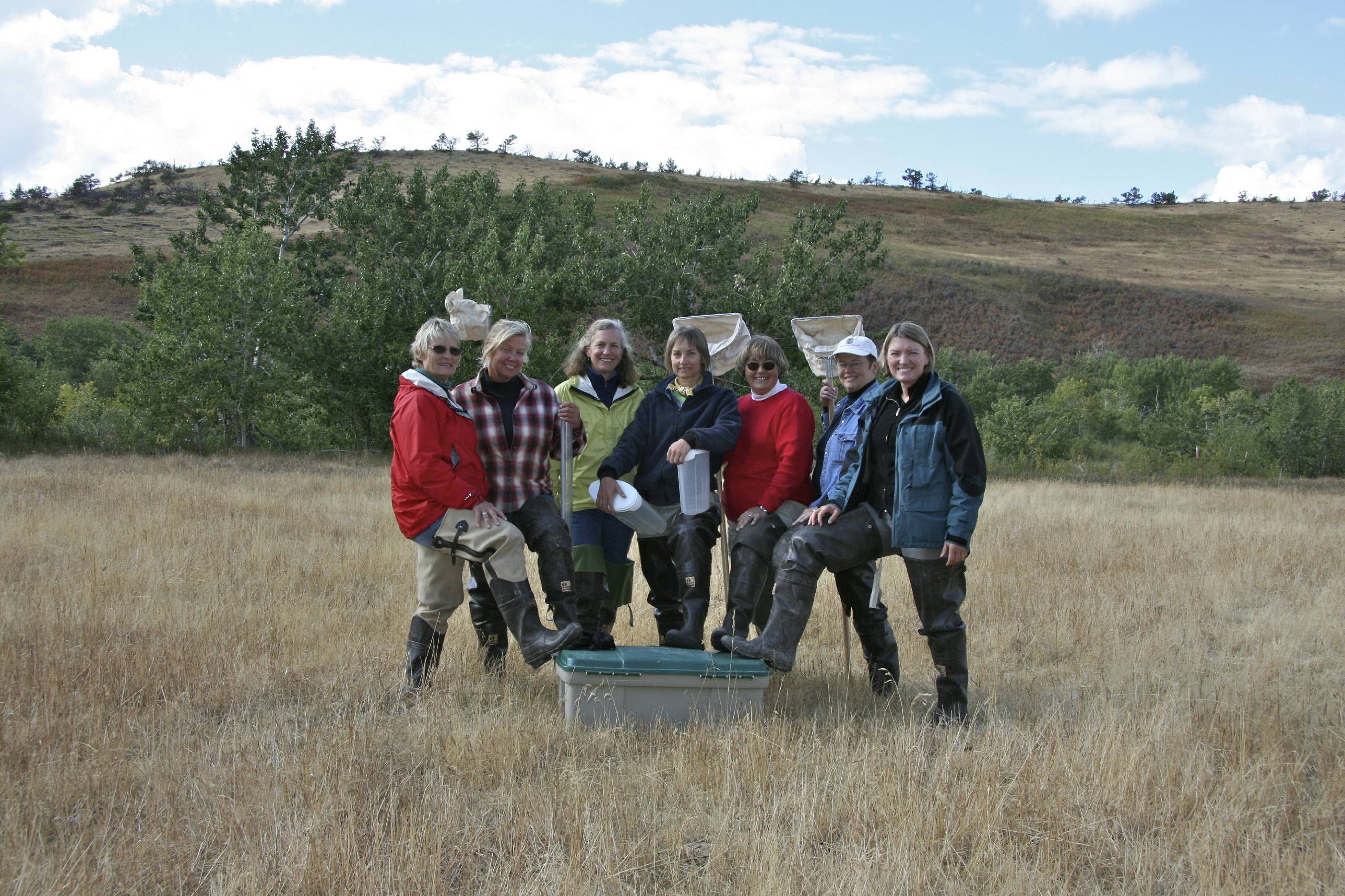 Community interactions are at the heart of the DaysAtDunrovin website. Dunrovin strives to maximize the opportunity for D@D members to participate and get engaged at any level they desire. Take a look at the options for connecting with us and your fellow D@D members.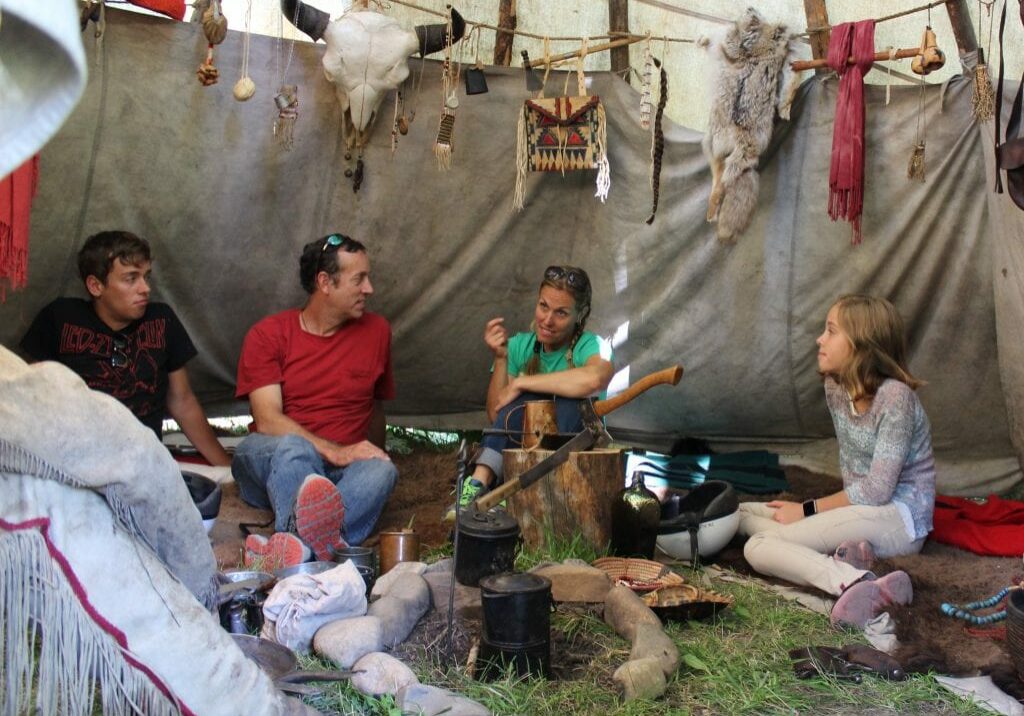 CHATTING
Real-time visiting with Dunrovin staff, guests, and other D@D members takes place in D@D's Chatting Facility. While members can "back load" previous chats, the chatting facility is intended for conversations among people who are all on the website at the same time and responding to one another's "chats."
D@D Chat Facility
The Ranch Chat Room appears along side of all the webcam broadcasts. It is intended for chatting about ranch activities. We ask members to confine their chats to ranch-related comments that are of interest to all viewers.
The Member Chat Room is open to everyone to discuss whatever topic they desire. As our community grows, we will open up separate "neighborhood" chat room so people can sort themselves out into smaller groups.
Topic Chat Rooms are centered on specific topics such as birds, Book Club, etc. We ask members to please stay on topic when communicating in these chat rooms.
Private Chat Rooms are created by D@D members to host private conversations. Members simply invite friends or family to join them in a temporary chat room that disappears after their use has ended.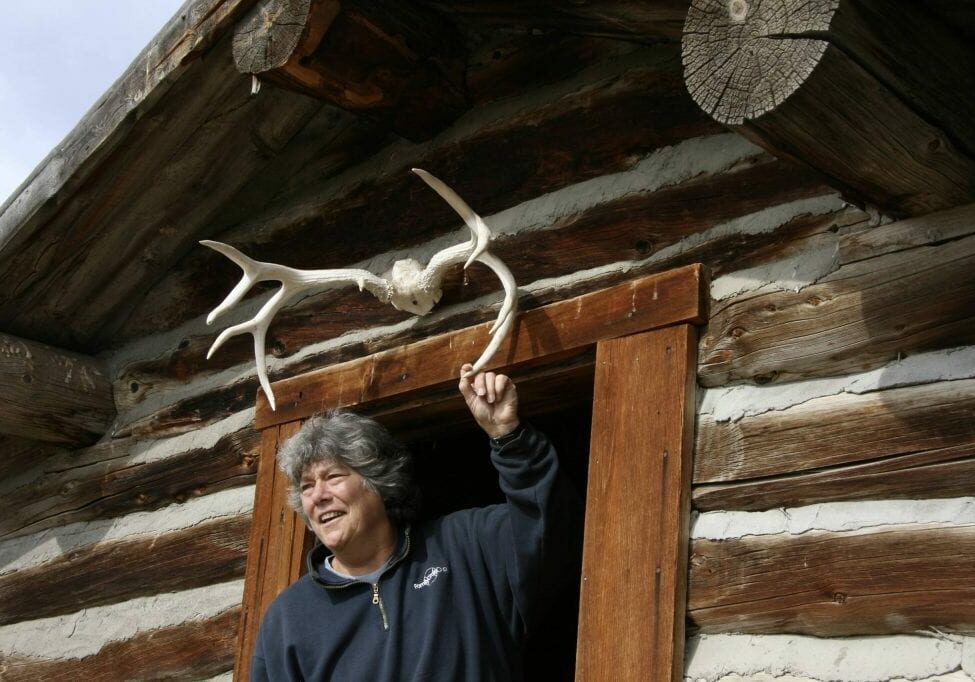 discussions
Discussions are on-going conversations centered on a specific topic that happen over time and do not require everyone to be on the website at the same time. D@D's Discussion Broads allows members to post their comments, photos, and videos for others to see, and add to, whenever they visit the Discussion Board.
D@D discussion Boards
D@D organizes its Discussion Boards by topic and asks members to adhere to the stated topic when adding posts, photos, or videos.
The RANCH DISCUSSION BOARD appears below all of the web camera views where members can post comments, photos, and videos of anything related to ranch activities.
Some D@D Programs have their own Discussion Boards. For example, the BOOK CLUB DISCUSSION BOARD is intended for members to use to exchange their thoughts on each book. Many Learning Adventure also have their own discussion boards.
The Community Program is a member driven section of the website and is found under EXPLORE on the main menu. It features two general Discussion Boards. The WEBSITE DISCUSSION BOARD is for comments and suggestions regarding the website. The COMMUNITY DISCUSSION BOARD is an "anything goes" board where members are free to stray to any topic they desire. Members can request additional discussion boards around any popular topic. For example, if members desire, D@D can create a FOOD DISCUSSION BOARD for members to exchange recipes and tips on healthy foods.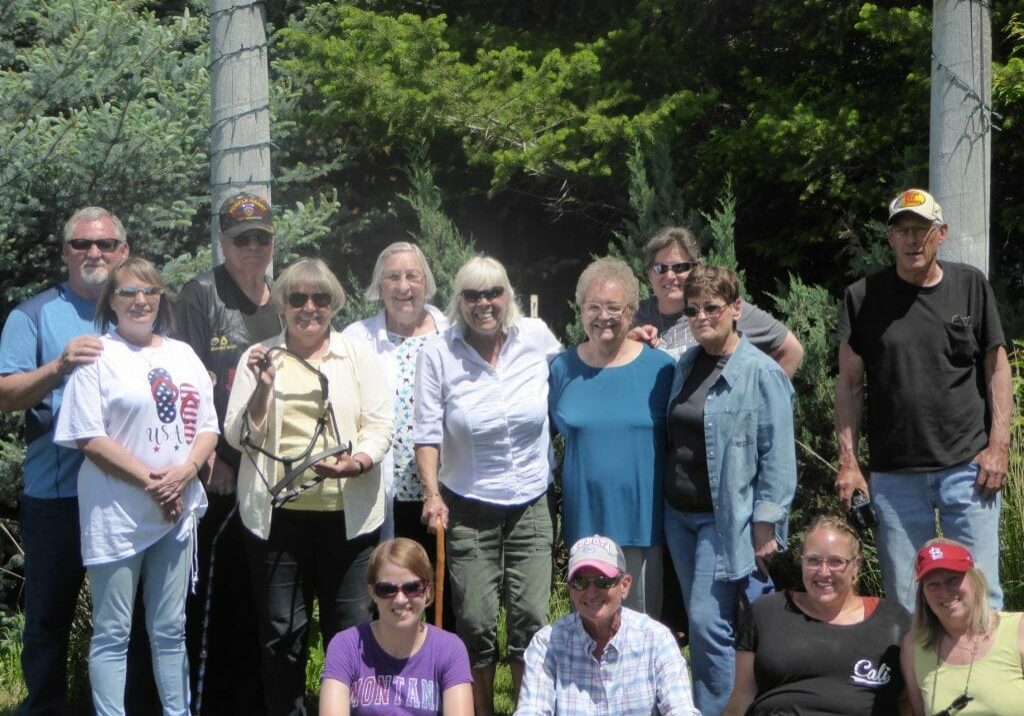 Broadcasts
Dunrovin frequently puts out requests for member volunteers to get engaged in web camera broadcasts. It's so much fun to get to know one another in a multitude of ways and to see and hear each other as well as read each others' written comments and chats.
Participating in D@D webcam broadcasts
By Phone and/or Photos - The easiest way for us to get a D@D member involved is to have them on the phone during a broadcast and show photos or videos that they have contributed. This can take many different shapes. Members can be on the phone directing the webcam action, telling staff where to take the entire community with the web cameras. D@D can broadcast a slide show of a member's pets or birding adventures.
By Video Conferencing - With some technical coaching, many D@D members can connect their computers directly to Dunrovin's so that D@D can broadcast live video discussions for all to see and hear.
In Person at Dunrovin - What a treat it is to host D@D members at Dunrovin Ranch and get them live before the web cameras as we introduce them to the animals and places that they have been watching.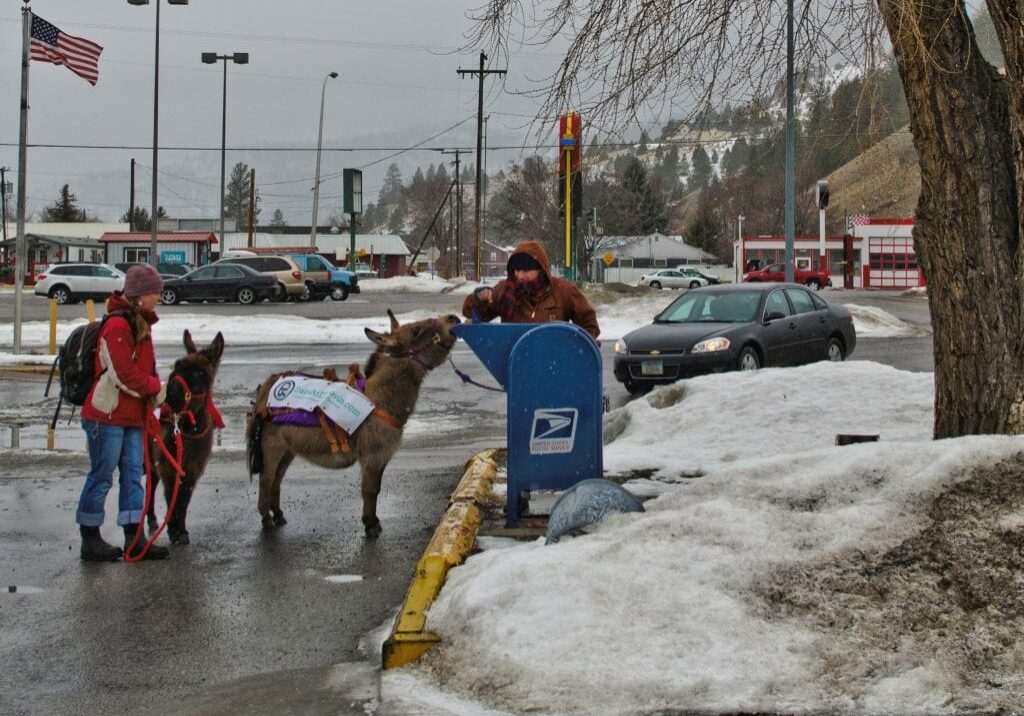 mail, email, surveys
Dunrovin's Donkey DIVAS love going to the post office in any weather to drop off and pick up mail for D@D members. D@D uses nearly method at its disposal to interact directly with community members, including the old fashions postal service, email, and online survey questionnaires.
other forms of communication
By Old Fashioned Mail - Dunrovin happily receives mail from D@D members and loves sending them cards and letters as well. Of course, in order for Dunrovin to send something in the mail, YOU must give us your mailing address, which you can include in your memberships profile. Dunrovin's mailing address is P. O. Box 822, Lolo, MT 59847.
By Email - Some members prefer to communicate with us via email rather than chatting or posting on the discussion boards. We happily respond to member emails and we occasionally send members emails to update them. Send us email to [email protected].
By Surveys - D@D has discovered that be a very effective way to get good feedback from members and to gather information about each other that we can share. For example, to celebrate Labor Day, D@D sends out a member survey with questions about members' work lives, and then summarizes the results for all to share. It's a great way for the community to come together.
The D@D community is open to all
Dunrovin Ranch and its DaysAtDunrovin virtual front porch are welcoming, inclusive places. We place great value on community, education, science, and the arts. We are a gathering place for people of all ages, abilities, and walks of life. D@D welcomes all regardless of gender, religion, race, political views, sexual orientation, nationality, ethnicity, financial status, or physical/mental capabilities. We honor and celebrate the differences that make us unique human beings. We ask all who share the Dunrovin world to embrace these values.
Conversation Guidelines Ensure
Safety, Kindness, and Respect
Conversations flow freely when people are confident that they will be well received. D@D maintains a friendly, family atmosphere. We ask all who participate to abide by some simple rules. While we understand that everyone makes mistakes, we will intervene should anyone repeatedly violate these rules.
Pease respect the Following Guidelines:
For Posting:
Please be nice! Be respectful!
Be generous and forgiving!
NO bullying or name calling.
NO foul or offensive language.
NO proselytizing or circulating petitions
NO soliciting or party politics.
NO references to sex or illegal activities.
NO references to religious differences.
Stay on topic when appropriate.
Don't dominate the conversation.
Don't exclude others. Be inclusive.
 For Engaging Staff:
Dunrovin Ranch and D@D welcome all comments and suggestions connunicated through proper channels.
Respect the privacy of Staff and Guests.
Contact all Dunrovin Ranch and D@D Staff and Guests only via this web site.
Use [email protected] for all Dunrovin emails.
Mail letters to Dunrovin Ranch, P O Box 822  Lolo, MT 59847.
Phone Dunrovin at 406-273-7745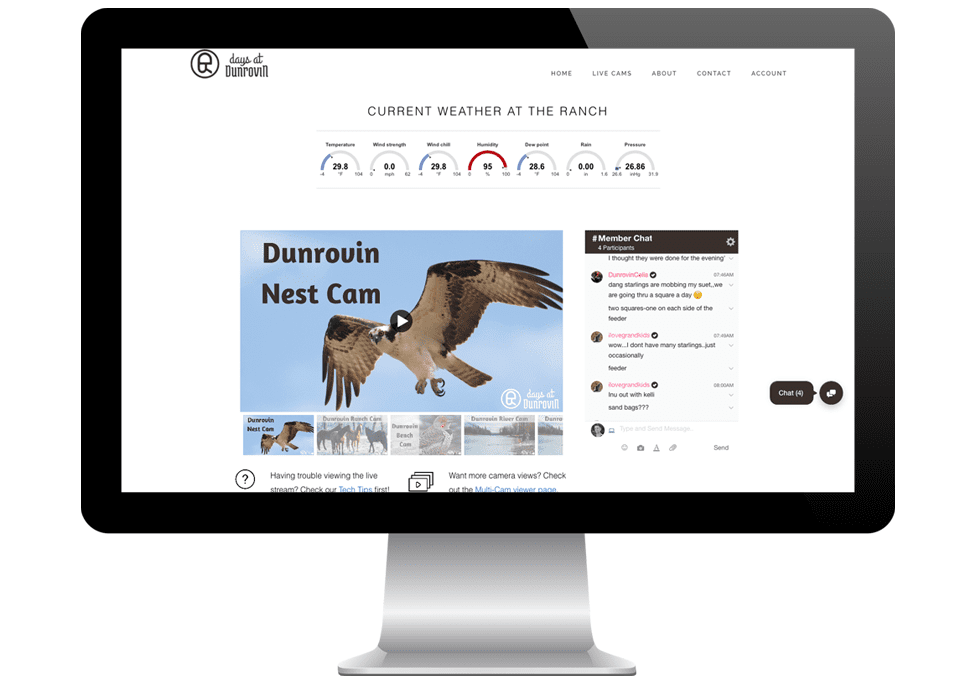 The D@D website has options to suit a wide range of interests and computer savvy. We want new members to have an easy path getting started and be able to use additional ways of engaging as they become comfortable with the community and the site. So take a look at all the site offers to find what best suits you.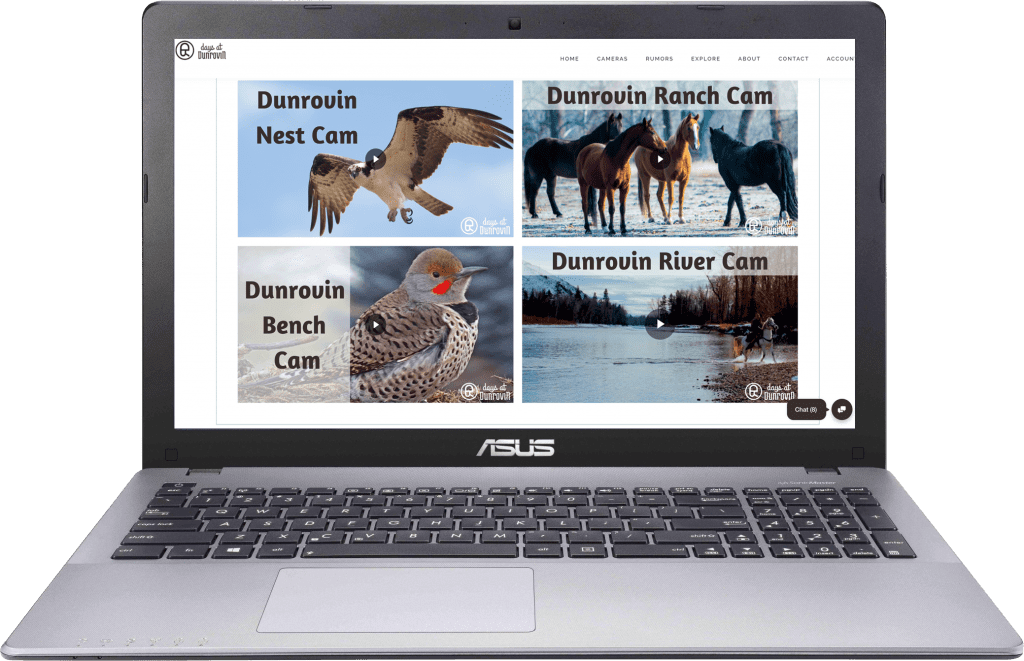 The D@D website
D@D's website is intended to make it easy for community members to watch and interact with Dunrovin Ranch and one another. D@D recognizes that members have different computer hardware and software, varying strengths of internet connections, a wide range of skills and experiences with operating computers, and multiple ways of interacting with the D@D website. Hence, D@D tries to give members lots of options to suit their individual situations.
There are several things to do and see on the website, and it is easy to to engaged with the community.
Watch
DaysAtDunrovin broadcasts four live camera feeds, 24 hours a day. Each of these feeds can be pulled up and viewed live on our live cam viewer page.
There is also an option for Multi Cam viewing if a user has enough internet capacity to support watching multiple live streaming cameras at the same time.
Chat
Every DaysAtDunrovin member has access to our instant live chat feed for easy interaction with other members. Chatting is as easy as typing in a comment and enjoying the various conversations that take place all day.
Our chat rooms are moderated by an experienced group of members that are enthusiastic to help new members and help keep the conversations meaningful and respectful.
Explore
There is an abundant amount of interesting content throughout the site covering a wide range of topics. Members get access to all Dunrovin content, past and present.
Blog posts, interviews, animal training, learning adventures, and birding science are just a few of the things members can enjoy reading about and watching throughout the site.
Technical Support
While the Dunrovin staff strive to provide the best possible website experience possible, we understand that not everything works out perfectly all the time. The technical gremlins are always knocking at the door! (We like to jokingly blame it all on the donkey DIVAS, of course.)
The live camera viewing pages offer several helpful tips for common issues viewers may experience when watching the live videos. And our experienced members on chat can often respond to common technical questions or requests.
If you can't find a solution in our video Tutorials, on our Tech Support page, or in live chat, please email us anytime at [email protected] an we'll get back to you as soo as possible. We want your visit with us to be meaningful and as stress-free as possible!