We are all in this together!
Dunrovin Ranch collaborates with our virtual front porch community. Together, we make the DaysAtDunrovin website (we call it [email protected] for short), broadcasts and programs both responsive and engaging. The DaysAtDunrovin website facilitates community conversations. Our unique website integrates both sides of the screen. Those of us at the ranch participate in real time with our members in all manner of fun broadcasts including group projects, contests, games, and other activities that we cook up together to explore our mutual interests.
We at Dunrovin Ranch consider ourselves to be YOUR boots on the ground and operators behind the curtain. Help us make this the best place in cyberspace. Get engaged. Give us feedback. Make suggestions. And most importantly, have fun with us enjoying this special place.
DaysAtDunrovin is all about using Dunrovin Ranch as a place of common interest for socializing, making friends, learning things together, and creating community. Take a moment to learn about ways to interact with the community and how we make it such a friendly, safe place for everyone.
The [email protected] website has options to suit a wide range of interests and computer savvy. We want new members to have an easy path getting started and be able to use additional ways of engaging as they become comfortable with the community and the site. So take a look at all the site offers to find what best suits you.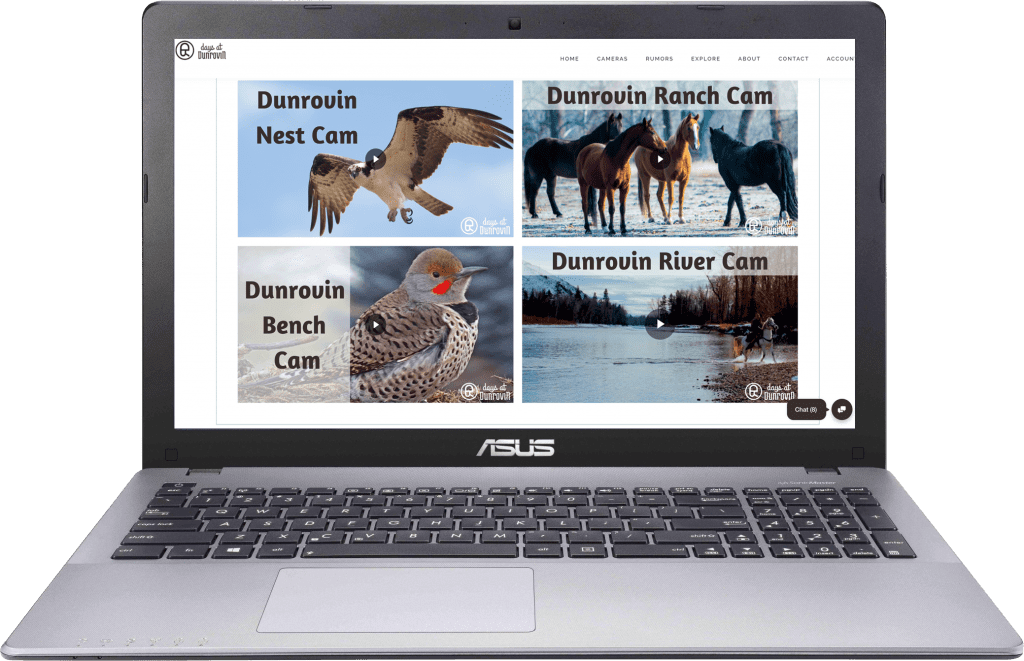 [email protected]'s website is intended to make it easy for community members to watch and interact with Dunrovin Ranch and one another. [email protected] recognizes that members have different computer hardware and software, varying strengths of internet connections, a wide range of skills and experiences with operating computers, and multiple ways of interacting with the [email protected] website. Hence, [email protected] tries to give members lots of options to suit their individual situations.
There are several things to do and see on the website, and it is easy to to engaged with the community.
Watch
DaysAtDunrovin broadcasts four live camera feeds, 24 hours a day. Each of these feeds can be pulled up and viewed live on our live cam viewer page.
There is also an option for Multi Cam viewing if a user has enough internet capacity to support watching multiple live streaming cameras at the same time.
Chat
Every DaysAtDunrovin member has access to our instant live chat feed for easy interaction with other members. Chatting is as easy as typing in a comment and enjoying the various conversations that take place all day.
Our chat rooms are moderated by an experienced group of members that are enthusiastic to help new members and help keep the conversations meaningful and respectful.
Explore
There is an abundant amount of interesting content throughout the site covering a wide range of topics. Members get access to all Dunrovin content, past and present.
Blog posts, interviews, animal training, learning adventures, and birding science are just a few of the things members can enjoy reading about and watching throughout the site.
Technical Support
While the Dunrovin staff strive to provide the best possible website experience possible, we understand that not everything works out perfectly all the time. The technical gremlins are always knocking at the door! (We like to jokingly blame it all on the donkey DIVAS, of course.)
The live camera viewing pages offer several helpful tips for common issues viewers may experience when watching the live videos. And our experienced members on chat can often respond to common technical questions or requests.
If you can't find a solution in our video Tutorials, on our Tech Support page, or in live chat, please email us anytime at [email protected] an we'll get back to you as soo as possible. We want your visit with us to be meaningful and as stress-free as possible!