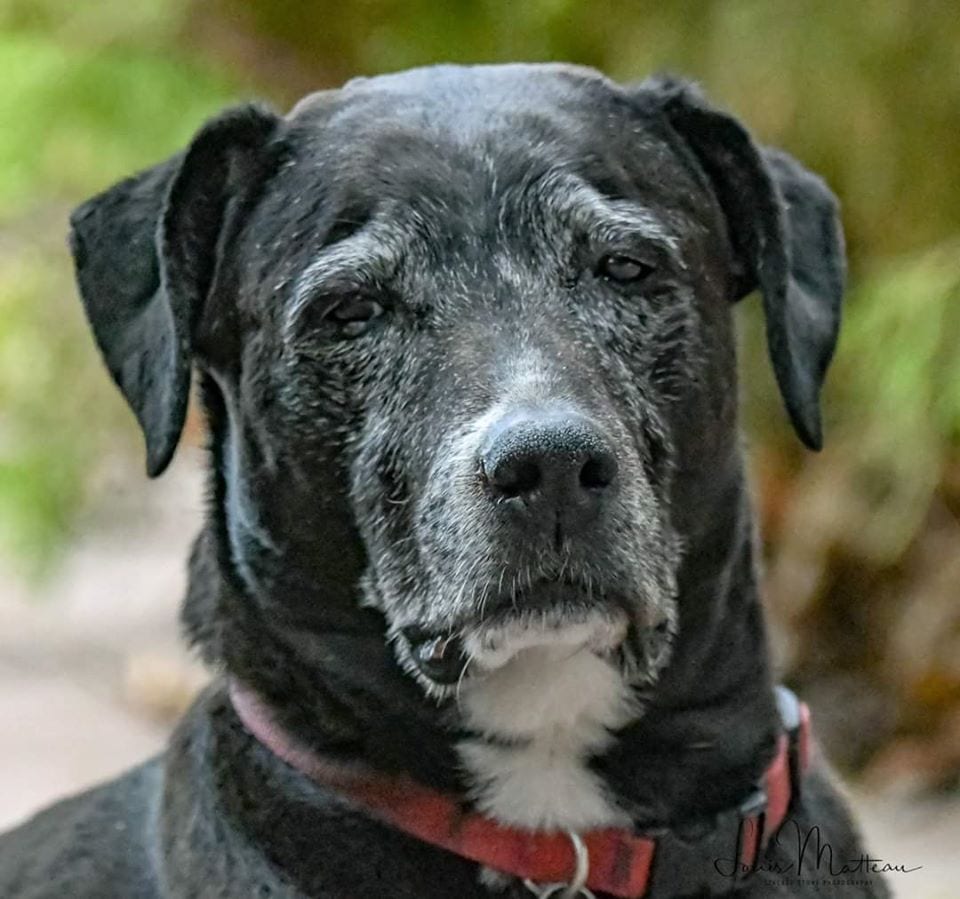 She is old now. I can feel my heart bracing for the ultimate loss. I cannot see her now without being thankful that she has been with me long enough for her face to turn white, her eyes to sag, and her mouth to drool. Lumpy, awkwardly moving along at an ever-slowing pace, easily distracted and in constant need of shepherding lest she lose her way and her tail, now nearly bare of fur, revealing each vertebrae, she remains a beautiful sight to me. May we have this one last summer together. May her eyes lead her to fetch one last ball. May she feel again the joy of the river waters cooling her belly on a hot afternoon. When it's time, may she go in peace with me at her side. May I appreciate every moment with her until then.
My life with dogs
Dogs have been with me throughout my life. The only time I can remember being without a canine companion was while living in an apartment in the bustling metropolitan city of Santiago, Chile. In reflecting on all my canine companions, I now realize that I have always had the perfect dog for every stage of my life.
While living in Seattle, my pound rescue dog Majah (who looked like Maharishi Mahesh Yogi; hence, the name) was a sophisticated big-city creature who adapted perfectly to streets with endless traffic in multiple lanes. He was small enough to easily fit  into the boxes on the back of Sterling's or my bicycle. He would run along on the sidewalks while we bicycled the streets, then wait at the street corners for us to arrive to yell "go" before jetting across the street. When his legs gave out, he would jump into the box to continue the journey.  This all translated to his teaching himself to wait at the street corners with crosswalk lights to safely cross with other pedestrians. Seriously, I was once driving alone on a main Seattle thoroughfare when I spotted Majah waiting at the light. I pulled over to the curb to watch—and sure enough, he safely crossed with all the people. I did not interfere as I knew he had an important destination on his mind.
And during my years in Alaska, Tañia was my ever-present pal for fishing trips and cross-country skiing. A Samoyed, she was completely ill-suited to be a water dog with her heavy coat of lush long white fur; but that didn't stop her from being a total pest on fishing trips. She caught many salmon by herself. At the sound of the line whirring through the reel when a fish was on, she would jump into the water and try to land the fish herself. My only recourse was to tie her to a tree!
Equally exciting to her were cross-country ski trips and winter camping. Eventually, I purchased a small dog sled and taught her and her daughter to pull me on numerous adventures. I even hitched them up to my Swedish Pulk with my baby Jake strapped in and me on cross country skis beside them. Things went well until Tañia spotted an Arctic hare and took off across a frozen lake, flipping the pulk over and dragging Jake upside down. He was laughing when I caught up to them! I loved those dogs and those wonderful times.
Jewel my Perfect Dunrovin Dog!
Jewel came along during my river and horseback riding phase here at Dunrovin. No dog could have been a better fit. She practically defines what it means to live at Dunrovin: ever-ready for an adventure, burning the candle at both ends, heading out to the back country for some fast trail rides only to come home and cool off with a river float, daily morning walks, frequent mountain hikes, and endless games of fetch.
An incredibly smart dog, Jewel has tackled and mastered every job and every activity that has come her way. The photos below testify to the various sorts of dog that are rolled up into one incredible Jewel.
Jewel, the expert water dog, has yet to find a body of water that did not immediately call her in. One of my big regrets is that Dunrovin Ranch did not have the Bitterroot River web camera installed until Jewel's days of jumping in to fetch a ball were in her past. I would have loved to share Jewel's water athleticism with all of you. Talk about smart! She had the physics of water flow down pat. She never swam to where the ball was but swam to where she needed to be to have it literally float into her mouth. Try as you might, you couldn't catch her making a mistake. It didn't matter whether you threw it upstream or down, she knew when to run along the shore before plunging in and when to hit the water immediately. The river couldn't fool her either, she unerringly swam to exactly the right spot regardless of river depth or speed.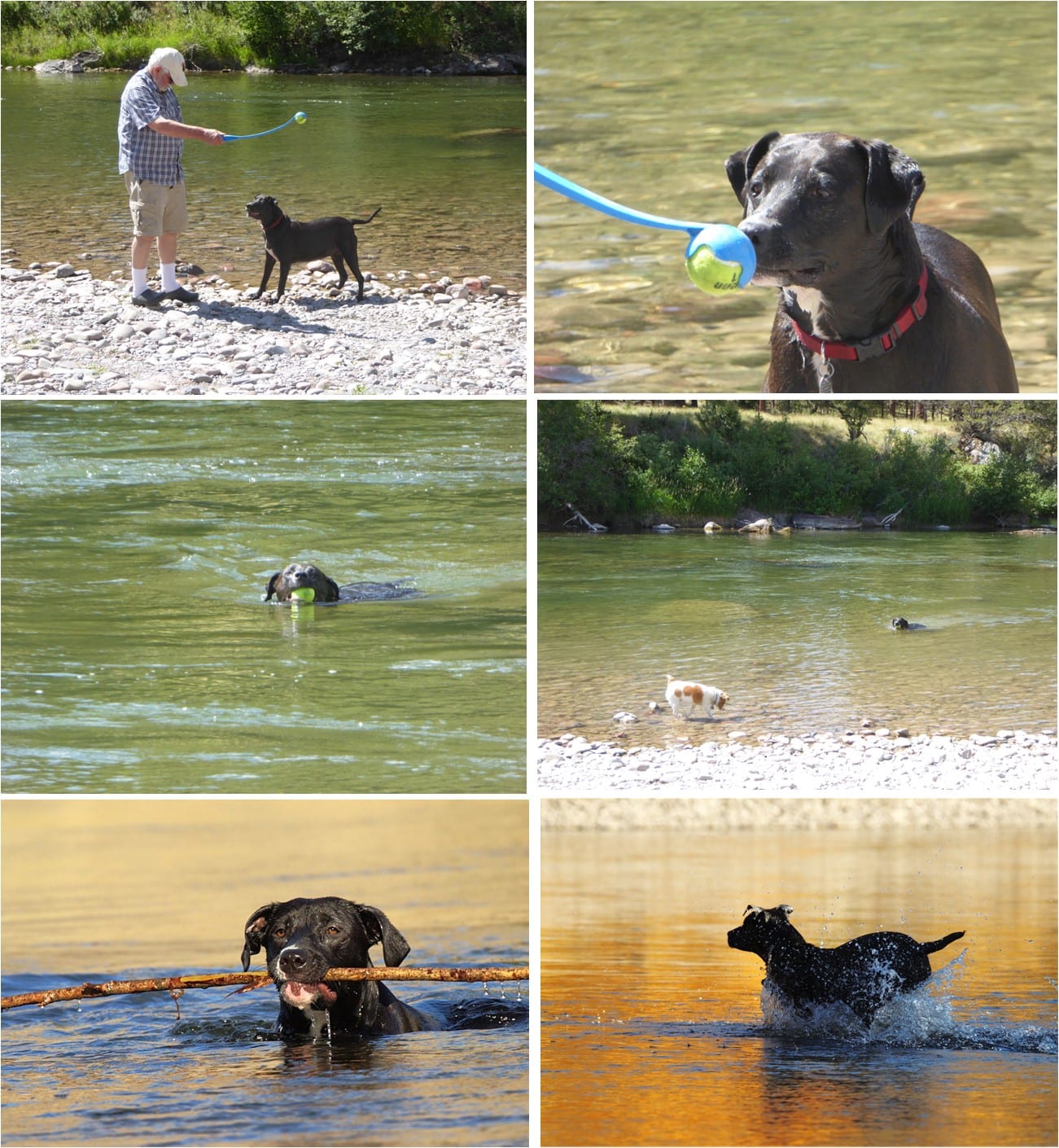 Jewel, my hiking and walking companion, literally goes everywhere I go. Just ask the longtime DaysAtDunrovin members. When they see me, they see Jewel. In fact, staff at the ranch don't really look for me, they look for Jewel. If I am in my office or home, she is outside the door. Find Jewel lying outside the tack room, and you'll find me inside.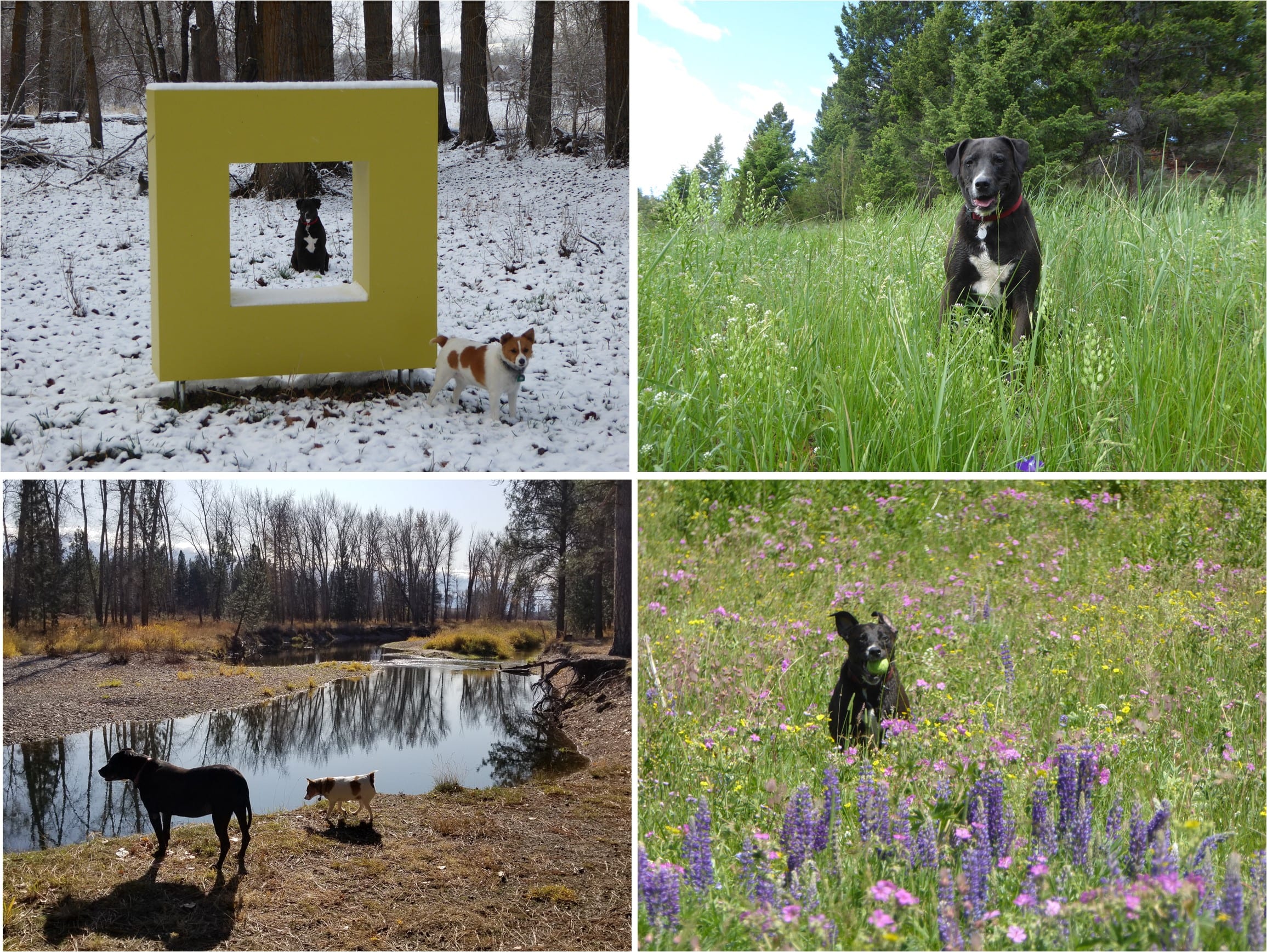 Jewel, the relentless fetcher, is partially responsible for the trashed rotator cuff in my right shoulder. My poor right shoulder was daily moving bales of hay, lifting saddles, and forever throwing sticks and balls as far as possible to placate Jewel. I admit that I took sadistic delight in tormenting her before the actual toss. She would be made to sit and stare at the object of her passion while I taunted her by asking "are you sure you want me to throw this?" Her eyes fixated, her body a bundle of taut muscles ready to explode, she would endure my torture knowing that ultimately I would relent and off she would go.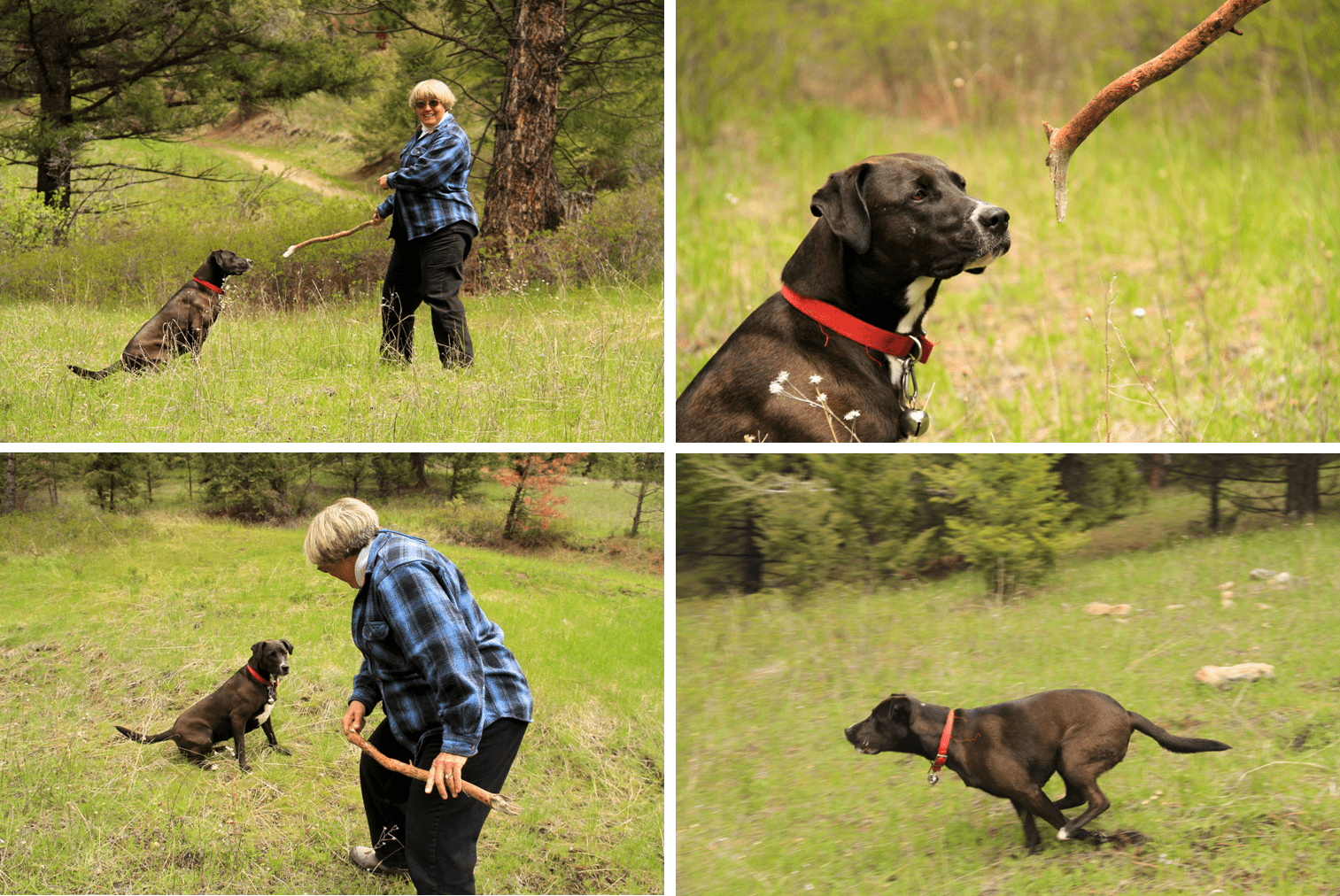 Jewel, the master trail scout, would pace herself. Arriving at the trailhead, she conserved her energy knowing that it could be a long, long day ahead. She sat when we stopped, even using our shadow for shade. She drank at every stream we crossed and let me know when it was time for her to jump up on my stirrup for a drink when it had been too long between water bodies. Her one and only problem as a trail dog, was that she HATED to ride in the trailer with the horses. Open the truck door while getting the horses into the trailer, and you would soon find Jewel hunkered down on the seat near the window trying to hide her rather large body, hoping to remain invisible until we were on the road and she had secured a position up front with her people.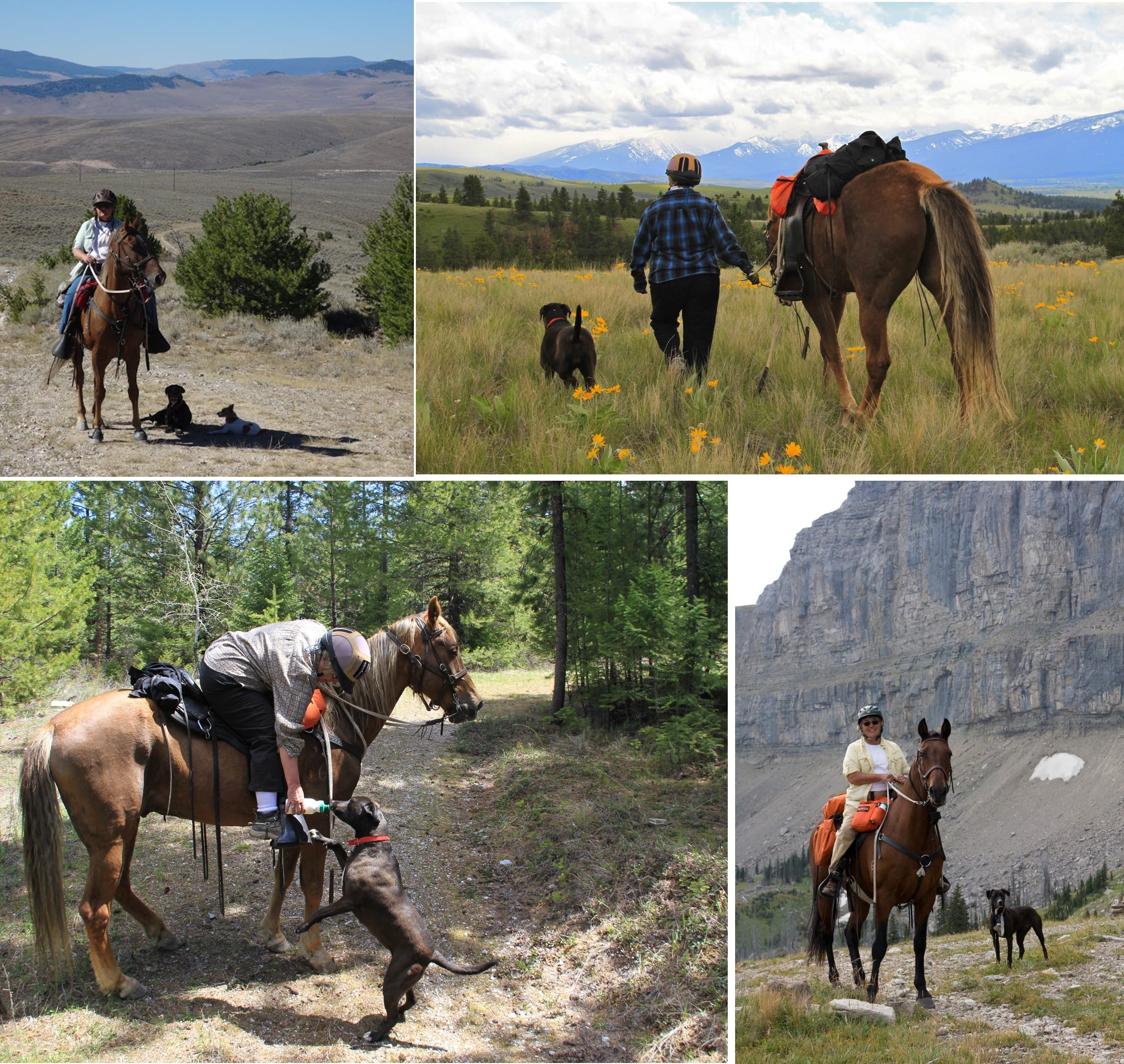 Jewel, the ever-patient big sister, is a candidate for canine sainthood. Anyone who knows anything about Dunrovin knows that Kola has earned the title of the "best worst thing" on the ranch. Kola means "like a little brother" in Lakota Sioux. Well, Jewel has every right to disagree with his name! How she so willingly puts up with his entitled attitude and insistence on using her as his pillow, his playmate, his protector, and his fellow mouser is beyond praise!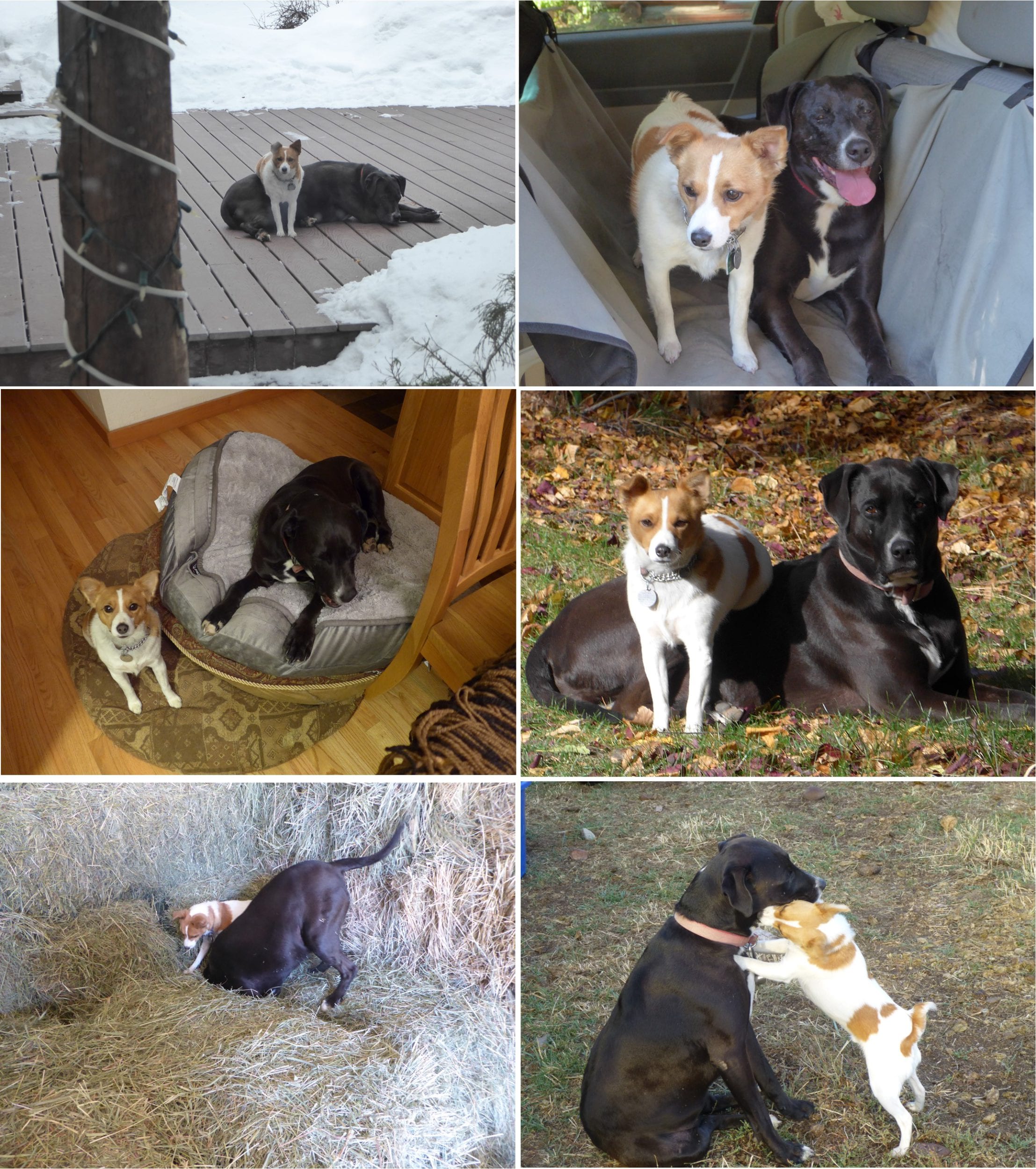 Jewel, her last role as my aging companion, is a gift to me. Like Jewel, I find my body unable to do many of the activities I once pursued with vigor. My go power got up and went. My life's frequent encounters with the medical world has left me with numerous scares and more than my share of aches and pains.  The mountains seems steeper, the rivers run faster, and the days, at times, seem too long. But also like Jewel, I treasure what I can do. She is my mentor. She does not fret about what is not or what has been but is always present in the now. She enjoys what she can, tries to keep up, and knows that moving along is the only reasonable course of action. It is all any of us can do and I am to blessed to be doing it with Jewel.