There has been a flurry of activity at the nest this year with musical mates, and apparently, former Dunrovin chicks returning for a visit or to challenge Harriet and Swoop. NEWS: Harriet's chicks return to challenge nest / STORY: Dunrovin Osprey Chicks
Previous season's chicks return;  challenge nest 
Banding osprey chicks is a very useful tool to help scientists track migration routes, habits and habitats, nesting sites, and mortality rates.  We at Dunrovin have been fortunate to have been able to track several banded birds that have fledged at Dunrovin.
This year we got quite a surprise when we discovered, through our astute volunteer webcam operators, that not one, but two birds who challenged Harriet and Swoop on the nest this year were banded. Those birds were two of Harriet's chicks that hatched here at Dunrovin in 2018!
Obviously ospreys tend to return to their nesting sites year after year, as we witness every year with Harriet. And it's conceivable that other offspring of Harriet's could be in this area; if they were hatched before the University of Montana began banding Harriet's chicks in 2011, we have no way to track them.
We have two videos for you; the first shows the banded osprey that attempts to land on June 6, 2020, when this year's chick, Lucky, is only one day old.
The band, which, with stop-frame and digital zoom, looks to read "0J," would identify this bird as Wakati, the first chick to hatch in 2018.
The next day, Congo, the second chick to hatch in 2018, attempts a landing on the nest and is chased off by Swoop. (The first part of the video does not have sound).
We have tracked at least three other ospreys who have hatched in the Dunrovin nest.
Sadly, the body of one of Harriet's offspring, Dilly, the third chick hatched on the nest in 2013, was found three years later on Highway 93 between Missoula and Lolo with a fish in its talons–it had been hit by a car. Its distinctive band was used to identify the bird.
Honor was the first chick that hatched at Dunrovin in 2016. It was photographed by Linda Murdock in Texas on January 13, 2017.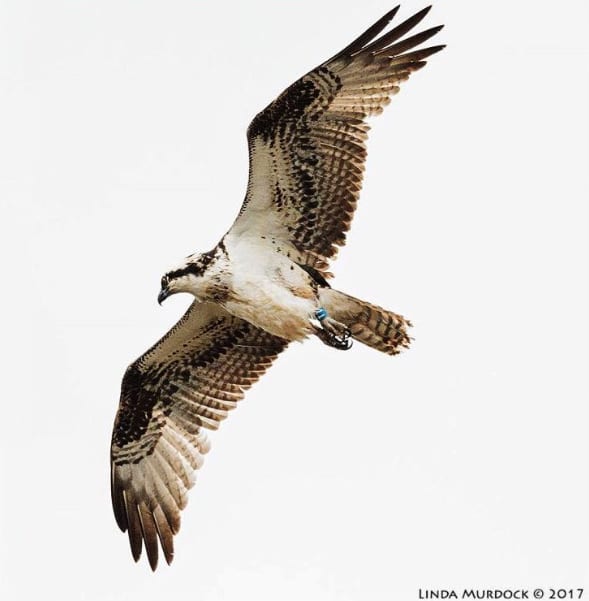 And Honk,  the first chick hatched on the nest in 2017, was photographed by Cheri Lynn Soileau in Louisiana later that same year.