Our Equines – Our Partners!
"SuzAnne really leads by example with her horse, Power. She told me at one point that she felt that Power was her soulmate, and it made me realize that we weren't just riding horses, we were part of a team with them."
–Katrina Flower, Madison, Wisconsin
Our equines are not livestock standing in the field, but are our partners in every way. Most are superb athletes, veteran trail mounts who have been trained by professionals, while some cannot be ridden and serve in many other ways. Our dude horses regularly meet the challenges presented by the most experienced riders while staying gentle and responsive to the needs of beginners. Nothing compares to sailing through Montana's mountains and forests aboard a sure-footed, smooth-gaited horse in peak athletic condition!
And, just because our Donkey DIVAS and Ponies can't match the Tennessee Walking Horses' superb running walk gait, does not mean that they are not equal partners – just in different ways. Dunrovin values all the horses/donkeys/ponies for the individuals that they are. Each and everyone of them contributes to the character and beauty of the ranch.
The Dunrovin Herd
These are the horses that put smiles on the faces of our guests as they glide through the back country of Montana. All of them are Tennessee Walking Horses and all are geldings except Annie and Lady Lonza.  They all have very distinct personalities, likes, and dislikes. Some are always eager to go, others are more reluctant at first only to show real vigor on the trail. There are both friendships and rivalries among them. A few love to swim the the rivers, while others aren't that keen.  Since of our trail rides take different combinations of horses out to different places all the time. Dunrovin's  horses are experienced travelers who are at ease in the trailers for long distances, ready for any challenge on the trail, and expect the unexpected.
Meet Chinook. He came to Dunrovin under difficult circumstances after SuzAnne's longtime equine partner, Power, died. She was warmed by his arrival and named after the warm winds that flow out of the Rocky Mountains to thaw  winters' snows. In 2017, Chinook was diagnosed with moon blindness and lost sight in one eye. He now wears special sun goggles and continues to tear up the mountain trails.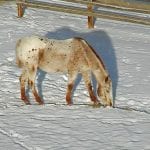 Meet Crow. Crow belongs to Ranch Manager Kelli. He is a 13-year-old Appalossa gelding and the newest member of the Dunrovin herd. A former dude ranch horse, Crow is learning how to be in the front of the string as Kelli's guide horse.
 Meet Dugan. This handsome guy joined the Dunrovin herd in the early summer of 2016. He came from the Kentucky via a horse trader. While Dunrovin has never before purchased horses from a trader, we are delighted that we took a chance on this guy who it turning out to be a real champ with his kind personality and his fabulous running walk.
Meet Erskine.  This beautiful BIG blue roan arrived in 2017. We suspect that Erskine was not well treated at his former home and it has taken Erskine some time to settle into life at Dunrovin. He is coming along well and should soon be ready for taking guests out on the trails. His tall stature makes him perfect for crossing the river without getting wet!
Meet Flynn. This sweetheart of a horse arrived with his buddies Dugan and Erskine in 2017 from a horse trader, and he was clearly been sick with EPM which is very common in the southeastern US. Flynn is not yet fully recovered, but is continually gaining strength. He has kind personality and desire to please.
Meet Lady Lonza. She is more than horse to SuzAnne. She is the first horse to be born at Dunrovin and to be raised by SuzAnne. She is a direct connection to her late father as Lonza was foaled on his birthday the year after he died. Lonza has since had three foals of her own, including Oggy who remains at Dunrovin.
Meet Mickey. The Drama King, Mischievous Mickey, Bully, Little Napoleon are all names that have been used to refer to this beautiful, all black, and very talented gelding. Mickey is NOT an easy horse – but he is a magnificent horse in many ways. A local rider, Sally, partnered with him for man years and they became well known winners throughout the horse show circuit for the Montana Tennessee Walking Horse Association of Montana.
Meet Monty. His full name is Montana's Strollin' Joe; and it's the PERFECT name for this horse. He is confident without being aggressive; he is handsome and he knows it; he is a tad lazy and looks for fun rather than work – a real roaring twenties Storllin' Joe kind of a guy. His friendly, easing going nature make him everybody's – and we do mean every BODY, as in humans and horses –  "go to" horse.
Meet Mystery. Also a newer member of the herd, Mystery came to us from our good friend Brandon Carpenter at Hashknife Tennessee Walkers. He was primarily trained via our "teletraining" program under Brandon Carpenter mentorship. Mystery is a friendly horse with a big stride the is sure to please riders at all levels.
Ozzie's Golden Echo, nicknamed Oggy, is Lady Lonza's son. Born in May of 2017, Oggy has won the hearts of everyone he's met. A lovely light colored palomino, he we big at birth and show every sign of becoming a tall, handsome horse. He's a crowd favorite and is currently in training at Dunrovin.
Meet Razz. The another new horse that found his way to Dunrovin in late 2015. Razz, is true to his name. we call him "razzamatazz" for his spunk and ability to move quickly. He is a kind and honest horse with a terrific running walk and a quiet temperament. Children and adults alike loves partnering with Razz.
Meet Rocket. This handsome horse acquired his name from rocketing around the pastures in Montana's Nine Mile Valley as a foal. Rocket is now a mellow fellow; and if anything, he is a bit on the lazy side. Rocket has a beautiful gait and would be a blue ribbon winning horse were he to be put in the show ring.
Meet Whiskey. His copper color makes him a real stand out. SuzAnne jokingly tells people that Whiskey should have been named Dubonnet as he belongs in a fine French restaurant rather than a western saloon.  On the trail he is always pushing to be first; he happily canters along, will stay in his fast, smooth running walk for miles, and really chews up the ground when given the opportunity.
The Dunrovin Barn Yard Crew
Our ponies and our donkeys are seldom let out on green grass because as the saying goes " they are easy keepers" who are prone to health problems if given too much rich food. All of these critters excel at delighting kids – of any age. The donkey DIVAS as so special that they merit their own section of this web site.
The Dunrovin Team
These two handsome fellows are co-captains – hence the names Captain Lewis and Captain Clark –  of their beautiful black cart with red trimming. Sporting lovely Amish made leather harnesses, these two cut quite a figure on the roads of Lolo. With more training, we hope to have them in parades in the BIG city of Missoula.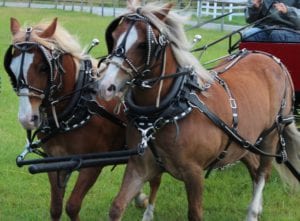 Meet Captain Lewis and Captain Clark.  This team came to Dunrovin in August of 2013. It all started as some many things do at Dunrovin – with a phone call from someone wanting to do something with horses. In this case, it was a phone call from a lovely woman asking if Dunrovin knew of anyone who might be interested in purchasing a pair of draft ponies along with their beautiful black and red carriage and black leather Amish harnesses. Our intent was NOT to purchase the ponies and their lovely cart, but to help her find a good place for them. Well, after meeting them and experiencing their wonderful team work, we just couldn't resist!
Dunrovin's Rescue Horse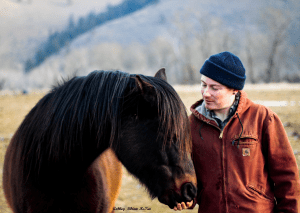 Mackenzie Cole's beautiful rescue horse, Canner, lives at Dunrovin and has become much loved member of the Dunrovin herd. Everyone at Dunrovin has learned a great deal from watching Mackenize work with Canner to overcome his fear of humans that stems from having been in some very traumatic situations. Mackenzie's commitment to and patience with Canner is very inspiring. Watch Canner's Story: