It always amazes me when I read in some national horse magazine, blog, or Facebook page that dogs and horses don't mix. Most often such articles claim that dogs' unpredictable behaviors can be the cause of serious accidents, startling both horses and riders, chasing wildlife, or getting underfoot when horses begin to gallop. Clearly, the authors of these articles do not hail from a Montana ranch where dogs are most common and often play an essential role in cattle and sheep operations.
Additionally, I know few ardent trail riders who do not routinely go out on long mountain rides with either their own dogs and those of friends. I have, in fact, been on many trail rides where dogs outnumbered both horses and riders. We all just take it for granted that any horse we might own must get used to being in the company of dogs, and any dog we might own must be trained to be good equine companions.
Dogs are integral to Dunrovin. Staff are free to bring their dogs to work as long as the dogs are well trained. Our guest accommodations are dog-friendly and we commonly have several guest dogs running around on the ranch, although we do not allow them in the corrals or pastures in case they are not equine savvy.
When I purchased a team of large ponies (crosses between a Shetland pony and a Haflinger horse) to pull my cart, the owner warned me that the ponies hated dogs and would attack them on sight. I nodded, smiled, and took the ponies home, knowing full well that the many dogs that call Dunrovin home would teach them otherwise. There are simply too many dogs coming and going at Dunrovin for the ponies to manage, and soon enough the ponies completely gave up trying to police them all. They now peacefully graze without even raising their heads when a ball comes flying by with a dog in hot pursuit.
Our donkey Divas are the last holdouts with respect to dogs. They totally accept the Dunrovin dogs and, likewise, the Dunrovin dogs can read them like books and never get into it with them. They have an uneasy truce, with each keeping a close eye on the other. But any new dogs have to get the full donkey treatment, which can be serious. In some places in the world, donkeys are run with sheep to protect them from coyotes and wolves. Donkeys can be fierce. We warn all of our ranch guests to keep their dogs well away from the Divas.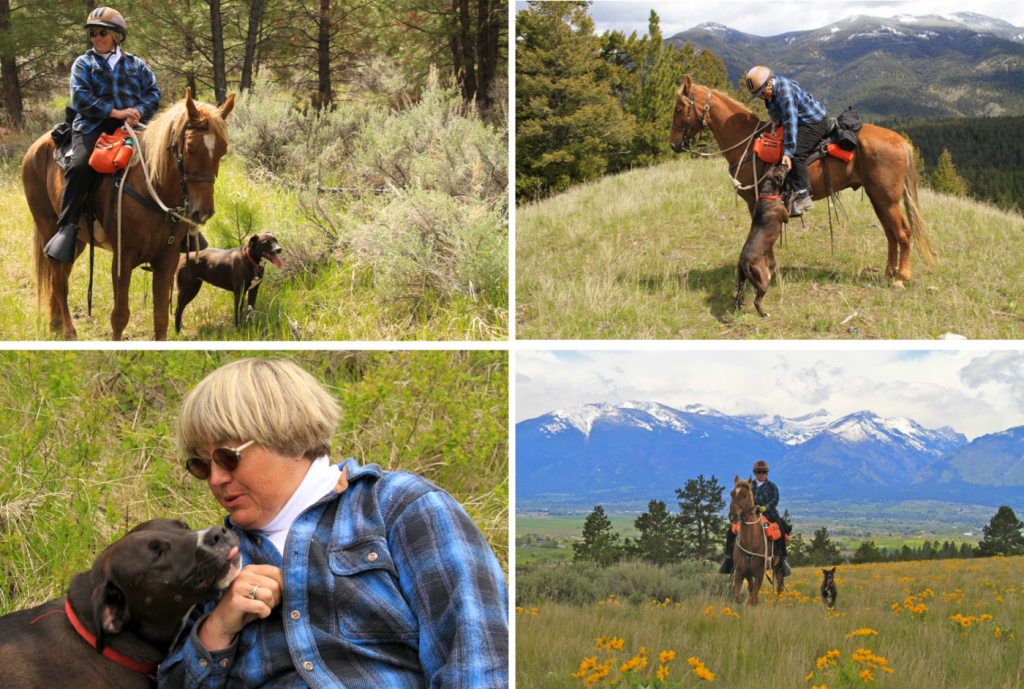 Through the years, Dunrovin has had a number of wonderful dogs to help us with our ranch activities. They routinely keep the gopher and mouse population in check, alert us to any predators in the area, such as cougars, entertain our guests with hours of playing fetch, and most importantly, serve as trail scouts. They lead the way down our mountain trails, sweeping away the grouse and turkeys that have the terrible habit of flushing up right under a horse's belly, startling both horse and rider. The dogs are required to wear jingle bells to announce themselves to the horses when they return from their off-trail jaunts of investigating the many smells in the forest. The horses hear the bells rustling in the bushes and know not to pay any attention as it is just our dogs.
Of all the dogs who have called Dunrovin home, our current black lab/pitbull cross, Jewel, is one of the best. Simply put, Jewel is a jewel of a ranch dog. For the last decade, Jewel has been greeting ranch guests, providing endless hours of entertainment to kids with her boundless enthusiasm for fetching balls and sticks, swimming back and forth across the Bitterroot River, and leading the horses down hundreds of miles of back-country trails.
The truth is that I was not at all sure about Jewel when we first brought her home. In fact, I really brought her home on a trial basis. My son, Mark, and I had stopped by the Western Montana Humane Society to check out a litter of puppies that were ready for adoption, which had been featured in the newspaper. They were, indeed, darling puppies, but the good folks at the Humane Society knew to ask the right questions of prospective adopters. When we told them that we operated a guest ranch and needed an even-tempered dog that got along well with all people, as well as with other dogs and horses, they immediately steered us to Jewel.
Jewel had the misfortune of being adopted several previous times and returned to the shelter for reasons that had nothing to do with her. One owner moved away to a large city and was sure that they could not find an apartment that would allow dogs. Another owner married someone who was allergic to dogs. Jewel was just having no luck finding the right home.
This bouncing back and forth caused the dog trainer for the Humane Society to take a special interest in Jewel and spend considerable time with her—and that was the reason for my own hesitancy. When Mark and I tried to interact with Jewel, she just ignored us and stayed totally focused on the trainer. Even when the trainer left the area, Jewel refused to engage with us. The trainer, however, continually extolled Jewel's many virtues and insisted that she would bond with us if we gave her a little time. Not knowing what to expect, I agreed to take Jewel home for a couple of weeks to see if we could form a bond.
Clearly, we bonded. In fact, for the first couple of years, she would not let me out of her sight. Several times, separation anxiety got the best of her. We still drive the car that she "redecorated" by tearing up the roof and upholstery during one of her fits when I briefly left her for a few minutes to run into a store. While that kind of behavior is long past, people still know to look for Jewel if they want to find me. We are inseparable.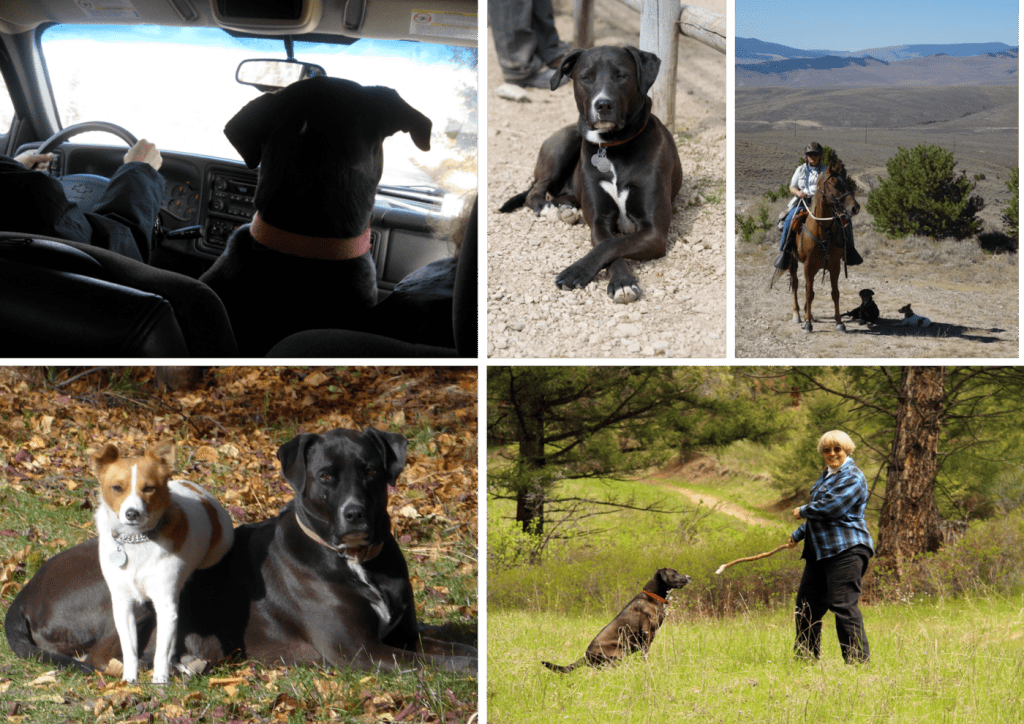 The traits that make Jewel a "standout" ranch dog are many. She is unfailingly friendly to all comers—human, canine, and equine. She absolutely reads their body languages and adapts accordingly. Tired? Fine, I'll just sit here with my legs crossed. Happy? Great! I'll dance around with my fancy feet. Ready to play? Yahoo! I'll go find a stick or a ball. Hot and sweaty? Perfect. We can all float down the river to cool off.  Scared? No problem. I'll lead the way to let you know it's safe. Sad? How about a head on your lap to pet? Does that help?
She is one of the "lowest-maintenance" dogs I have ever owned. When she is thirsty on the trail, she'll jump up on my stirrup to drink from my water bottle. When we stop the horses for a break on a hot day, she'll sit in their shade. She'll ford any river, climb any hill, sleep next to me in my tent, stand absolutely still while a herd of mountain sheep pass in front of us, and sit quietly in a canoe during rapids so she doesn't tip us off balance. She responds instantly to voice commands and only chases wildlife for which she had permission—grouse, turkeys, squirrels. Not motivated by food, she is a trustworthy camper around the cook fire, never touching dishes that are not hers.
Jewel's only real issues involve riding in the truck when we trailer the horses for trail rides. She really thinks of herself as a first-class passenger. With the first opening of the truck door, she'll hop in and refuse to budge. She tries to make herself look small, hoping you won't notice her. It can be downright difficult to extract her from the truck cab if there is insufficient room and she has to put up with riding in the trailer's tack room. It can be more than a little embarrassing to have to drag her out of the truck by the collar. She has mastered "the look" that makes you feel like a jerk for consigning her to the nice cushy dog bed in the tack room. It's not her physical comfort that matters to her; she wants to be with the people.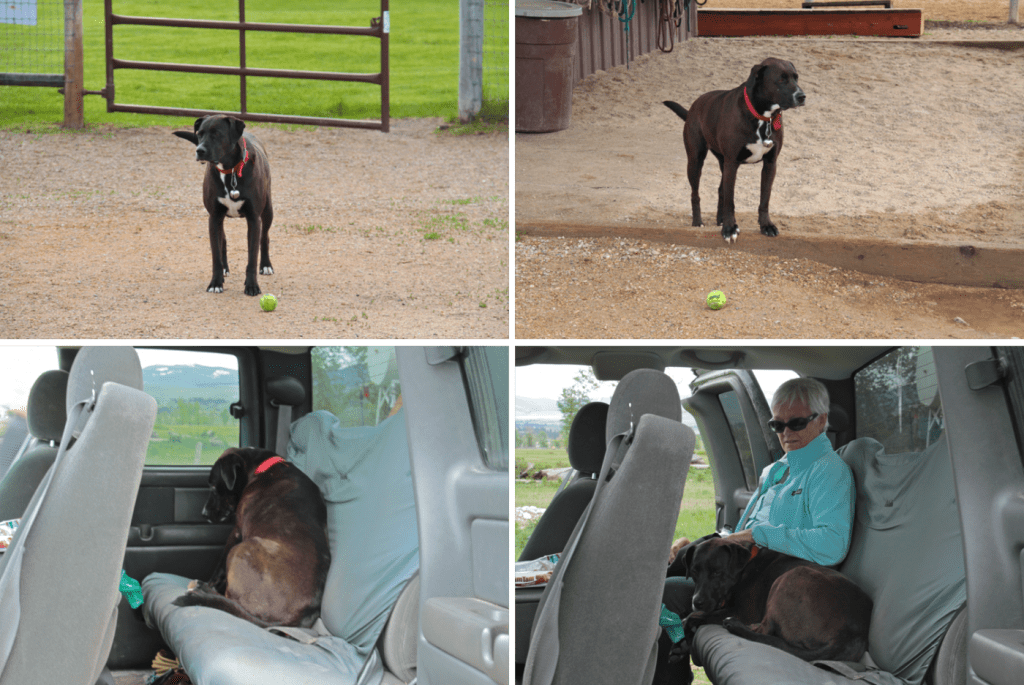 Additionally, Jewel has become somewhat famous (or infamous) for sometimes passing a little gas while sitting demurely on the truck seat as we navigate the back-country roads. Who, me? Never. Her little toots are always followed by passengers shouting "Windows down!" and "Oh, Jewel!"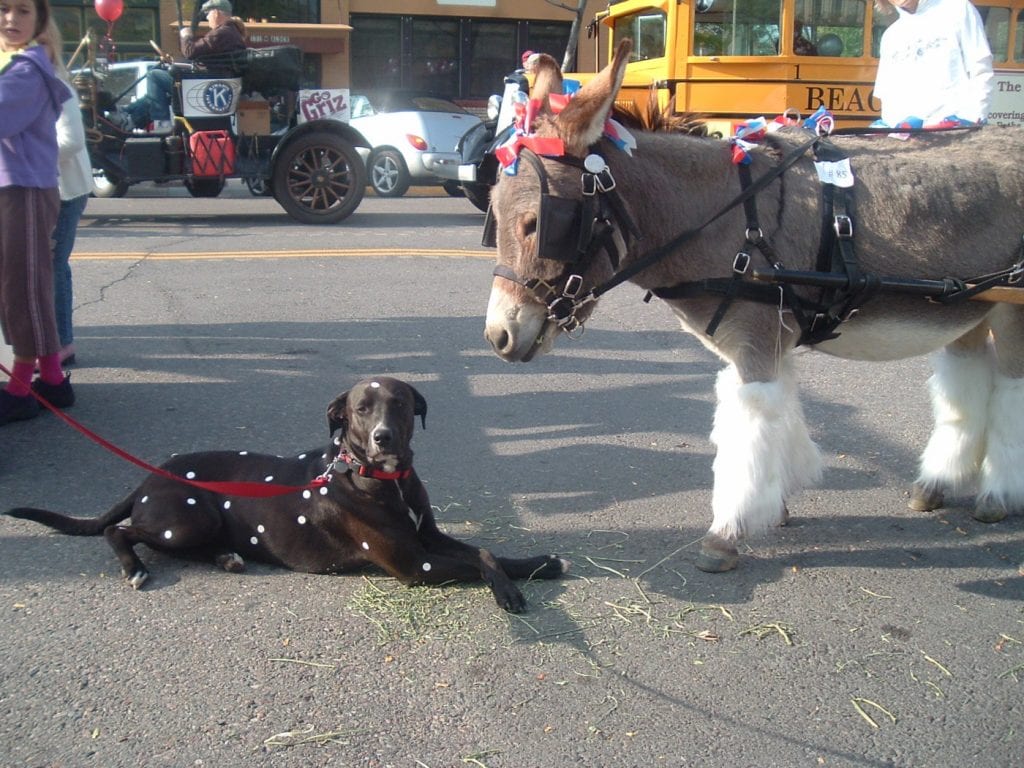 It seems little enough to have to put up with, in view of her many stellar qualities. And, well, a dog can't be perfect, can she?