Butte arrived at Dunrovin in November of 2015. He was purchased from a man who has since become a beloved friend of Dunrovin's: Rick" Hawk" Hurst. Hawk had recently moved to Montana with his new wife and needed to sell a horse he had acquired while staring in a German film documenting Hawk's ride from Mexico to Canada in the company of a French actress. Hawk rode his own horse in the film, but the French actress wrote a black Tennessee Walking Horse named Mesa. Hawk ended up purchasing Mesa, but the horse proved to be too short for his lovely tall new wife, Julie. Dunrovin went to Hawk's and Julie's new home to meet Mesa. After a great test ride, Dunrovin bought him and renamed him Butte (because a mesa is a flat-topped mountain or hill with steep sides which is known in Montana as a butte - AND, SuzAnne Miller, owner of Dunrovin Ranch is from Butte, Montana.).
While Butte's test ride was truly incredible with Butte being a willing partner and demonstrating a fast, silky-smooth gait, he does not perform so well when faced with guests who are even slightly nervous. He will simply take over the lead from any rider lacking the confidence to control his movements. Butte knows the minute a rider gets on his back whether he has to follow the rider or demand that the rider follow him. This makes Butte a difficult horse to match with ranch guests.
Butte is a fast and athletic horse with physical, mental, and emotional traits required in a competitive horse in endurance racing. However, those same competitive traits can be less than desirable in a guest ranch trail horse. Butte's high spirits and lack of patience can get the better of him and his rider when out on the trails. He is, however, an exceptional mount for an experienced rider wanting a fast smooth run through the woods!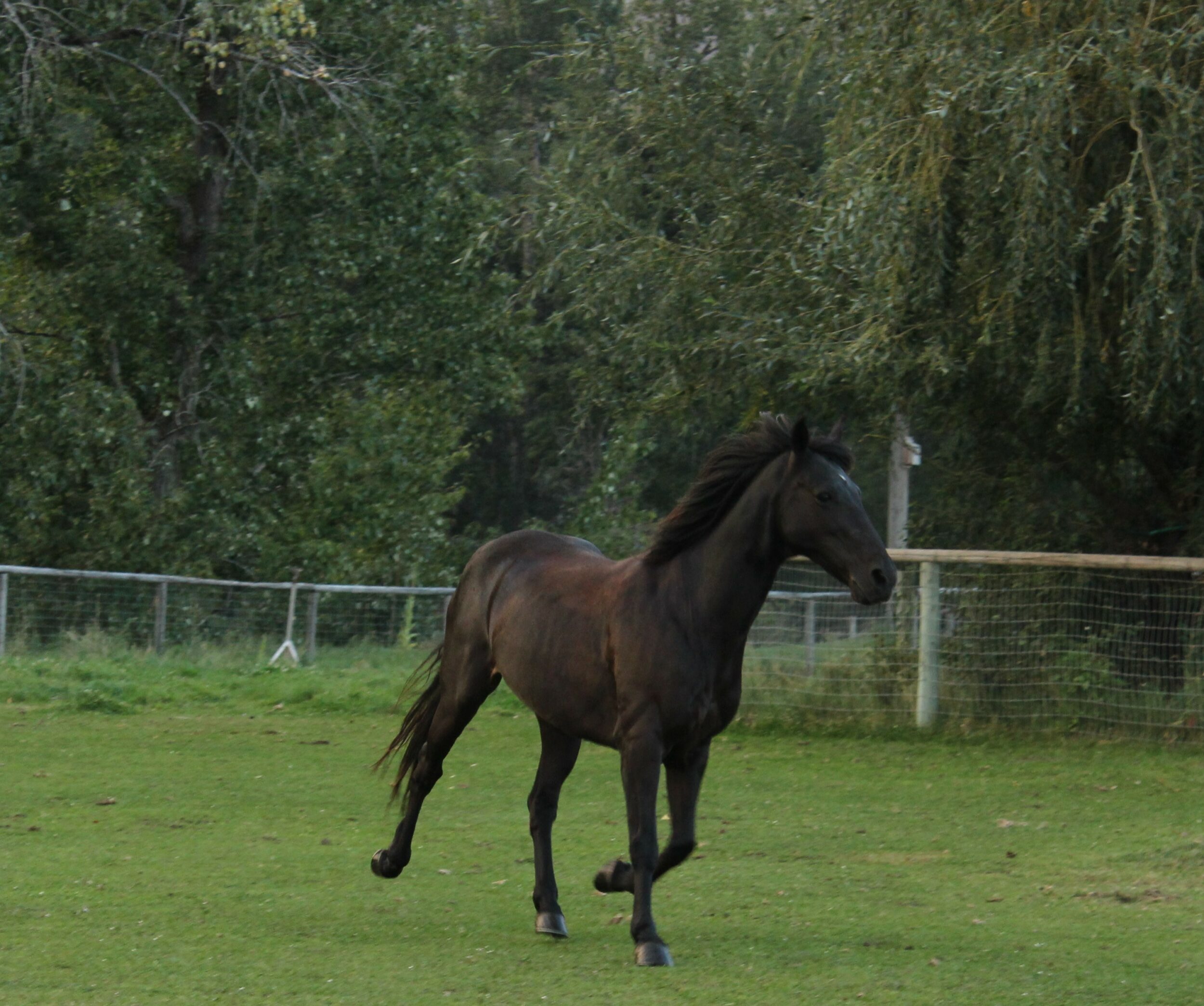 Butte's competitiveness dissolves when confined to an arena. There he is a perfect gentleman for even the most novice of riders, including children. Hence, Butte leads a split life, most commonly limited to the arena for lessons and children's activities or brought out specifically for skilled riders to enjoy on the trail.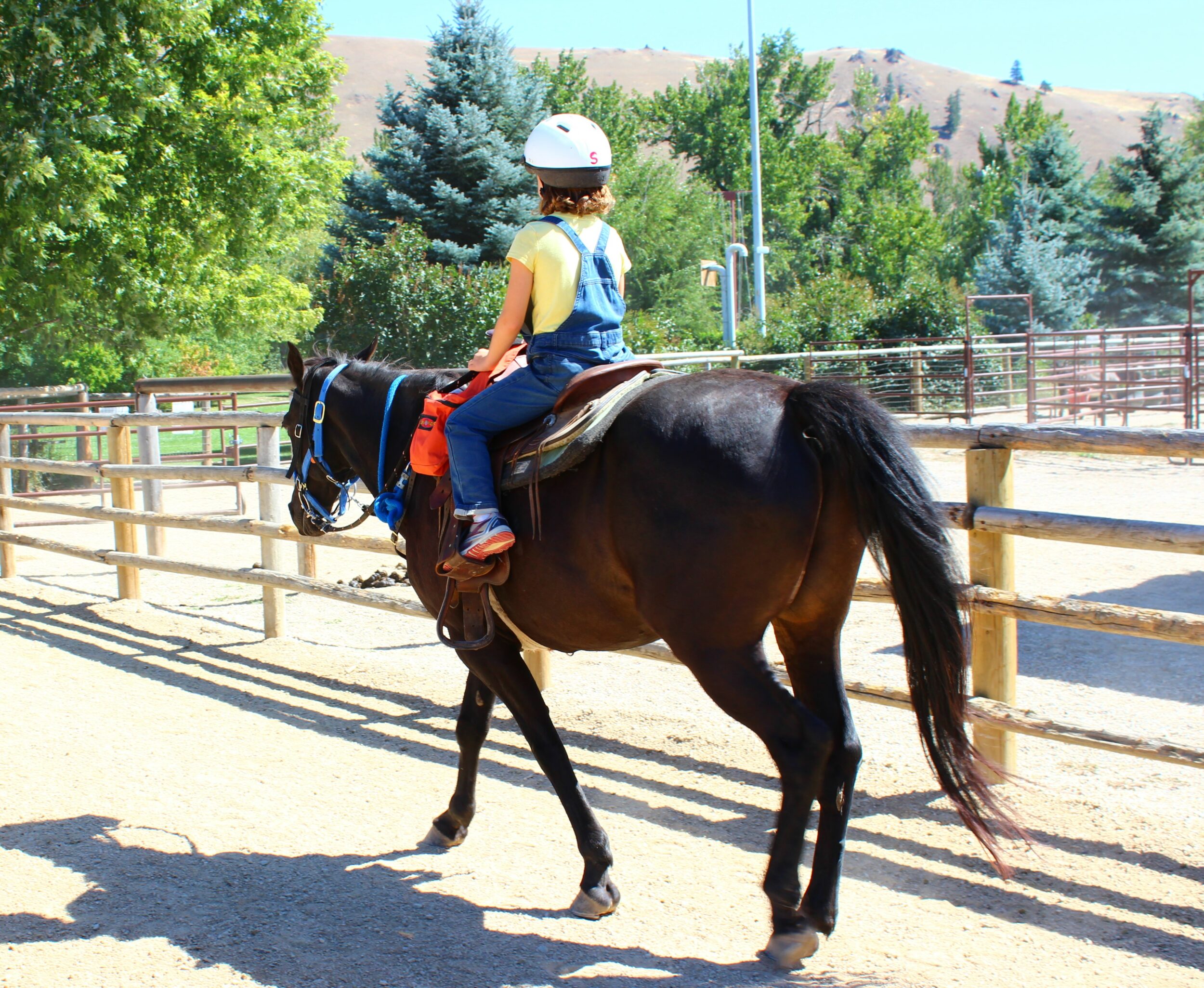 Butte's beauty won him a spot as a Horse of a Different Color in the first Equine Art Extravaganza Event in 2017. However, his inability to stand patiently to serve as an artist's canvas has since had him sitting on the bench during subsequent events.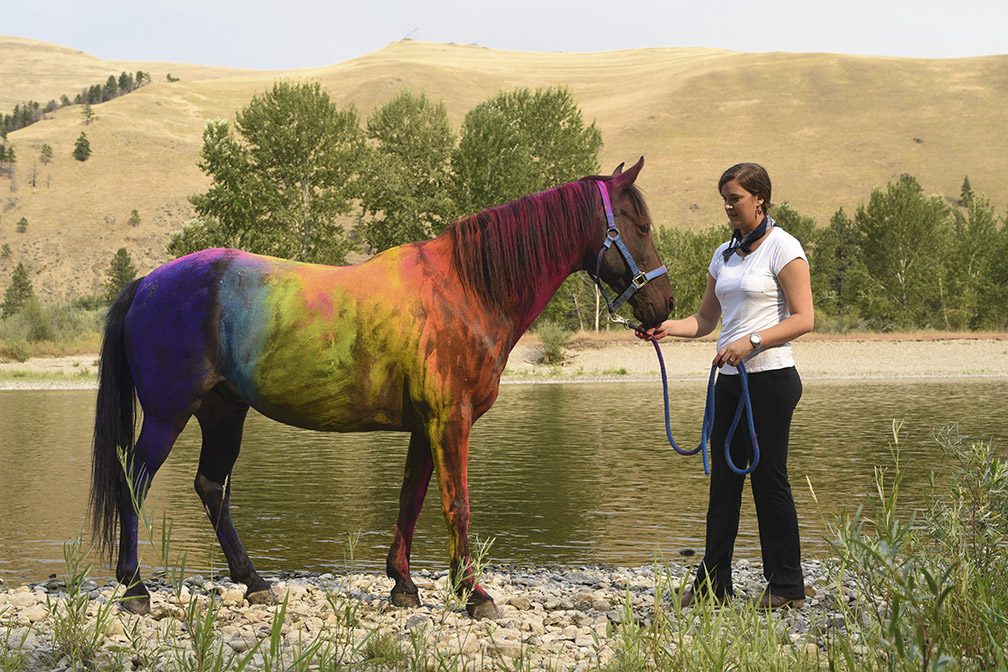 Butte's coat is nearly totally black with amber highlights that are visible only in the bright sunlight. He has a slim athletic body, a long mane and tail, and a beautifully shaped head and face. From a distance, Butte is most easily confused with Dugan who is totally black but has a shorter and stockier body and a larger head than Butte.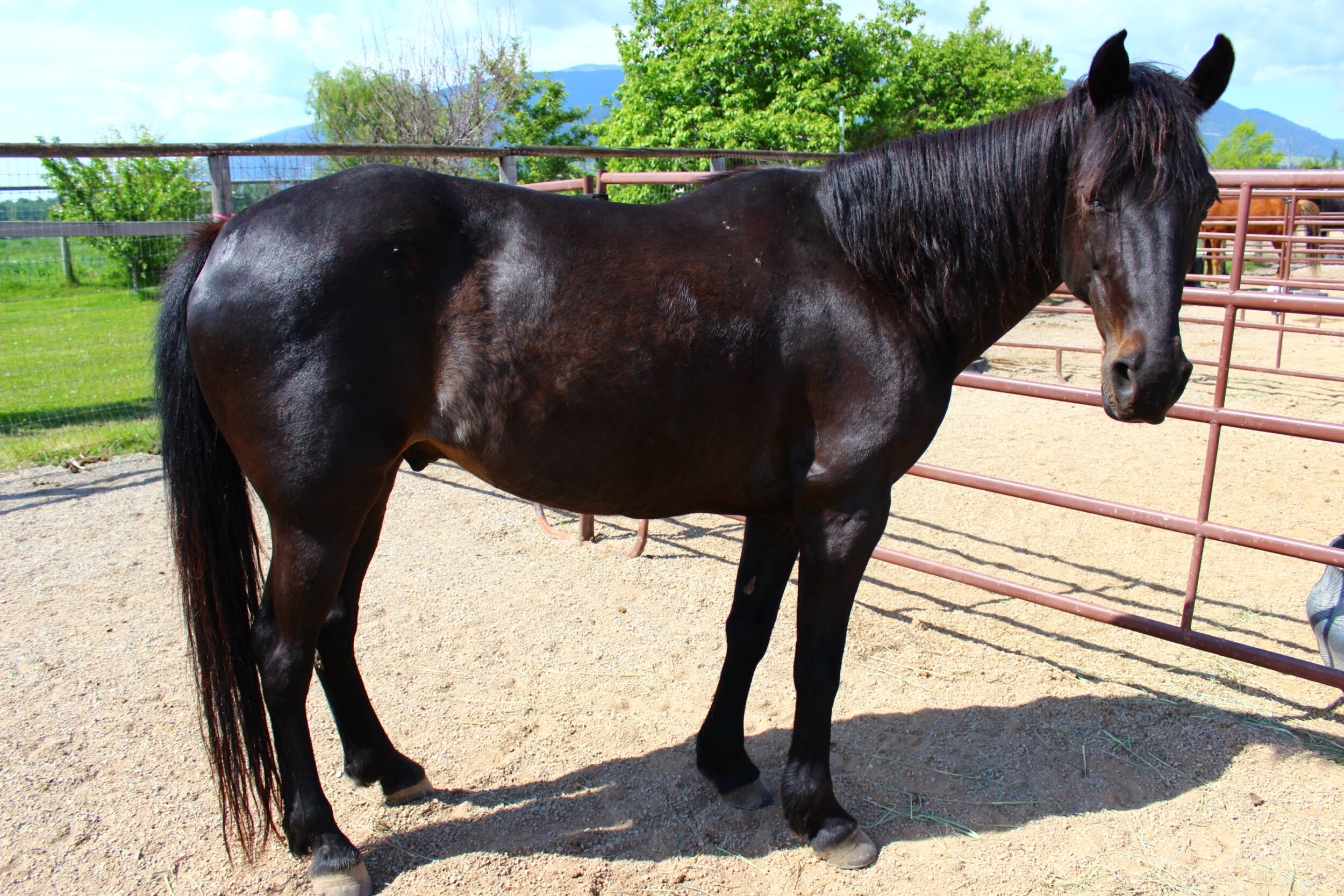 The only white on Butte is in the form of a small star on his forehead, which is generally covered by his thick, long black bangs. Butte's white star can almost never be seen from a distance Photo compliment of Sandee McLaughlin.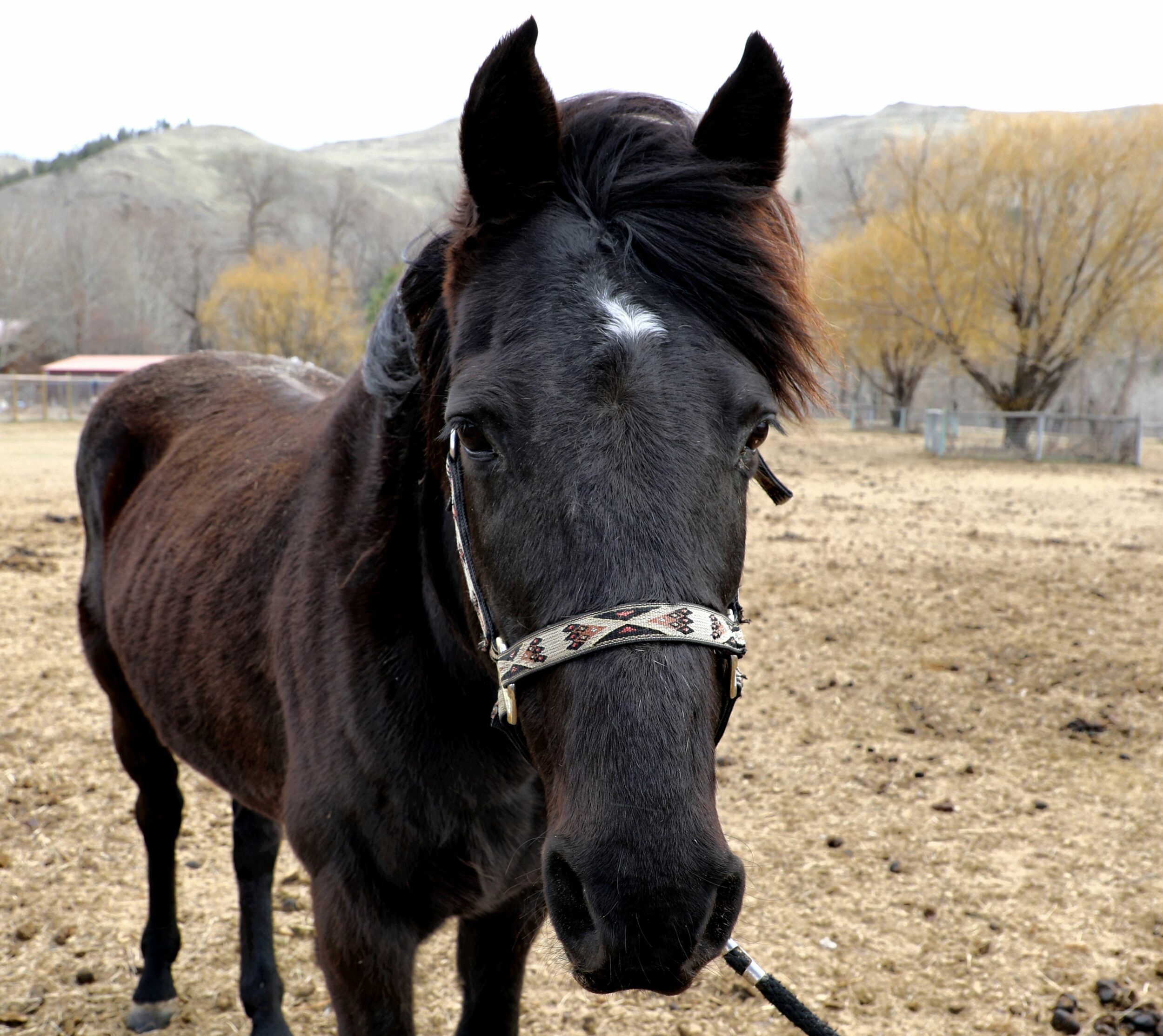 Butte has been at Dunrovin for nearly a decade, during which D@D community members have watched him in different circumstances. What have YOU noticed about him? What can you add to Butte's Story? Please share your impressions, observations, and experiences regarding Butte in the comment section below.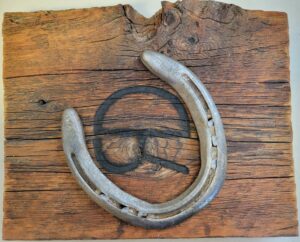 Each time you post a comment, your name will be entered into a drawing at the end of our project to create a post for every Dunrovin Horse. The drawing winner will receive a plaque with an upside-down used Dunrovin horseshoe to hang above your door for good luck as is the Irish tradition).