NEWS: SuzAnne gets up close and personal with a Harris's hawk in Episode 2 of her interview with licensed master falconer Ally Cowan. Ally demonstrates the art of hunting with a hawk as she and SuzAnne walk around Dunrovin with the hawk following along and flying among the treetops.
Flying and hunting a Harris's hawk at Dunrovin
In Episode 1 of our falconry interview with licensed master falconer Ally Cowan, we learned about the history of falconry, how she got started in the sport and got to meet her two falconry birds, Taco and Chile, Harris's hawks.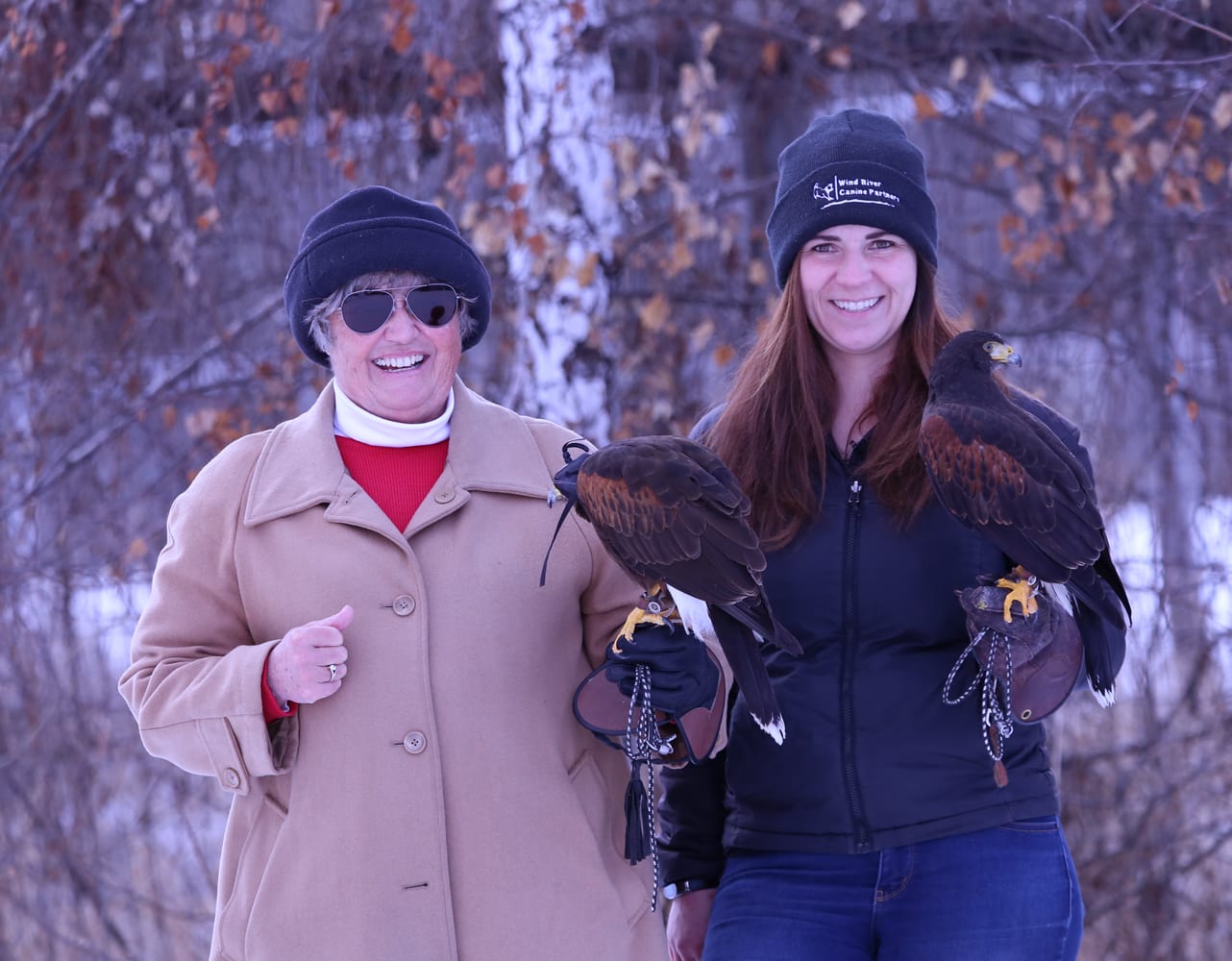 Dunrovin members are no strangers to raptors. After all, Harriet the osprey has been coming to the ranch for a dozen years and has appeared in countless videos and photos, and it's a thrill to see her return every year. We've also shown you a plethora of videos and photos of other birds and raptors that visit the ranch. So it's no surprise that SuzAnne was excited to interview Ally, especially when the possibility existed that we could show Dunrovin members these beautiful birds up close. Oh, and also so SuzAnne could experience the thrill of Taco perching on her glove—and even getting the bird to fly to her from high in a tree!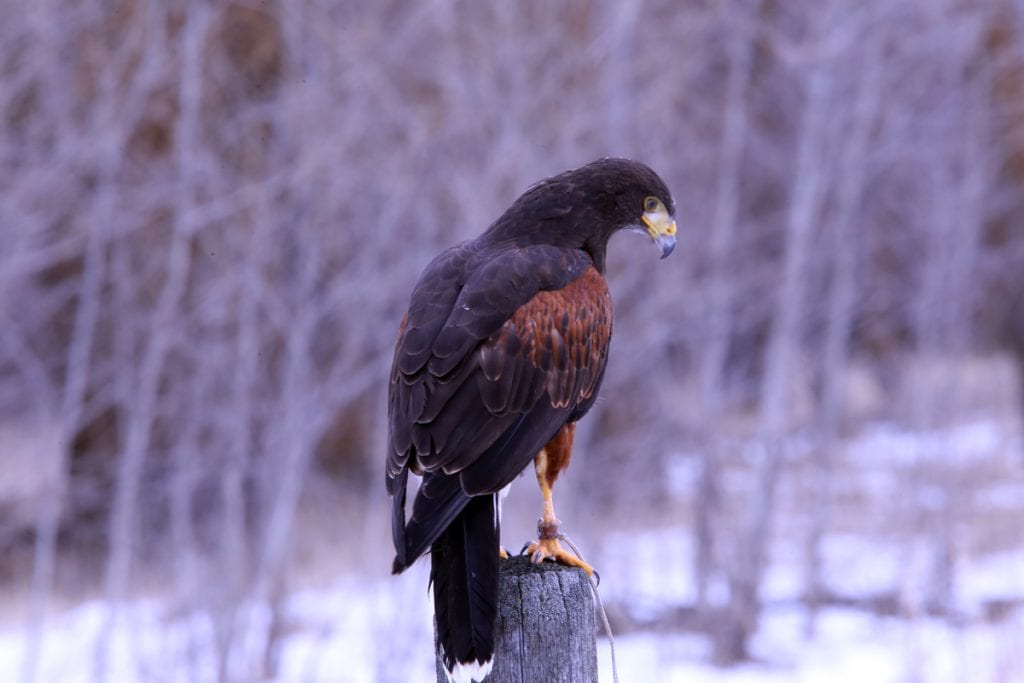 Ally's other falconry bird, Chile, is a little camera shy and doesn't perform well with an audience, so he got treats and stayed back in his carrier while Ally and SuzAnne walked to the river with Taco pacing along the fence posts and treetops.
The Harris's hawks are birds Ally has wanted for many years to acquire for hunting. In addition to her first two raptor species we featured in our Episode 1 post, the red-tailed hawk and American kestrel, Ally has trained and hunted with many other raptors in her 13 years as a falconer, including the sharp-shinned hawk, merlin, cooper's hawk and goshawk. You'll want to hear the fascinating story of how Ally captured a red-tailed hawk with her bare hands. Tune in to see how that story ended!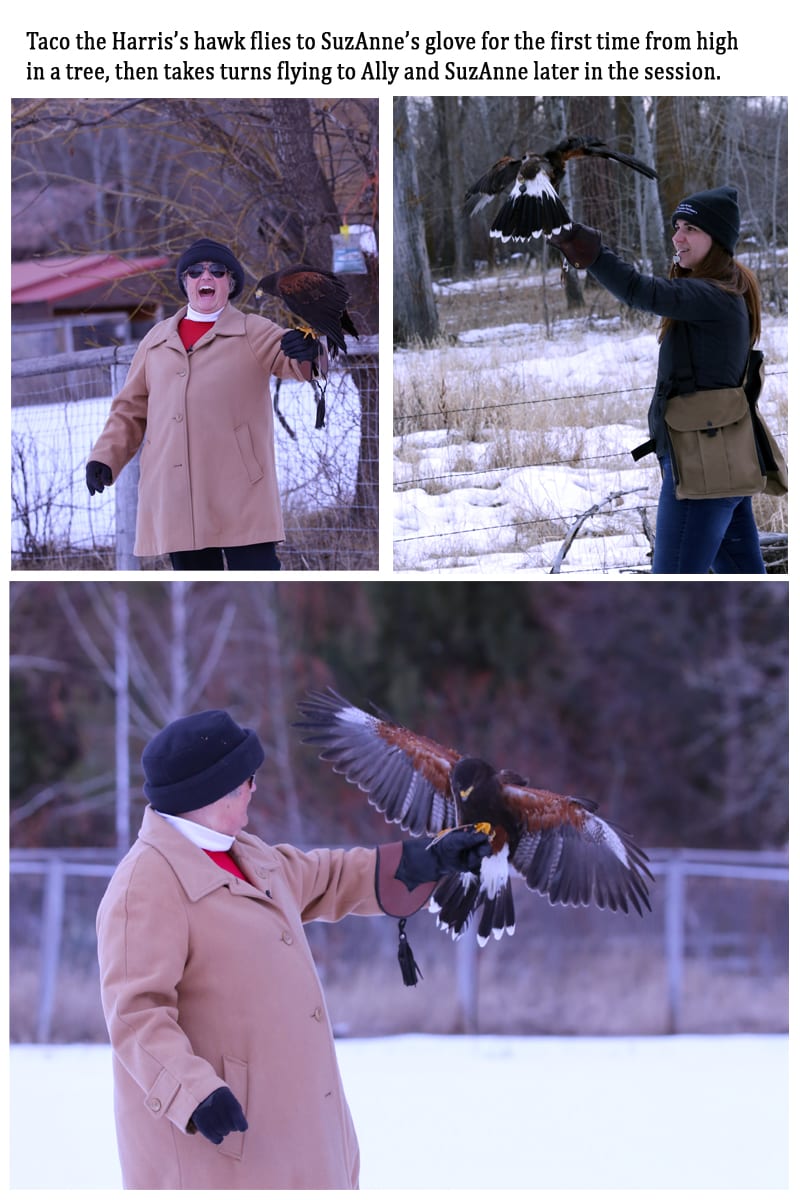 We're excited for you to join us for Episode 2 of SuzAnne's falconry interview with Ally on Thursday, February 27.  We follow them around the ranch as Taco flies along, landing in trees and on fence posts, checking out a potential meal on the ranch. We think SuzAnne is still smiling today about this experience. We hope you will smile too.
BROADCAST: Recording of session on February 23, 2020 at 2:30:PM (Mountain Time).