NEWS: Falconry is a sport more popular in Asia and the Middle East, but local master falconer, Ally Cowan, comes to Dunrovin and shows us the sport is alive and well with her Harris's Hawks.
Meet Ally and her falconry birds, Taco and Chile
Falconry doesn't immediately leap to mind when someone says they're a hunter. Usually one thinks of birds, deer, or—out West—big game like elk, moose or bear. But hunting is how falconry traces its roots. And like traditional hunting that started as a subsistence skill, falconry has developed into an art and love of training and working with birds of prey.
For Ally Cowan, her fascination with falconry started around age 10 or 11 when she saw a presentation by local raptor rehabilitation expert and educator Kate Davis, owner of Raptors of the Rockies. Ally decided right then that she was going to be a falconer.
"I've had a lot of kids tell me they were going to be falconers," Kate told Ally's mom, Julie, Dunrovin's creative director, "but Allyson was the first one to actually follow through." The main reason is that falconry is not just something you pick up as a hobby. It's a 24-7 commitment, just like being a parent. You are solely responsible for your bird's feeding, care, training, and for providing a safe and secure living environment.
"They are not pets, though you do form a strong bond with your birds," Ally explains. "The goal is to hunt with these birds, and their initial training is just learning to 'man' your bird—getting them used to being handled by a human, learning to work with the human to hunt." For most falconers, the goal is to release the birds back into the wild.
Ally got her start in falconry in high school. For her high school senior project, she really wanted to train a service dog. She was told she shouldn't embark on that for a senior project if there were other pets in the house, and, she laughs, since her parents were "narrow-minded" enough not to want to give up their two dogs and a cat for her to do her senior project, she chose falconry instead! She was the first at her high school to chose falconry for a senior project, and to her knowledge, the only one so far.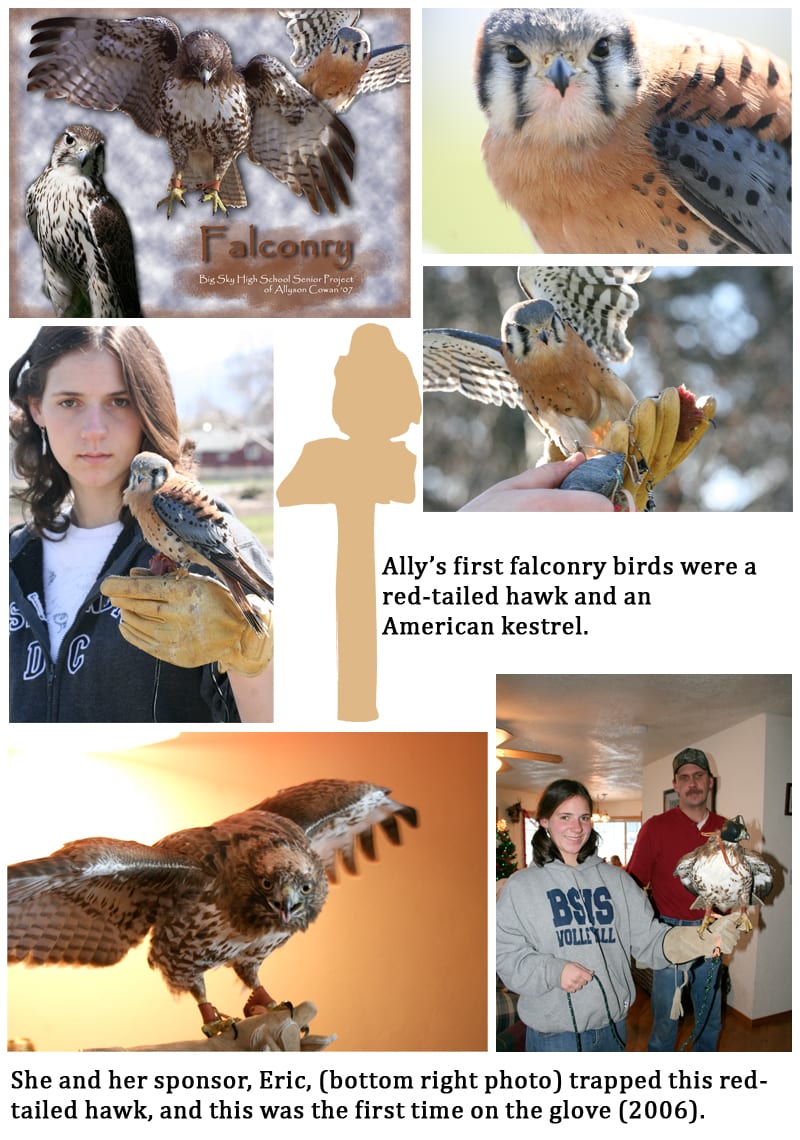 A funny thing happened on the way to adulthood. Ally now owns a dog boarding and training facility, Wind River Canine Partners, just a few miles south of Dunrovin Ranch,  and her favorite dogs to train are those that will be service dogs.  And, she's been a licensed falconer now for 13 years.
Join us Tuesday, February 25 as SuzAnne interviews Ally, who will bring her two Harris's hawks, about her start in falconry and the history of the sport. Ally will talk about the federal licensing process, some of the equipment used for falconry birds—and lots more.  SuzAnne and Ally will show off these beautiful birds as they hold them and discuss this intriguing avocation. Please join us for part 1 of our falconry broadcast with Ally from Tuesday February 25, 2020.
BROADCAST: Recording made on Tuesday, February 25, 2020 at 2:30PM (Mountain Time).