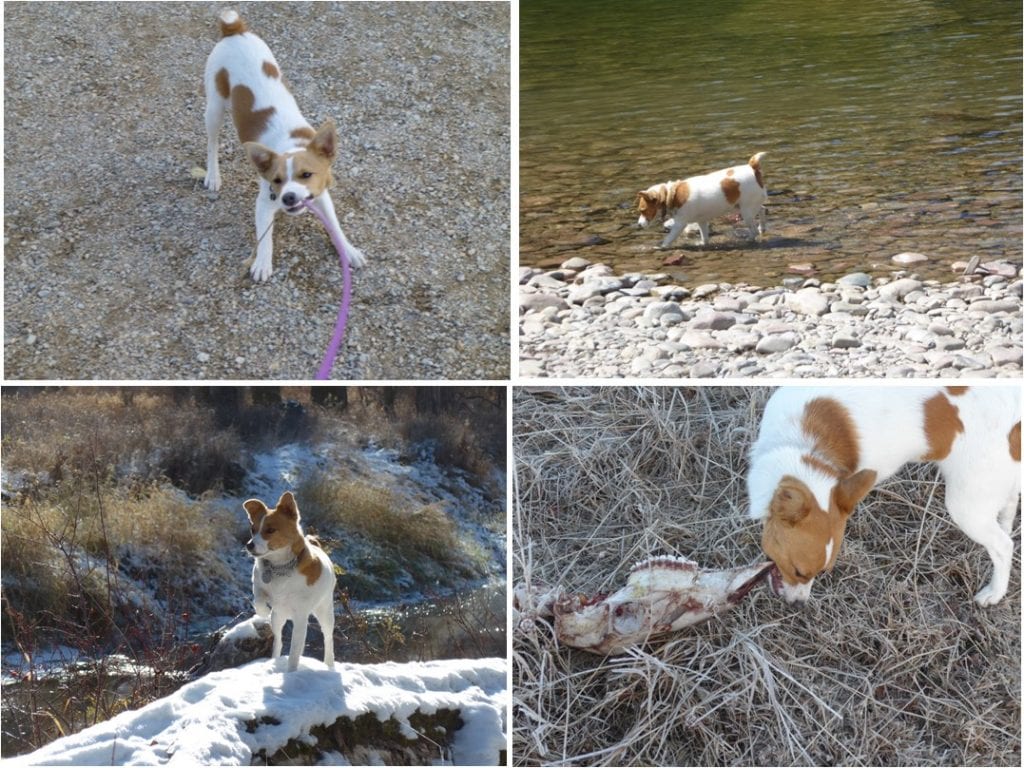 I have always had a very strong preference for medium to large sized dogs. They just seem to fit into my life style better. Whenever I would run into a small yapping, heel chasing dog, I would just smile to myself and be very thankful for the more civilized large dogs that share my home. BUT, several years ago, we had a serious infestation of mice in our hay/feed/tack barn and I needed to find an alternative to setting snap traps every day, using poison, or dealing with the "drowning mice in a bucket contraption" that one of our previous ranch managers, Jesse, had constructed based on her memory of dealing with mice on her childhood Tennessee farm. Everyone said "get a cat". BUT, I know that outdoor cats kill lots and lots of birds in addition to mice – so I didn't want to go there.
What do to? A conversation with my then hairdresser, Nikki, got me thinking about Jack Russell Terriers. Nikki had two photos of the cutest little Jack Russells on her mirror that I would stare at during each visit to her parlor. They were her sweeties and she extolled their multitudinous virtues every chance she got. Then during one visit, Nikki announced that her cousin's Jack Russell had just given birth to three adorable puppies and that if I acted fast, I could pick one out for my barn. She was shameless – she produced photos of the three little charmers on the spot. She had already weakened my "no small dogs allowed" attitude from all the conversation during the previous six months, so before I engaged my mind, my mouth blurted out YES.
The very next week, Nikki's cousin came out with three little furry critters and I picked out the cutest and the most curious one. My then employee, Kyla Two Bulls, suggested the name Kola (or Killer Kola) which means "like a little brother" in the Lakota language. Jewel was unimpressed and tired to object to the name – but was overruled by my enthusiasm for this charming little critter. Jewel, however, was right to be leery of this interloper.  Kola immediately laid claim to every part of the ranch. He had arrived and everything else was of no consequence.  He even conned Miss Gertie into giving him rides!
Sure, he's cute, but what about the mice?
A Born Killer!
Kola routinely patrols the hay barn whenever I am out there – and that is the problem. I am not out there very often – only when I feed the equines in the mornings or when I have other chores. I used to do all of the ranch feeding, but now that the program has grown, other members of the ranch team do most of the feeding. I tend to be in my office more than I would like to be and little Kola sticks to me like Velcro. If I'm in my office, he is outside my door or on the comfy dog bed inside; if I am going into town, he is immediately at the door to be let in; if I am out near all the gophers, he does a great job of keeping them in line; and if I am in the barn, he actually does bring in mice on occasion. Clearly, I encourage him with respect to the mice and the gophers – keeping their populations in check is HIS job after all.
This encouraging his killer instincts can present problems, however. Recently I took one of our new wrangler/trail guides, Meghan, along with me on a guided ride in the mountains so that I could teach her the route and introduce her to the way we do things on the trail. Naturally, both Jewel and "Killer Kola" insist on accompanying me on any horseback adventure that I undertake. When they see me getting the truck and trailer ready, they stick like glue to the truck so that we can't get away without them. They are required to wear jingle bells so that the horses will know that it is them when they dart away from the trails and reappear suddenly.
So here we are – Meghan is in the lead so she can get to know the trail, then the three clients, and I am bringing up the rear. Suddenly, out of the woods comes a baby rabbit with Kola and Jewel on its heels, and right in front of the clients and under Meghan's horse, Kola grabs the rabbit and dispatches it with one strong shake of his head. Kola then proceeded to run in front of the horses with the rabbit dangling from his mouth. Well, clearly this is not exactly what we had in mind for our guests – and I ended up having to explain that it is impossible for us to encourage Kola with mice and gophers at the ranch only to try to discipline him for a rabbit on the trail. It seems we must be willing to accept the yin with the yang!