It was a struggle between Autumn and Winter for dominance - and thankfully, Autumn took the upper hand during the final days of October and presented the Halloween Treasure Hunters who haunted Dunrovin Ranch in their many colored and unique costumes with a wonderfully sunny and warm afternoon for the festivities. It was, literally, a once in a Blue Moon event, with the full moon giving us some gorgeous evenings.
Hello to you all and hello to November! Be sure to turn your clocks back 1 hour as daylight savings terminates for the year..
Brandon and Ashley's first "Tele-Training" Session with Oggy
As Ashley was quick to point out, she got the colder end of the "tele-training" stick this past week. While Brandon coached her from the comfort of his ranch office 400 miles east of Dunrovin, Ashley was in the round pen with Oggy enduring temperatures in the low double digits. In spite of the sudden arrival of winter weather and with some new snow on the ground in the round pen, Ashley did an outstanding job of working with Brandon to continue Oggy's training. Ashley will soon begin some sessions on her own every Tuesday and Thursday to practice and prepare for Brandon's Monday coaching sessions.
Visiting Brandon at the Hashknife Ranch and Enterprises
It's not as though Brandon did not put in his own cold weather duty this past week. The first BIG snowfall of the 2020-21 winter happened just as he and his wife were gathering in their cattle for the annual fall sale. While it was a record breaking snow and cold event for the month of October in Montana, that wouldn't stop the cattle sale in Billings from proceeding which is  where Brandon would make his first and only payday of the year. The life of a Montana cattle ranching family is challenging in numerous ways with the weather and fluctuating market prices, but also immeasurably rewarding in other ways. Brandon and his son Calen have started their own YouTube Channel to share their ranching lives with others as a way of increasing our mutual understanding. You can follow them on Facebook and Youtube at Hashknife Ranch and Enterprises. You can also catch up with them here during our Monday Socials as we will begin each session with Brandon with some of his ranch videos and an opportunity to chat with him about them. Here is a recording of our first session:
Fanciful Flagpoles - the Dunrovin Witness Tree
Artist and teacher Annette Wagner worked collaboratively with Dunrovin's Paula Goldberg and with some of our DaysAtDunrovin members to create the Witness Tree celebrating everyone's love affair with Fall. The only one who did not cooperate was Autumn! It let a winter storm overtake it for a few days and the Autumn Witness Tree was constructed in the snow on a bitter cold day. That did not deter the creativity or joy of everyone involved. By the week's end, Winter exited stage left to wait in the wings for a few more weeks before demanding center stage.
You'll have to join us this Monday to catch what's next for the Fanciful Flagpoles. Rumor has it that Paula has something up her sleeve that will end up with a flagpole down at the river.
Waterfowl Get a Taste of Winter
Our short blast of winter offered an enchanting morning of Canada Geese and Mallard Ducks foraging among frosted bushes along the river practically in front of our river webcam.
The Haunted Treasure Hunt
Happily wonderful fall weather pushed old man winter out of town and gave all of our Halloween Treasure Hunters plenty of sunshine and warm temperatures to traipse around the ranch in search of their clues to the pot of candy. Whenever the young ones got stumped, one of our D@D members was ready to supply a hint which the searchers could read on their cell phones. What a great way to integrate the online community into the onsite fun!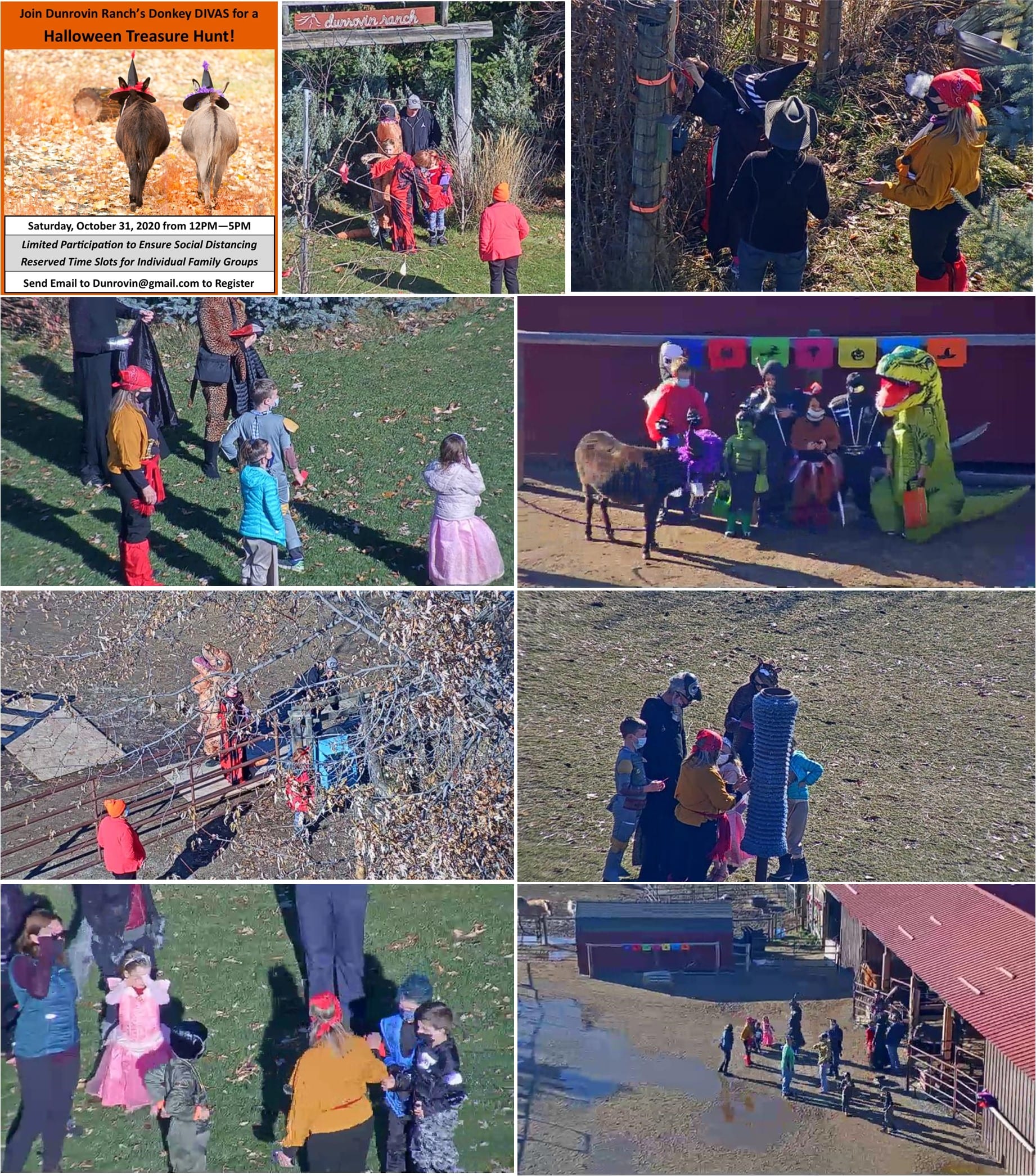 Thanks to Dunrovin's Paula for her creativity, enthusiasm, and efforts to make this all happen. Thanks also to Ryen, Ashley, James, Sandy, Annette, Jes, and the ever bewitching Donkey DIVAS for their hauntingly spirited assistance!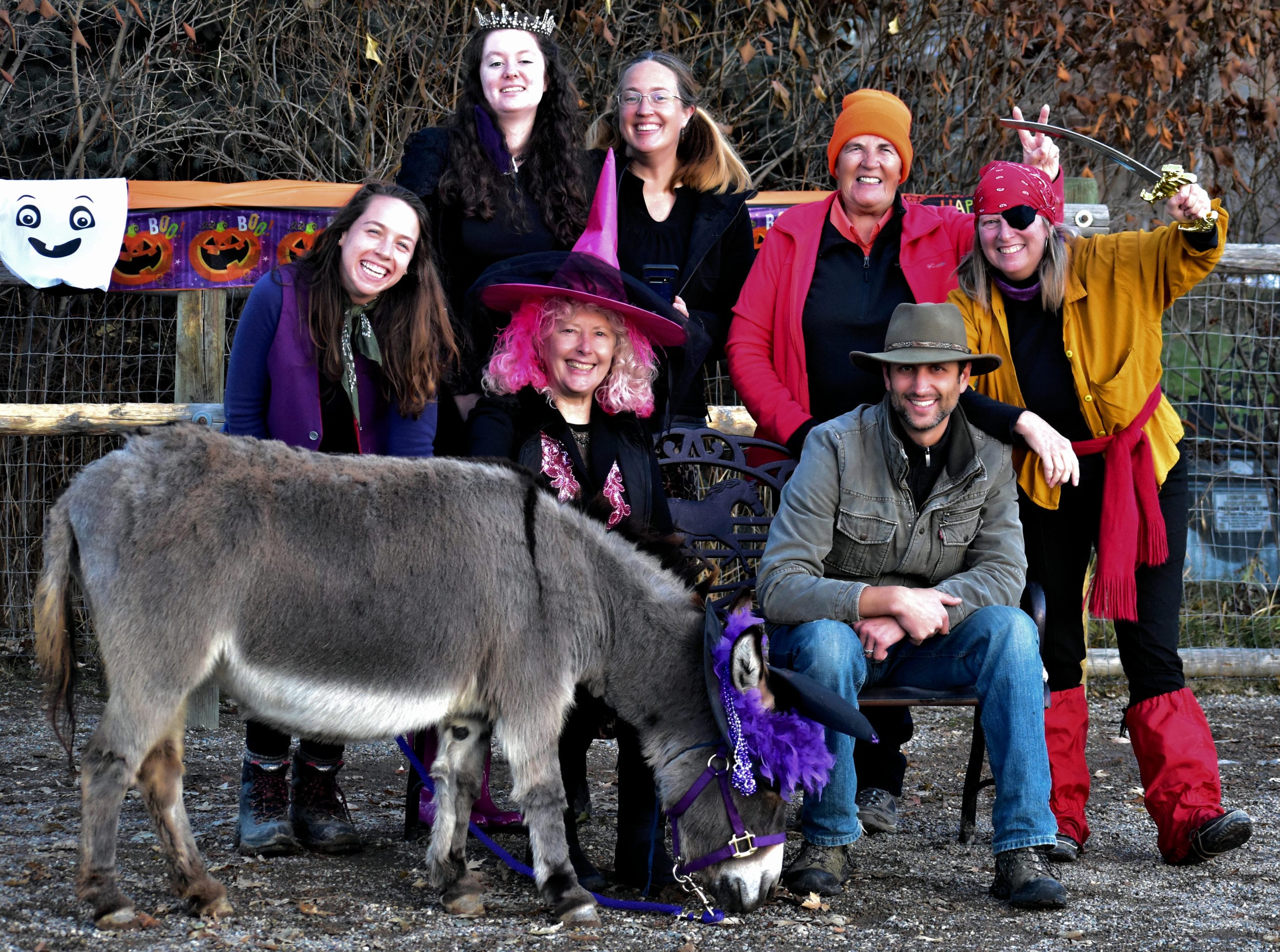 The Monday Socials Schedule for November 2, 2020
     7:30AM    Sunrise Tour with James Wasem
     8:30AM    Feeding the Herd and Ranch Chores with Ashley and Ryen
   10:00AM    News from the Hashknife Ranch 
    10:20AM    Oggy Training with Brandon and Ashley
    12:00PM    Finding Freddie with James and a D@D Volunteer Cam Operator
      1:00PM    Celebrate Canner's Birthday
      2:00PM    The Witness Tree Project
      3:00PM    Ranch Talk
      4:00PM    Feeding the Herd with Ashley and Ryen
The schedule for other activities throughout the rest of the week can be found on the D@D website calendar.
A Kingfisher Takes a Merry-go-round Ride on the River Cam
This is not the first time that a kingfisher has landed right on the river webcam - but this is the first time we were able to locate it in the trees when it flew off. This makes us think that we might want to build a kingfisher nest box with a webcam next summer. They require rather special nesting conditions, but the tower for the river cam might just be the perfect frame to construct an "underground" nest for them.
<
Wonderful Sunrises, Sunsets, and Moonbeams
The ranch was blessed with some lovely sunrises, sunsets, and moonbeams this past week. We celebrated a Blue Moon on Halloween - which is an extremely rare event as full moons, much less a Blue moon, only occurs on Halloween once every 19 years.
Stay Safe!
The Covid-19 pandemic seems to be roaring to new levels in many places in the world, with new health mandates being put into effect across Europe and North America. Please stay safe and remember that even during times of physical distancing we can always gather online here at Dunrovin Ranch to enjoy nature and socialize with one another. We are grateful to have you with us during these challenging times.
See you at the ranch!
SuzAnne, James, Paula, Ashley, Ryen, and the rest of the crew.