Winter made a very rude entrance with temperatures new zero and record snows. Fall barely had time to exit or cast its golden leaves to the wind before their becoming laden with snow. Brandon Carpenter and Ashley Chapin are getting to know one another as they come together to continue Oggy's training. The coming week promises to be fun with a new Fanciful Flagpole project in the making.
winter crash lands on fall!
DaysAtDunrovin (D@D) Newsletter for October 25, 2020
Good afternoon from Dunrovin Ranch. We hope to see you all tomorrow during our Monday Social. Please join us.
Brandon and Ashley Get to Work Training Oggy
It is always such a pleasure to have our long-time friend and horseman extraordinaire, Brandon Carpenter, visiting Dunrovin. Brandon has had a huge impact on Dunrovin Ranch over the years. We have completely adopted his philosophy of horse training through bonding and trust. He understands that each horse is unique, each person is unique, and hence each horse/human pair are unique. You can't apply a "cookie-cutter" approach to horsemanship any more than you can to parenting. Teaching a horse begins with listening and understanding the horse. If you have not already learned about Brandon and his affiliation with Dunrovin, you will find more in this post.
The purpose of Brandon's trip this time was to meet and work with our wrangler, Ashley Chapin, so that they can collaborate on training Oggy using the tele-training methods that Brandon and Dunrovin have developed over the past several years. Brandon and Ashley spend several hours with both Oggy and Mystery in round pen training sessions last week. These sessions are a clear demonstration of Brandon's philosophy. While the basic methods for horse training are the same for each horse, the way you apply them varies with every horse's individual needs.
For those of you who were unable to join us last week, here are the recordings of Brandon's and Ashley's preliminary sessions. Brandon and Ashley will continue their work via "tele-training" sessions during our Monday Socials throughout the winter.
Learning More About Brandon's Ranch Life
Brandon and his son Calen co-host the Hashknife Ranch YouTube Channel in which they invite the world to share in the comings and goings of ranch life in central Montana. They love their western rural way of life and are anxious to welcome people from all ways to life to get to know the day-to-day joys and challenges of the agriculture lifestyle. We plan to incorporate their fun and folksy Hashknife Ranch videos into each tele-training session that Brandon conducts at Dunrovin. We will be sure to set aside time following each session for some Q&A with Brandon so that YOU can comment and ask questions on both topics – his ranch life at the Hashknife Ranch and his work with Ashley training horses.
A Golden Goodbye to My Golden Girl – By SuzAnne Miller
We celebrated Jewel's 17th birthday on October 10th and we said goodbye to her on October 22nd.  Jewel's decline has been precipitous in the last couple of weeks. She could hardly get to her feet; and you could see the pain on her face each time she attempted to sit down. Those back legs that had carried her over hundreds of miles of mountain trails, leading the way for her horses and keeping Kola in line, were giving out. The killing cold of winter had arrived to chill her bones and deprive her of any comfort. It was time.
Our family gathered by the river to lay her down. Nature enfolded us to sooth our pain. A pileated woodpecker cried out from the forest. A noisy flock of geese dominated the skies. Three black horses from the wild Ghost Herd on the ridge across the river paused from grazing, lifted their heads, and looked in our direction. In what felt like a final salute, a lone migrating osprey appeared low over the river and tipped its wings as it passed by, fully lit by the afternoon sun.
Jewel loved the Bitterroot River. It was her playground, her toy. It could never fool her. She understood it. She worked with it. She drank its cold clean water and laid in it to cool her sweaty body on hot summer afternoons. She cut through it like a fish. She knew to swim on the downstream side of the horses to take advantage of the draft zone. She could judge the ice and its ability to support her body.  She read the current like a book. No matter where you threw the ball or stick, she did not fetch it by swimming towards it. She swam to where she knew the current would take it, to let it gently float right into her mouth. It was a thing of beauty to watch her unerringly gauge the current's variable speed and effortlessly intercept the object of her fetching passion. The only harsh strong words ever spoken to Jewel were "No play!" in a desperate effort to be released from her relentless games of fetch.
In life, Jewel owned that river. It is without doubt her heaven now. It is fitting that it was a golden day to welcome our golden girl. The sun's brilliant rays lit the autumn leaves ablaze and shimmered like diamonds on the water. She is one of those diamonds now. She will forever shine in my eyes when I visit her river.
My son Jake adds these lovely Haiku Poems by Namagusai Tazukuri and Mitoku
In fall
The willow tree recalls
Its bygone glory.
The foam on the last water
Has Dissolved
My mind is clear.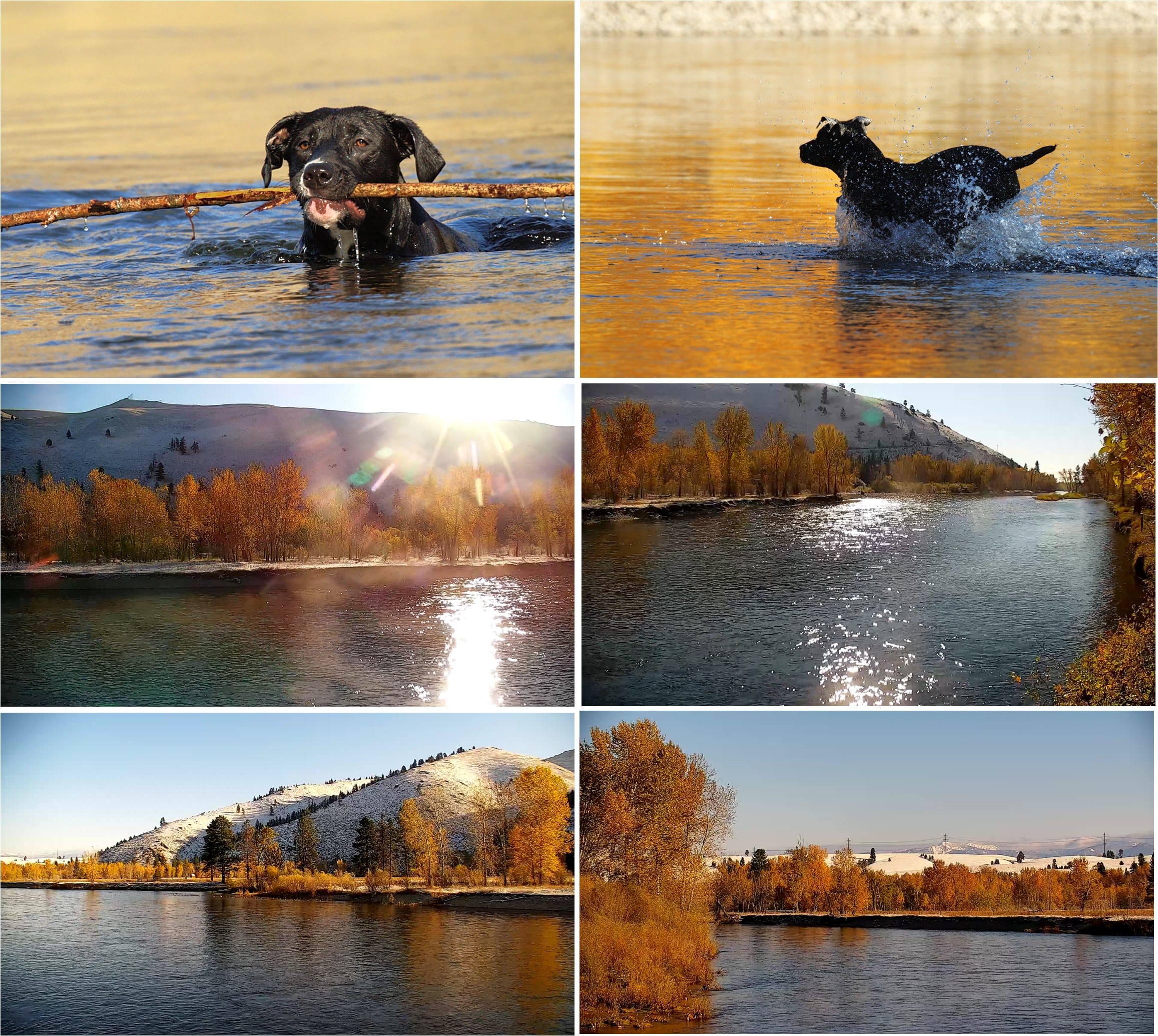 Fanciful Flagpoles
Dunrovin Ranch launches a new art tradition this coming Monday: Fanciful Flagpoles. What on earth on are Fanciful Flagpoles? How did Dunrovin come to focus its artistic energy on flagpoles? You'll have to read the post to find the answers.
To guide us along this artistic journey, artist and teacher Annette Wagner has been invited to serve as Dunrovin's Creative Curator. Annette is the PERFECT person to take our hands and lead us down the path of Intentional Creativity.  Her focus is on using art to lift our spirits, reveal our truths, and build our personal stories that allow us to live our best lives. In her own words:
Creativity Curator: What is a curator? Someone who collects, organizes, and presents artwork (or other kinds of things) to the public. What does it mean to be a Creativity Curator? My intention is to work with Dunrovin to create art events with working artists that bring together the beauty of the ranch, the critters that live here, and the online community in ways that inspire, create connections, and generally are fun to be part of.
I am a working artist and an Intentional Creativity® teacher who has taught in person and online for many years. I work in various mediums and plan to bring all of that experience into play at Dunrovin. I live at Coyote Rose Ranch up on the Sunset Bench outside of Stevensville, MT. You can visit me at www.annettewagnerart.com.

Annette will begin the Monday afternoon to work collaboratively with all of YOU, our online participants to create a Dunrovin Witness Tree. Please join us for this unique way to express ourselves, create an unusual tribute to fall, and learn more about one another.
Happy Halloween
Halloween has traditionally been a signature Dunrovin Ranch event. Dunrovin normally opens its corral gates for free horseback and pony cart rides and s'mores around our fired pits to any family arriving in costume and bearing a canned good for the local food pantry.  These photos from past Halloween's attest to the fun had by all.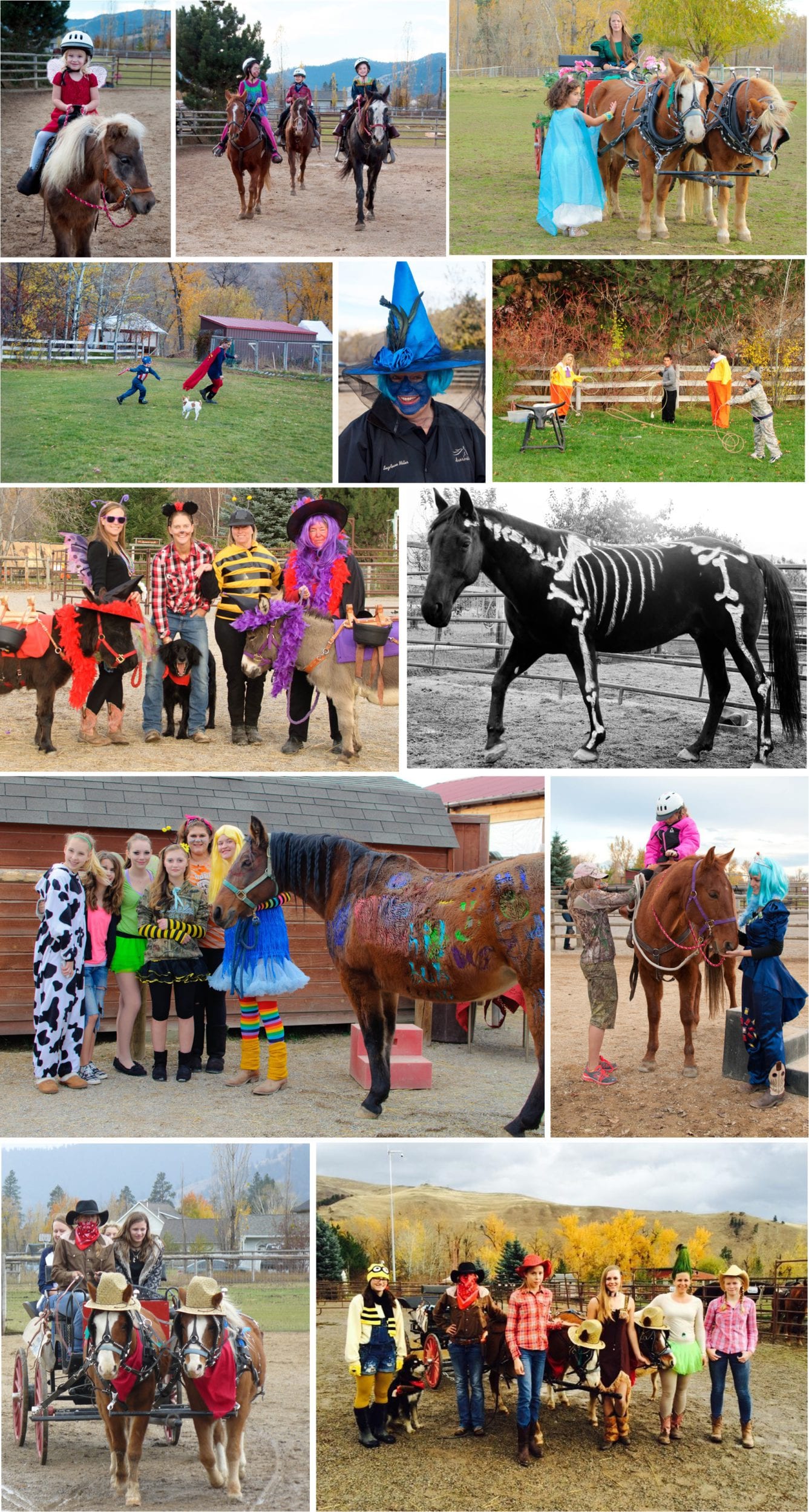 Alas, the horrid Covid-19 Pandemic is putting a crimp in our Halloween style! Enter Paula Goldberg with a grand scheme to host a socially distanced Halloween Treasure Hunt on October 31 starting at 12PM in which YOU, our DaysAtDunrovin members, will be asked to provide the clues to each participating family in search of Halloween goodies. The DIVAS are already preparing their costumes to serve as bewitching hostesses. Ryen and Ashley will assist in the preparations by carving some pumpkins as part of our Monday Social. Join us for the fun and be prepared to interact with the little goblins that come in search of their treasures.
The Monday Socials Schedule for October 26, 2020
7:30AM        Sunrise Tour with James Wasem
8:30AM        Feeding the Herd and Ranch Chores with Ashley and Ryen
10AM        News from the Hashknife Ranch and Oggy Training with Brandon and Ashley
12AM        Finding Freddie with James and a D@D Volunteer Cam Operator
1PM        Pumpkin Carving with Ryen and Ashley
2PM        Creating the Dunrovin Witness Tree with Annette, Eleanor, and Paula
4:30PM        Feeding the Herd with Ashley and Ryen
The schedule for other activities throughout the rest of the week can be found on the D@D website calendar.
Winter Crash Lands on Fall
The bright yellow leaves of the cottonwoods along the Bitterroot were suddenly shoved into the deep freezer and covered with snow. Winter didn't quietly sneak in this year. It jumped in with both feet and crash landed before fall had the opportunity to close up shop. The overlap did make for some interesting photos!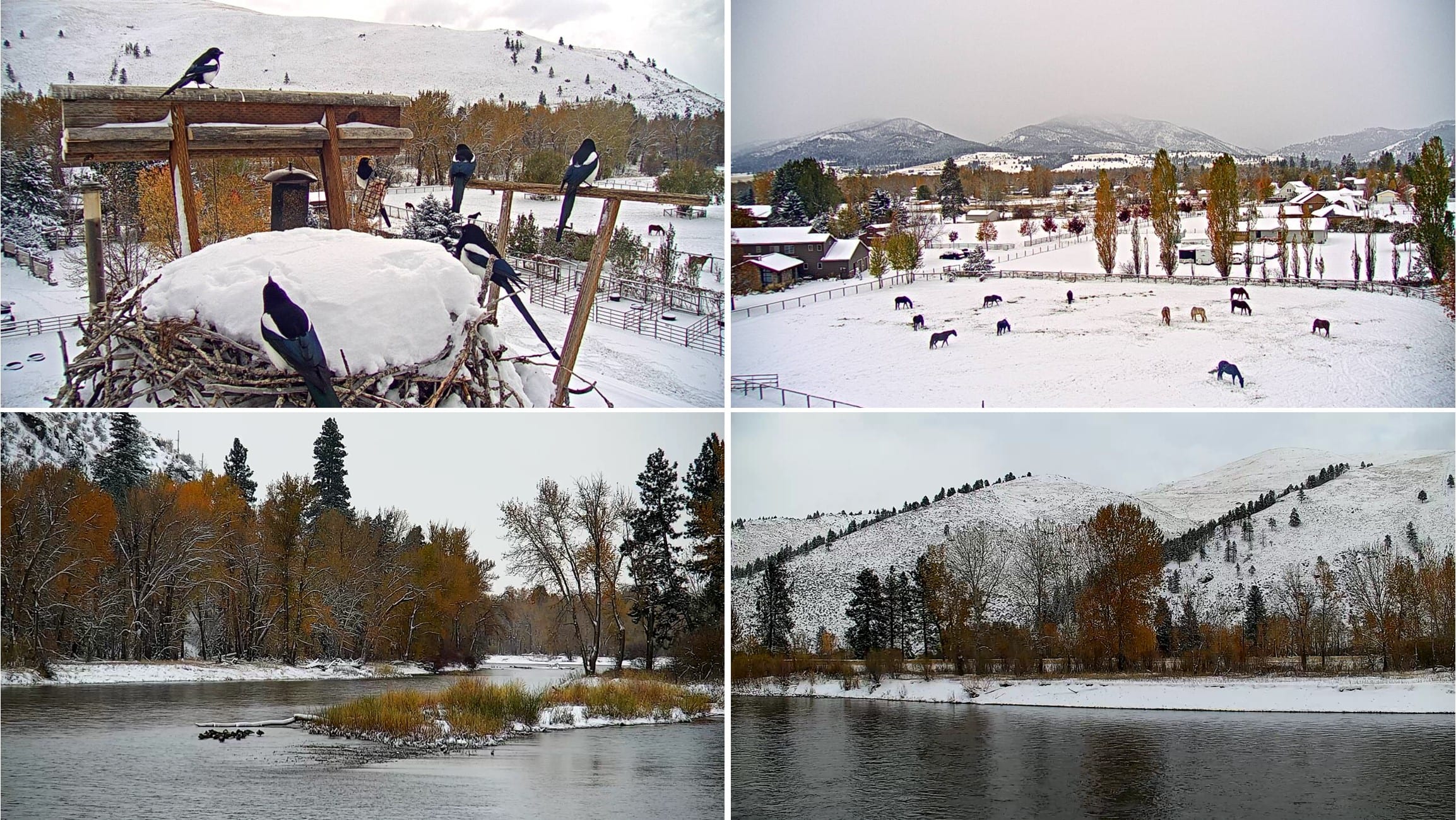 Have a Safe and Happy Halloween
We would love to hear about what you did to enjoy Halloween despite the limitations imposed by the Covid-19 pandemic. Be sure to take photo of your Halloween celebrations to share with us in the chat during our Monday Social on November 2nd.
Best wishes for a wonderful week and we hope to see you at the ranch,
SuzAnne, James, Paula, Ashley, and Ryen and the rest of the crew.