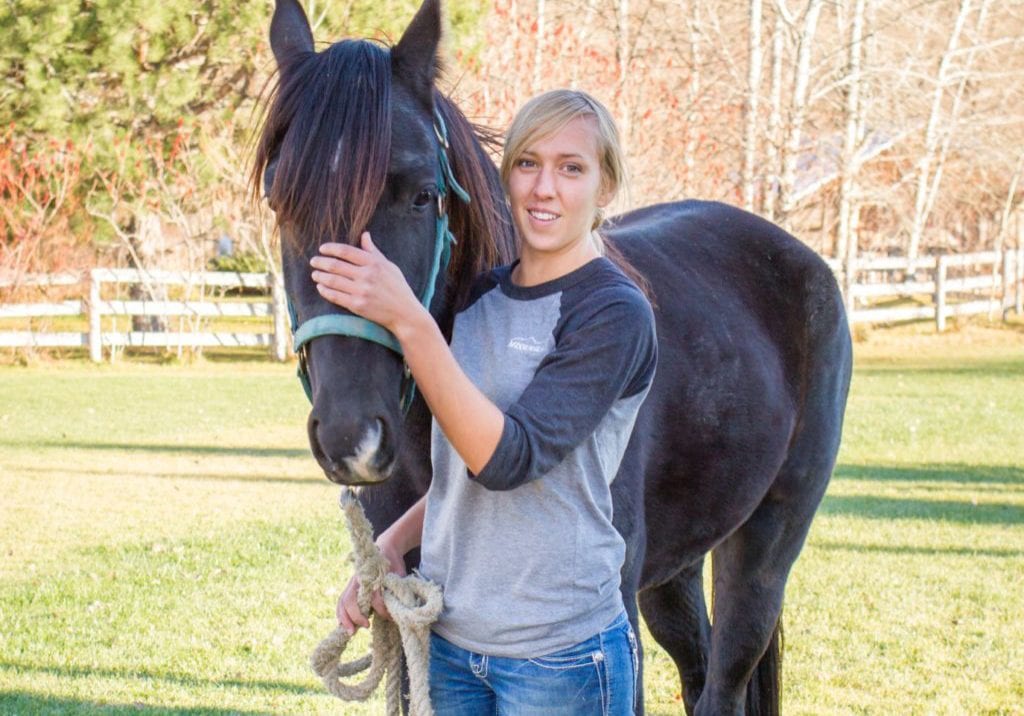 The cute, goofy, young, and gangly black Tennessee Walking horse arrived at Dunrovin just a couple of days shy of Halloween. Straight off the range from the Hashknife Ranch, the four year old showed up wearing the name Smokey Vigor. Well, that won't do! We already have a horse named Smokey; and frankly, Vigor just doesn't cut it with us. Since we knew almost nothing about this handsome, dark guy hiding his eyes behind his long forelocks, and since he arrived on the eve of Halloween, we decided to name him Mystery. As the months have passed since his grand entrance at Dunrovin, the name rings true for him. Each month he changes as he grows into his new home, becomes a part of the Dunrovin herd, and progresses with his training program.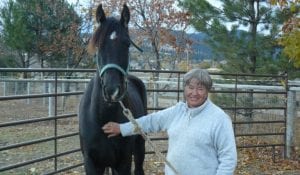 Mystery was purchased from master horseman Brandon Carpenter for a very specific purpose. Dunrovin wanted to try using our internet technology to have Brandon "tele-train" one of our staff to get him under saddle and into Dunrovin Ranch's guest ranch program. We had never before attempted anything like this. We had never before trained a horse from the ground up, although we had participated in training the foals born here. Certainly, neither we, nor probably anyone else in the entire world, had attempted to "tele-train" an animal via the internet. This would be new ground for everyone.
The idea grew out of circumstances that accidentally came together. The young woman who was supposed to accompany me on last September's "Giddy-Up Montana" trip (go to page 20 of Distinctly Montana for an article about the trip) was unable to go at the last minute. So I asked a new staff person, Taryn Bushey, to take her place. I barely knew Taryn, and I had never before ridden with her. However, she knew how to drive a gooseneck trailer and seemed totally comfortable in the saddle, so she was tapped to come along.
Taryn turned out to be a great choice. Our guests all scooped her up right into the group. We all soon learned that she could deliver smart-alec remarks with the best of them and was most certainly not intimidated by their age or fancy professional titles. She was a hit from the get go.
As I talked with her, I began to understand that while she had plenty of riding experience and exceptional ranch skills, she was new to gaited horses. She had been given Mickey to ride. Mickey has a tremendous gait. In fact, he has been shown and won blue ribbons for his gait. He is also a feisty and stubborn horse. Taryn was able to handle him just fine, but she was not sure of how to control his gaits.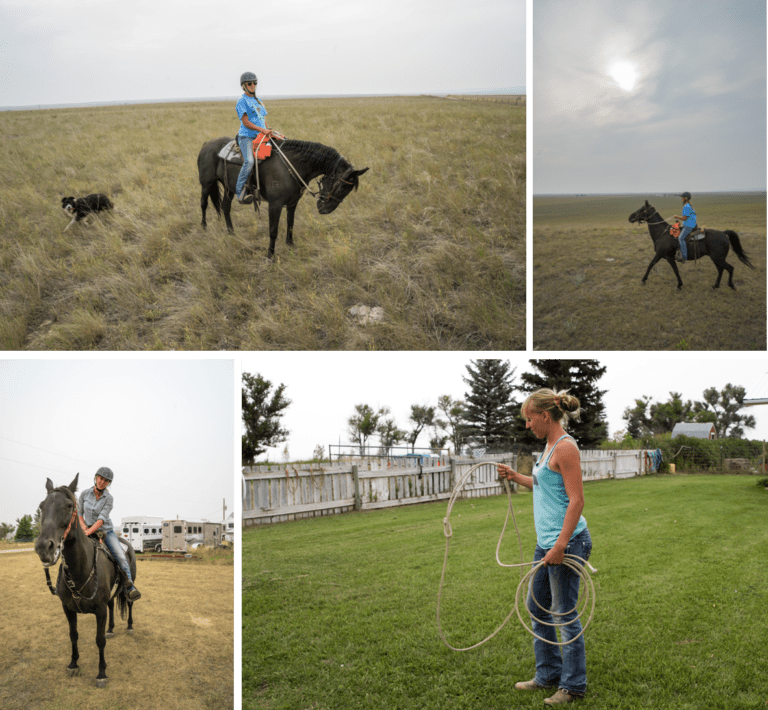 Well here was an excellent opportunity. While we were all at Brandon's ranch, I signed her up for some individual lessons with him. From the moment she and Brandon separated themselves off so he could tutor her in how to "get the gait" from Mickey, it was clear that they worked well together. Taryn is a sponge for learning about horses. She is smart, quick, agile, and every ready with questions if she doesn't understand.  She is unafraid to try new things and equally unafraid to say when she is not sure of something. Brandon is a born teacher and a total sucker for a great horsemanship student. They were clearly a match.
Their budding friendship grew in spite of their initial game of cowboy dueling – which is when two cow hands face each other with lariats and try to rope one another. Brandon brought out his lariats to demonstrate to our visitors how is done in the west, only to have Taryn challenge him to the duel. Little did he, or any of us for that matter, know that Taryn was very handy with a rope. She won the first round, bringing Brandon to the ground with a rope around his ankle. He retrieved his pride by winning the second round when he threw a rope around both of Taryn's feet. Both fun loving and great sports, Brandon and Taryn fell to the ground laughing each time and promising revenge. This was the beginning of a shared, mutual respect that is so critical to a mentor/student relationship.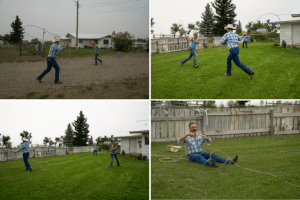 Watching them work together during this trip gave me the idea of having Brandon mentor Taryn from afar. He works full time as a supervisor in the oil refinery in Billings as well as manages a cattle ranch and trains horses. There was simply no way that he could spare the time to come to Lolo periodically to mentor Taryn. Therefore, I hatched a plan and presented it to both of them.
What if we tried our new internet technology to get Taryn before the web camera with Brandon on his computer at his ranch and the two of them talking on the telephone? We could plug the phone line into our broadcaster for others to see, have Brandon interact with D@D members on the chat and virtually connect everyone. It was a grand scheme and they both said they were game to try.
I don't think this scheme would ever have entered my head were it not for these two people, their enthusiasm for challenges, and their easy way with one another. Beyond a doubt, there were going to be failures along the way as we stretched the use our web camera network and audio system in this unique way. How effective could Brandon possibly be able in assisting Taryn were there even a slight time delay? Could we operate the cameras in a way that gave Brandon sufficient information to handle the situation adequately? We had no end of such questions and the only way to find answers was to experiment.
And experiment we did. Initially they did have to deal with a time delay, and then my son, Jake Miller, suggested a technical solution that completely solved it. The weather, especially the wind, created some audio issues. New, better microphones solved that problem. Little by little we conquered each technical problem. And little by little, Brandon and Taryn surmounted the problems of working together long distance and integrating our viewers. We all exceeded our expectations.  Mystery was progressing, our D@D viewers could easily follow along, and everyone was enjoying the process.
The program is both simple and complicated. The technology is very new and challenging with lots of "choke" points that can slip you up. But the "on the ground" reality is really quite simple.
Brandon watches Taryn via the internet along with DaysAtDunrovin members who have tuned in. Taryn wears a Bluetooth headset around her neck to talk with Brandon as she works. Their conversation is heard over the broadcaster.  As Brandon talks with Taryn, he monitors the internet chat to answer questions from chatters. So it is very much like everyone is sitting on the corral fence watching, listening, and learning right along with Taryn. Viewers can ask questions in real time as the action is happening, and Brandon and Taryn can demonstrate things on the spot. This is "tele-training" or distance learning at its best.
Take a look as some excerpts from their training sessions. This 25-minute video shows three different episodes of Brandon's tele-training Mystery with Taryn. The first episode was really the first episode – the very first time we attempted this in October of 2015. The second episode takes place in December of 2015 and demonstrated how this technology differs from watching YouTube videos on horse training. These sessions are unscripted and unedited so our viewers are privy to all that horse training involved. In this December episode, Taryn has difficulty catching Mystery to begin the round pen training, and that is where the training begins. The last episode occurs in June of 2016 and again demonstrates the organic nature of these tele-training sessions. Brandon and Taryn must react to what Mystery presents and the viewers see it all, they hear and engage in the conversations that hold meaningful horsemanship lessons at every turn. Tele-training engages our viewers in the full reality of starting a new horse.
Brandon picked exactly the right horse for this project. Mystery is kind and curious, cautious, but not fearful. He readily responds to Taryn's training and genuinely wants to please her. He has become very friendly with people. Shaking his head in a "come on over" gesture, he grabs the attention of passersby. His little boy attitude is irresistible.  He and Taryn have established a very solid partnership of trust.
Taryn and Brandon started in November and worked through December before putting Mystery out to pasture for the winter with the herd. They picked up their training again in the spring and the only thing that is slowing the process down is finding the right time for everyone. As the guest ranch summer season arrived, Taryn was busy with other responsibilities. Similarly, Brandon's ranch work demands more of his time in the spring and summer.
Getting Greedy to Bring in Other Horse Owners
As our collective confidence in the "tele-training" system grew, we started to get greedy (Brandon calls himself the King of Greedy and has often referred to Taryn as the Queen of Greedy!). We wanted to experiment more. Could Brandon get on the telephone with other horse owners to review a video provided by the horse owner in order for Brandon to help the owner with specific issues? We decided to try it – and our greediness paid off.
We invited a couple of people to experiment with us, submit a video, arrange a phone conversation with Brandon, and let the learning begin. Below is a clip from the experiment. Miranda sent Dunrovin a video of her riding her horse. Dunrovin broadcast the video along with the telephone conversation between Brandon and Miranda as they watched that video together. She explained the issues she was having training her horse and Brandon responded with suggestions. What a unique way for a horse owner to get some expert advice without having the expenses of traveling and attending a horsemanship clinic. I think we are on to something that could benefit horse owners across the internet!
While Taryn has yet to ride Mystery, they are ever so close. Had Brandon been training Mystery at his own ranch, that would have happened long ago. But we are not in a hurry. Our project goals were not to train Mystery in record time, but to develop a process whereby we could avail ourselves of Brandon's expertise without his having to physically be present. This has lengthened the process, but not altered it. We have added priorities. Not only will Taryn learn valuable horsemanship techniques and Mystery become a well-trained mount, but we will all learn how to actively engage our D@D members and effectively use this technology to take Brandon's gentle and respectful horsemanship technique to horse owners across the internet.
November 2016 Update
Taryn has made tremendous progress with Mystery under Brandon's  "tele – training" program. After a very busy summer, Taryn has resumed her online sessions with Brandon and we were sure that she would ride Mystery for the first time before the end of October.
Sure enough! the big event happened on October 24, 2016 and was viewed by many of our D@D members. Congratulations to Taryn for being such a great student. Congratulations to Brandon for being such a terrific "tele-trainer!"
May 2019 Update – In the Round Pen with Oggy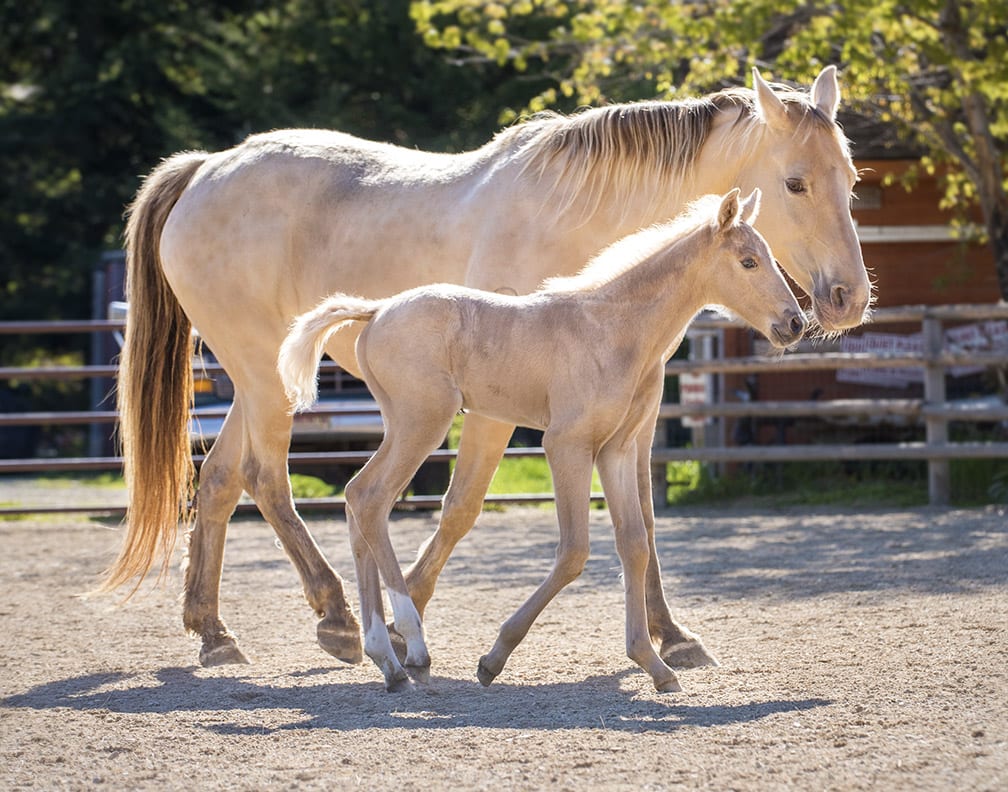 In May of 2017 the Lovely Laddy Lonza gave birth to a colt that we named Ozzie's Golden Echo, or Oggy for short. In the spring of 2019 Oggy is a handsome young two-year old horse that was full of himself and, frankly, a little spoiled from too many guest ranch visitors making over him. In this video Ranch Manager, Kelli Kozak, works with Brandon Carpenter on the phone and computer to begin training Oggy.