Dunrovin Ranch has BIG plans for its six flagpoles that are movable and can be positioned at various heights. We hope to establish a Fanciful Flagpole Tradition at Dunrovin by inviting artists throughout western Montana to come and "do their thing" using a flagpole as the centerpiece for art displays that interact with nature.
The Origin of Dunrovin Ranch's Six Flagpoles.
"How, exactly,"  you might reasonably ask, "did Dunrovin Ranch come into possession of six flagpoles? Wouldn't one have been enough to fly the flag on the Fourth of July?"  The short answer is a lack of won't power. As a child, SuzAnne's father correctly noted that she had an infinite amount of will power, but a near total lack of won't power. Once an idea takes hold in her brain, however ridiculous, she is practically incapable of letting go.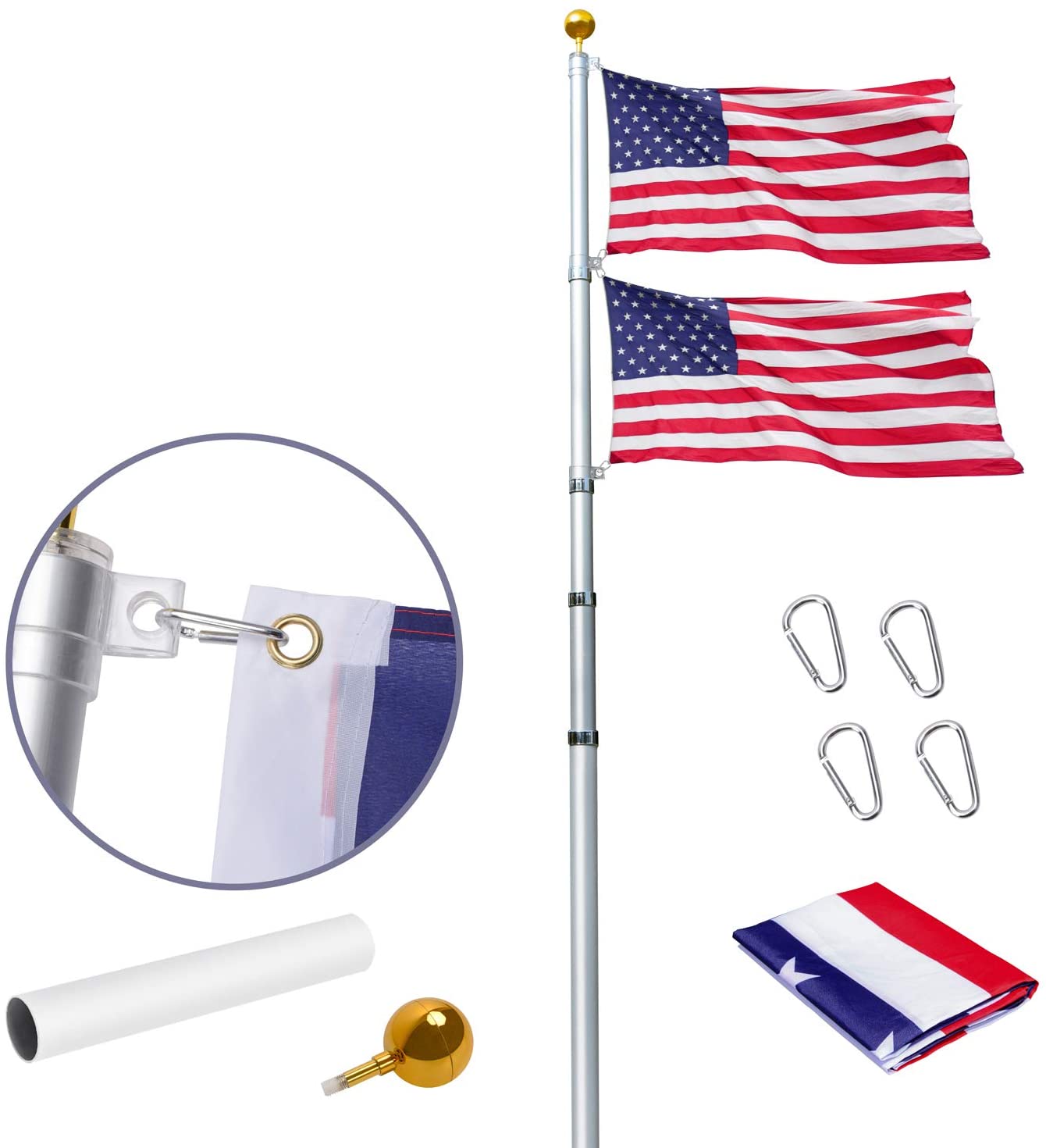 The flagpole idea was born several years ago at the Western Montana Fair where SuzAnne was manning a Dunrovin Ranch booth that happened to be located across an isle from a vendor who was selling "telescopic" flagpoles that could be positioned at variable heights. The fair lasted an entire week which gave SuzAnne far too much time to stare at the flagpoles and fantasize about artistic uses for them.  They could be used to create a lovely canopy for a bride and groom. What wonderful Maypoles they would make. One could hang flower baskets or colorful banners instead of flags. The possibilities were endless. As the week wore on, the price of the flagpoles declined as steadily as SuzAnne's imagination grew. By the end of the fair, the vendor's stock of flagpoles had dwindled to six and he just want them gone. A deal was struck and SuzAnne's husband was called in to help her six new flagpoles home.
Making Them Moveable
As is all too often the case, SuzAnne gets a crazy idea and her husband ends up doing the work! What a great guy! SuzAnne wanted to be able to move the flagpoles around the ranch with the use of a dolly rather than have the poles permanently installed in a specific location. This meant building sturdy, weighted stands into which each pole could be inserted. Sterling's clever solution was to get six old fashioned, small square galvanized steel tubs and cement the flagpole sleeves to them, leaving sufficient room on top of the cement to place flower pots to dress them up. Voilà! They work perfectly
Putting Them in Service
Like many of SuzAnne's other ideas, the implementation phase of this project took years to materialize. Sterling did his part right away, but life at Dunrovin seemed to intervene and opportunities for actually using the flagpoles did not present themselves until last winter. Our great tech guy, James, hauled them out of storage in our garden area and pressed them into service for the holidays by creating lighted Christmas Trees. This seemed to break the inertia and get people to thinking about how to make use of the poles.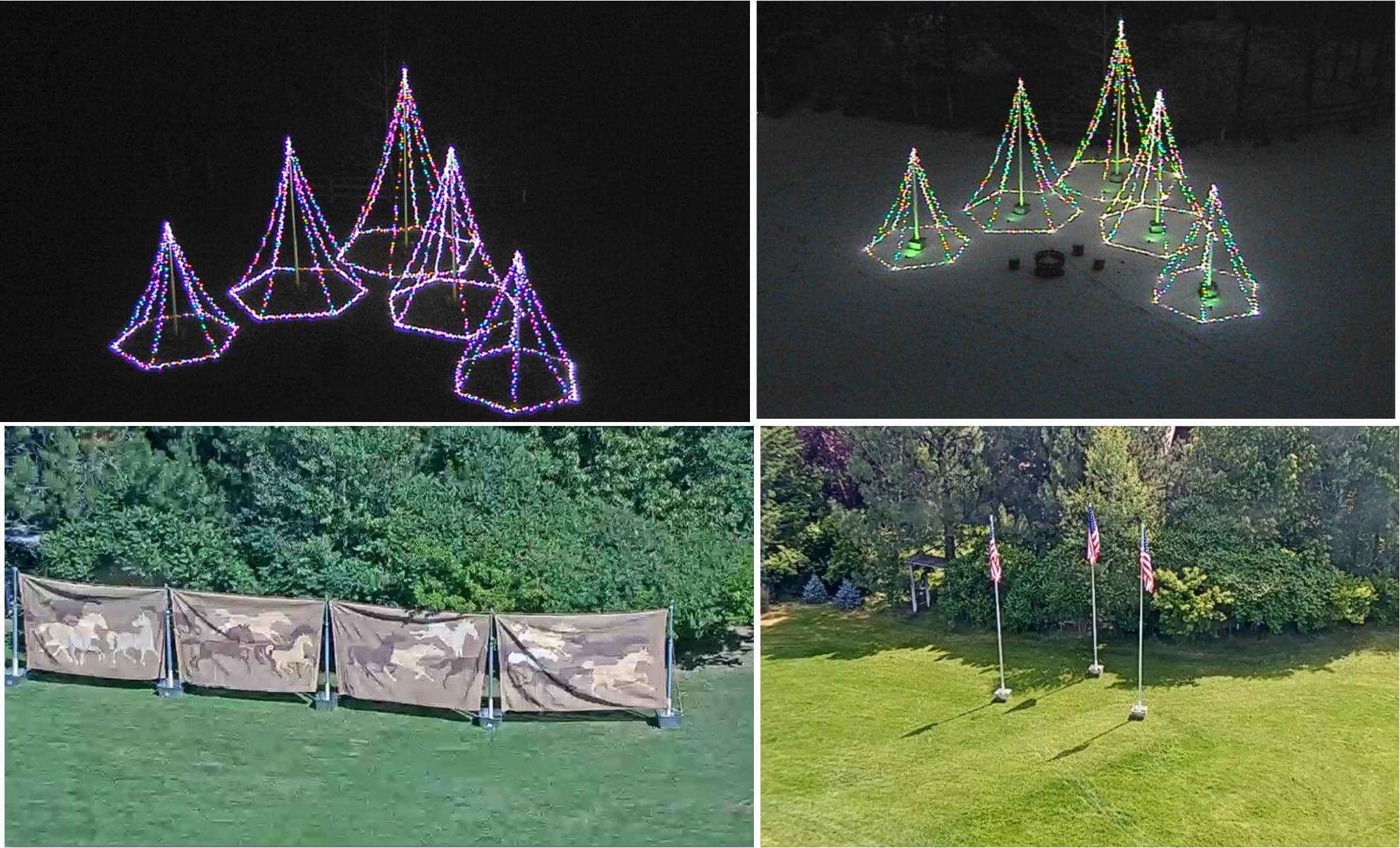 For the Fourth of July, three of them were used as actual flagpoles to display the American flag. Then, for the August Equine Art Extravaganza, the poles were brought out again to display the horse art screens that ended up being featured in some of the photographers' photos.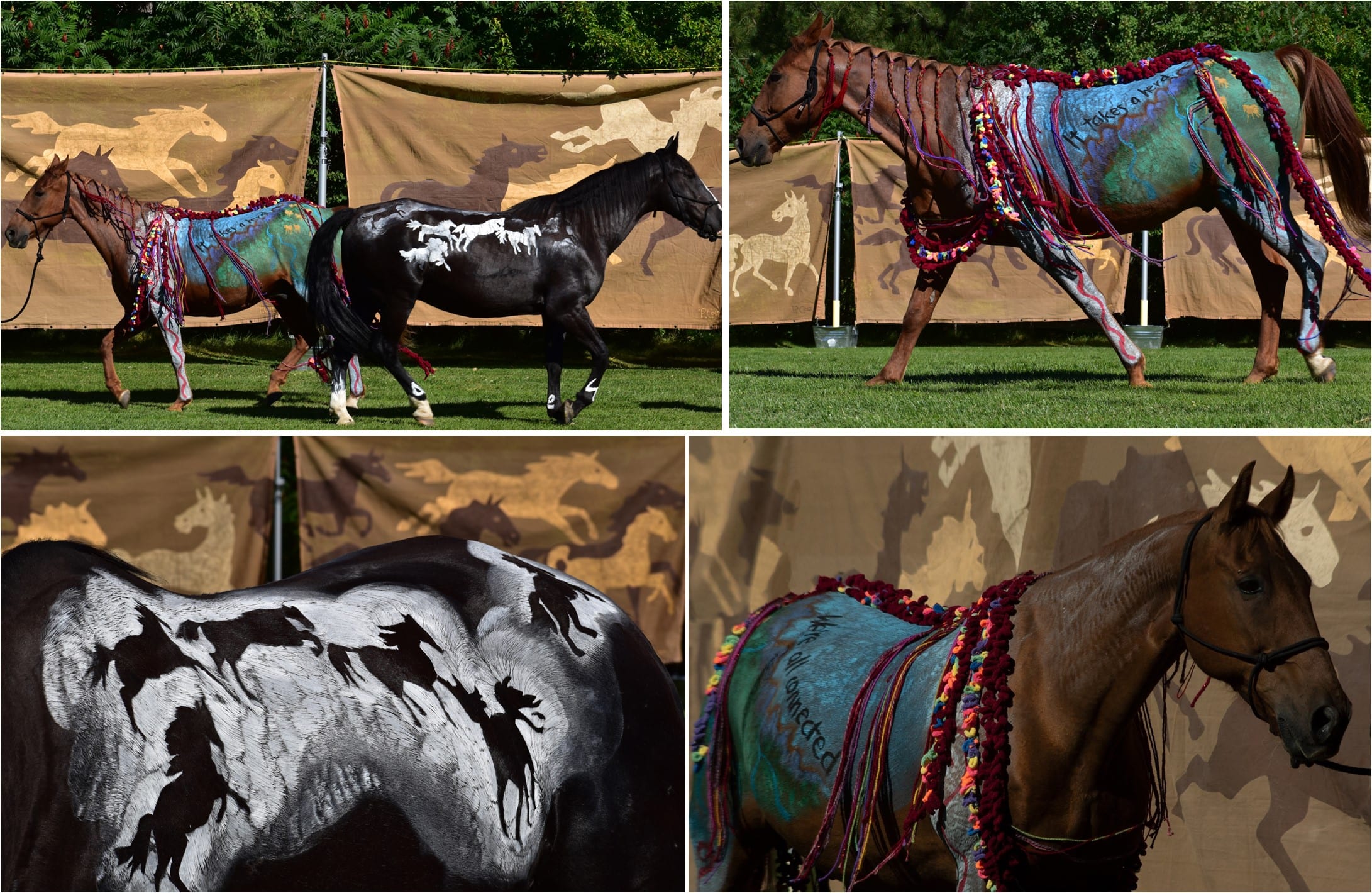 We've Only Just Begun
Quick Google searches for phrases such as "art projects using flagpoles" yielded nothing beyond the use of flagpoles for Christmas trees. Well, Dunrovin will change that over the years. Dunrovin will now use the flagpoles as the centerpieces for art of all kinds brought to life through the creative minds of artists from across the country.  Our Fanciful Flagpole tradition will get off to a great start this fall (of 2020) with Dunrovin's Paula Goldberg and local artist and Annette Wagner working together with other local artists on a five part art project that will add a new flagpole art structure centered on nature each week and will involve working collaboratively with our online [email protected] members. We are excited to finally launch our flagpoles into a their new lives as playing a unifying and central role for art that brings people together with one another and with nature.