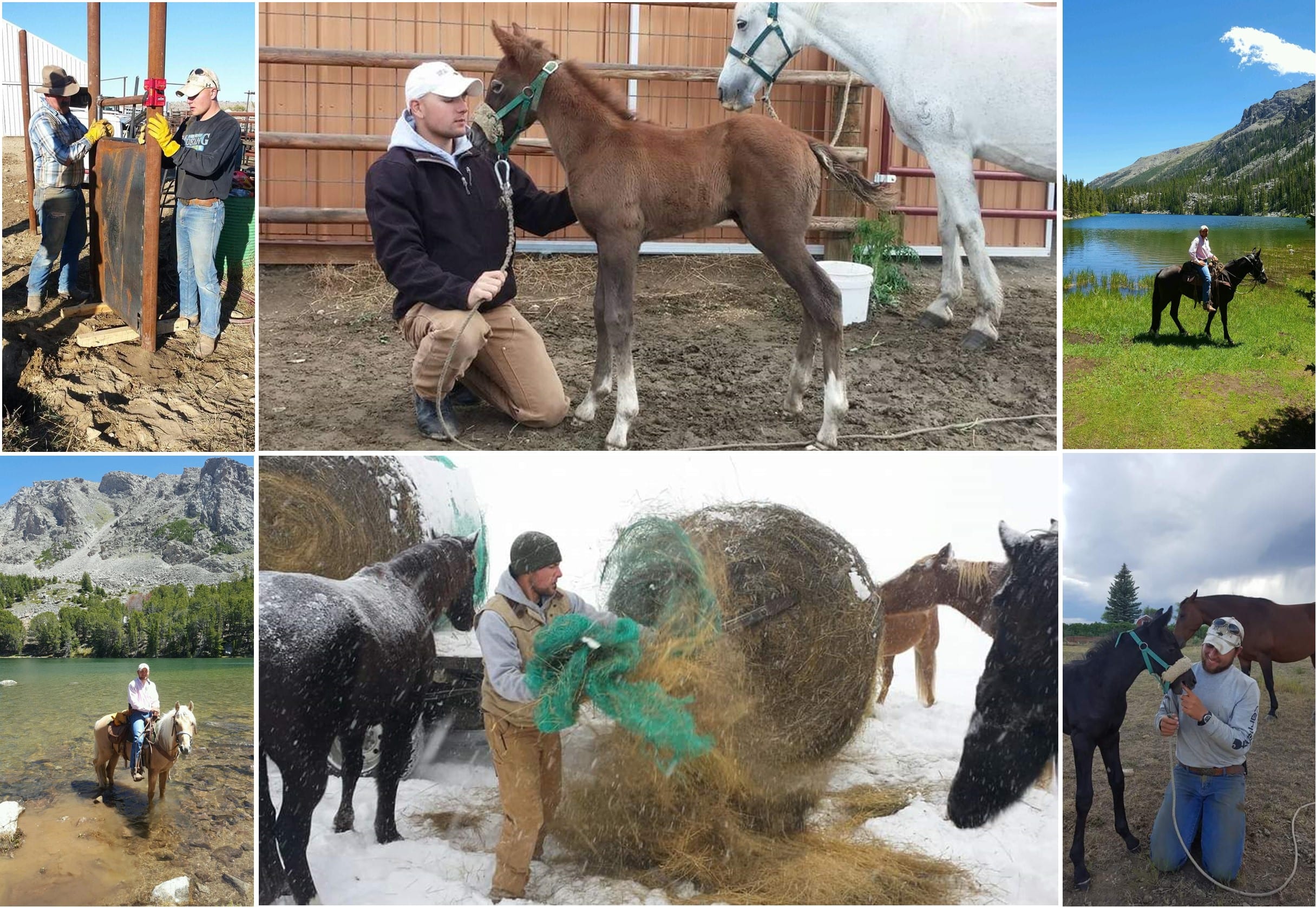 Calen Carpenter grew up in a horse and cattle ranching family in south-central Montana and is the oldest son of Brandon and Lisa Carpenter from the Hashknife Ranch. He is the sixth generation of Montana cattlemen and unknown generation of horse trainers due to the family's long tradition of training horses. Calen grew up following his father and grandfather and learned how to care for animals, train horses, and manage the family's small cattle herd. He grew up and attended high school in Shepherd, Montana about sixty miles southeast of the family's ranch. When not going to school and participating in sports he spent free-time and weekends working alongside his brother, parents and grandparents continuing the family business.
After high school, Calen accepted a four-year scholarship to the Montana State University Army Reserve Officer Training Corps program where he prepared for his military service and took advantage of an opportunity to travel to the Baltic region for a month of training. Upon graduation, Calen departed MSU with a History degree and a commission as a Second Lieutenant in the United States Army.
As a Medical Service Corps officer, he began his career with a brief training course in Fort Sam Houston, Texas then moved to Fort Drum, New York where he served as a Medical Platoon Leader and a Medical Supply Officer with the well-known 10th Mountain Division. While serving within the 1st Brigade Combat Team, he deployed to Afghanistan for five months where he became the lead medical supply coordinator for all NATO forces during the early months of the COVID-19 pandemic.
Calen always appreciated home and understood as a cadet the importance Montana held within him. Upon his return to the United States, he began writing under the pen name CB Carpenter about memories and nostalgic themes from his home state. The first story he shared, titled "Mornings," was posted on Facebook in October 2020. It was met with encouragement and compliments from friends and family. Presently, Calen continues to serve in the United States Army at Fort Knox, Kentucky and works with his family as they share their Montana ranching lifestyle and educate people around the world about the importance and challenges found in agriculture.
Calen will tell you that his stories attempt to depict a hard-working Montana family seen through the eyes of an individual, nameless man. This man is multiple men, and the experiences are created from Calen's memories and imagination as well as the stories from his father and grandfather. They depict a realistic myth of a hard, western man and a symbol of modern ranching in Montana and the American west while holding onto traditions and a long-protected heritage. Readers will experience triumphs and defeats as well as the genuine love of a life few people in the world have ever personally seen, let alone, experienced. If readers search for lessons within the stories it would be this: appreciate life's simplicities and enjoy them as much as possible.
Wherever he went, he took the flag with him. It sported a blue field emblazoned with the state seal which pictured a scroll where the motto "Oro y Plata" was written beneath a plow, pick, and shovel on a plain in the forefront of mountains, trees, and the Great Falls of the Missouri River, encapsulated with the backdrop of a setting sun. The cartoonish depiction was crowned by a bold MONTANA across the top in golden yellow letters.
For many years he rented apartments or small houses, but never owned anything. All the places he stayed were a temporary solution until he returned home. The flag was prominently displayed in the residence for guests to see and it often opened to good conversations like a worn key to an old, sturdy treasure chest. Whenever he left for any significant time it went with him. The flag travelled much of the United States and even accompanied him halfway around the world to a war-torn nation. It showed the miles journeyed. The wrinkles from long flights to Europe and the Middle East while folded and stored away in his backpack. Marks, large and small, acquired from wall corners, gear, dust, and dirt were like scars that over time created their own story.
Whenever people asked where he was from, he would beam a big country-boy smile while merely saying Montana. The reactions were mostly the same. He would get initial looks of wonder and interest that quickly transitioned to assumptions and beliefs about what a Montanan's aura was like to the outside world. Unending expectations started with marksmanship and continued into outdoor activities. However, when others learned he came from a ranching family, the reactions were different. Suddenly, those asking strange or insulting questions looked over his unassuming figure and gave an odd look of bewilderment.
Even when his skills were rusty, yes, he typically outshot his peers. It did not always look impressive, but it got the job done. His reinforced work ethic ensured he came to the office early and maintained a dogged determination no matter the task. Leading Soldiers was easy. He could manage forty men and women; it was the cattle and horse herds with minds of their own and endless time at their disposal that challenged him. He loved to spend time with the animals but had hobbies and enjoyed other things outside the rewarding grind of ranching. While he knew a few things about cows and horses, he knew nothing about growing crops.
It meant a great deal to share the wonders of his home state, but he seemed to get odd looks from others wherever he found himself. When he went grocery shopping on weekends he caught stares out of the corner of his eye and was treated differently because he wore wranglers, boots, and a button-up shirt. The young people his age did not dress that way anymore, so why did he? His one concession to the outside world was his struggle to wear a cowboy hat. He occasionally displayed one during special times like holidays, but otherwise stuck to his small collection of well-fitting baseball caps.
The Big Sky Country was in his blood and always would be no matter where he went. He knew that after his time in the military he would come home and learn to be a Montanan again. There were things he missed and others he forgot, but undoubtedly, they would come back in time. Despite all the changes he witnessed from year to year during his visits, nothing would ever keep him from returning home.
What made the Treasure State so special was that it was unique. The mountains separated the state into regions, but the people kept it a tight-knit community. He could easily find himself somewhere meeting somebody who also knew a relative or a good friend. People trusted each other from the beginning, and they had to earn their way out of that bond. Wherever he went in Montana the wonders provided by nature were only a few miles in either direction, but they were also different. Such examples were the mountains that encased Missoula, the rivers that flowed through the Gallatin Valley, or eastern Montana's growth from the Dakota badlands into the foothills of the Rockies. He represented that unique Montana blend because it was what made him who he was. Wherever he went and whenever asked he humbly answered that he was from Montana and proudly displayed it for all to see.