In 2017 the Lovely Lady Lonza gave birth to a healthy beautiful and big palomino colt. She was not alone during her pregnancy, labor, and delivery. The members of the DaysAtDunrovin community were with her for nearly every step of the way. They stayed up for nights waiting and counting contractions until the early morning of May 3rd when Ozzie's Golden Echo, or Oggy for short, entered our world, providing endless hours of joy for all of us.
Happy Birthday to Ozzie's Golden Echo
Born on May 3, 2017
The Lovely Lady Lonza may have been doing all of the physical work, but it was all of us who belong to this incredible Dunrovin Ranch community that bridges the online with the onsite who did all of the worrying. For the first time at Dunrovin Ranch, a foal was born under the scrutiny of our web camera broadcast network. All of us watched Lady Lonza's belly bulge and grow bigger and bigger throughout the winter months, looking more and more uncomfortable as spring began. We all sympathized with her burden and understood the enormous changes her body was undergoing in anticipation of the birth. As the final days approached and signs of an impending birth began to show, we installed a night light in her stall so we could watch and wait with her. Many of us had truly meaningful conversations during the middle of the night as we timed her contractions, recalling the births of our own children and jointly marveling once again at the miracle of birth.
Then, early on the morning of May 3, 2017, it happened. Lady Lonza laid down in the straw of her stall and gave birth without hesitation and with great motherly care. A tall healthy colt was born. You could almost feel our collective sigh of relief!
Members worked together with me to find the perfect name for newest equine member of our tribe. In
naming Oggy
, we invoked the name of our beloved male osprey, Ozzie, who had been killed just three years earlier. In settling on Ozzie's Golden Echo, Oggy for short, we found the perfect way to honor Ozzie and welcome this golden haired colt to Dunrovin.
That first summer, Oggy was spoiled by everyone except his grandmother Annie. People flocked to see and pet him. Lady Lonza was totally indulgent and remains so to this day. It was let to Lonza's mother, Annie, to teach him to get along with other equines, to keep his place and mind his manners. Unfortunately, Annie was with on for only about 10 months. She died in early 2018 and was memorialized by both a tree in her name and with a gorgeous leather halter for Oggy that the
[email protected]
members had purchased and had engraved with a plaque in Annie's name.
Oggy has not only brought hours of joy to all of us, but he has been a major ingredient in the glue that holds our community together. He belongs to all of us. We have been together as friends and neighbors throughout his entire young life. Every aspect of his life is now part of our community history.
Kelli worked with Brandon via tele-training to teach Oggy the basics of ranch life, to respect people's space, to load in a trailer, to be lead and tied at the rail, and to allow the farrier to work on his feet. Oggy got a great start with Brandon and Kelli.
When Kelli departed, Ashley took the reins in working with Brandon. They as made tremendous progress in teaching Oggy to pull a stone boat with a jury-rigged pack saddle for a harness. We have all cheered them on and celebrated their every success.
Oggy will continue to delight and entertain us with his antics, his training, and his growing up into a fully fledged guest ranch horse with an important job. May he live a long life and continue to bring us together to rejoice in his beauty and spirit.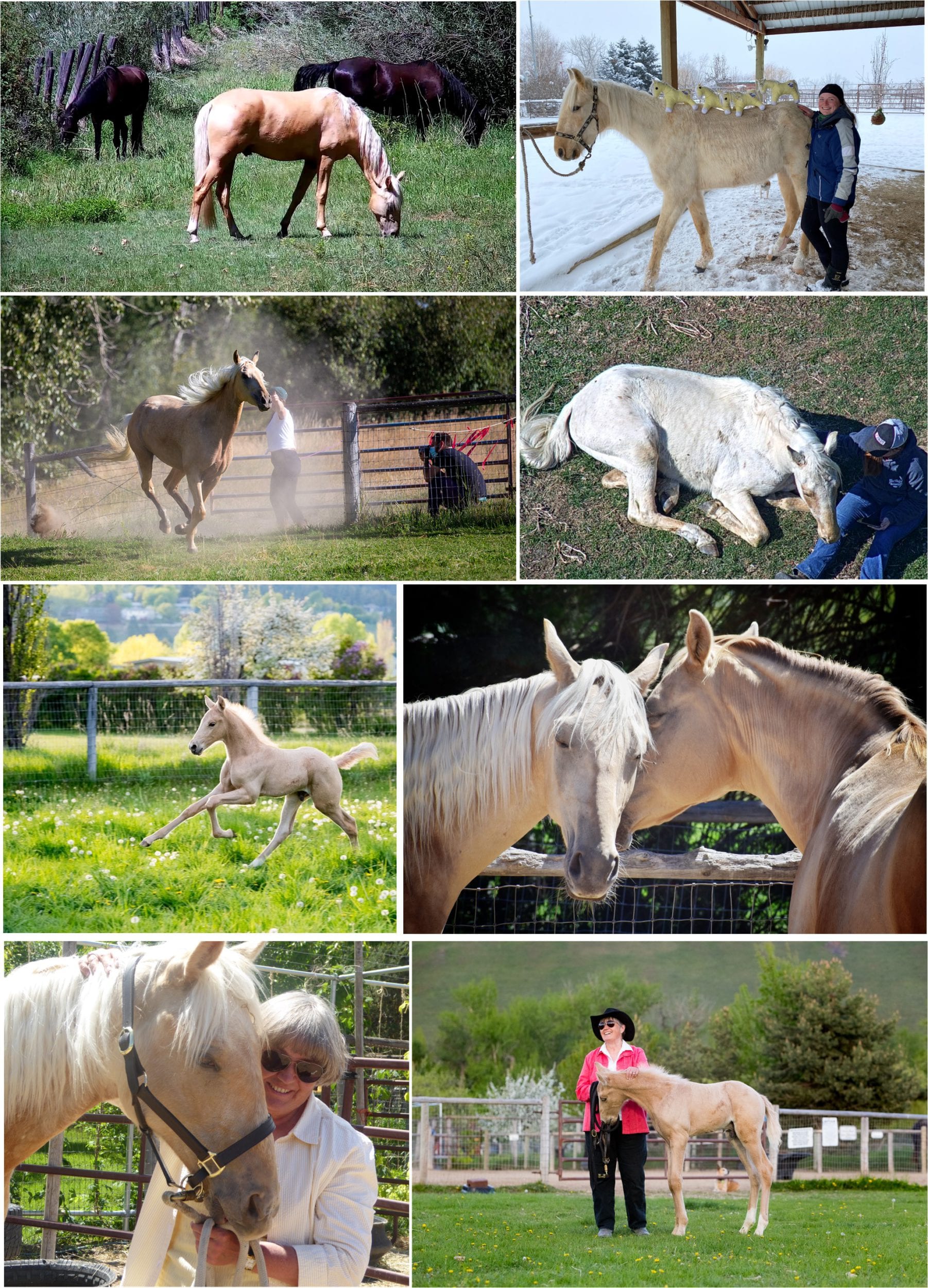 Please share your oggy stories
Please take a minute to tell us what Oggy means to you. Post your favorite photos of him through the years.
Go to the main camera page on this website and leave your stories and photos in the Dunrovin Ranch Discussion Board. I will collate them all into a follow-up blog post. Let's all celebrate Oggy's birthday together. After all, he belongs to all of us!