Ashley reflects on her months of horse training (via zoom) with Brandon Carpenter of Hashknife Ranch. A mystery involving a mink and a great blue heron took SuzAnne down to the river to investigate. The last full moon or 2020 gave us some beautiful sights. Dunrovin announces a special program called Animals as Helpers and Healers.

Horse Training with Brandon - by Ashley Chapin
Working with and being around horses has been a passion of mine since I was a little girl. I grew up riding horses, learned about foaling when I was in college, and became acquainted with the daily ins and outs of horse care when I started working at Dunrovin. But I have never been involved with actually training horses on the ground and working with them in such an in-depth way. A friend of mine who owns a 12 year old quarter horse allowed me to lunge his horse a few times, but it was never as a training session, only as exercise.
Since I have been working with "Real Deal Cowboy," Brandon Carpenter, I see the enormous difference between utilizing a round pen for exercise and actually training and teaching your horse and yourself. It's not just about getting the horse to listen to you, it's about training yourself to properly communicate with your horse and provide them with the information and tools they need to be successful in their education. 
Brandon is an incredible teacher and takes the time to explain the 'how' and 'why' of the things you do when training horses. You have to get outside of your human brain and think like a horse, "pressure and release". There have been situations where I needed to move a horse out of a tricky spot, or get them to listen to me without a halter on and by applying pressure (poking them with my hand, clucking, or using my energy) I can get them to respond to my commands. 
Some of the biggest lessons I have learned are about body language and body position in relation to the horse. Where I put myself in the round pen tells the horse a lot about which direction or speed they need to be going, and that the energy coming from my body is the initiating force. Horses are incredibly sensitive and intuitive creatures. They often know what you're thinking and feeling even before you do. This ability to 'read' a trainer is especially strong with Mystery. He will turn away if you so much as look him in the eye with too much energy. Horse training requires confidence and leadership, because horses are herd animals and need a leader to follow. Otherwise, they will make up their own rules which is not what we want when working with them. By establishing my dominance, I can create a relationship with my horse in which he relies on me for instruction and confidence in himself. 
Walking a horse on a halter is a whole different game than working a horse off-halter in a pen or pasture. I've noticed since I've started training Mystery that he follows me around everywhere in the pastures and is always interested in what I'm doing while I'm working. This makes me feel as though he trusts me to be the leader and that I won't bring any harm his way. 
Training a very young horse like Oggy presents unique challenges. He hasn't been asked to work in a very long time and knows he is the Prince of Dunrovin, so he gets away with a lot. He's like a bratty 17-year-old boy who doesn't want to listen to his parents tell him what to do. He requires extra effort to get him to move and needs a more intense training session than Mystery does. Unfortunately, our training was halted in November due to a cellulitis issue in his leg and he's been out of work since then.
I'm excited to start back up again with Oggy after the holidays,  I'll be training him to pull a sleigh! I feel that giving him a specific job to do, rather than merely running in circles, will help him get through his barrier of not wanting to listen. If he can engage his mind and body, I think he will be more responsive to training. I'm especially grateful to SuzAnne for introducing me to Brandon and for the opportunity to learn how to train horses. It's a skill that is invaluable to me and something I would love to continue when I own horses of my own one day.
A Mystery at the River - by SuzAnne Miller
At about 8:00AM on December 28th we caught a quick appearance by a mink along the river. He crawled over a log and disappeared into the bushes. Minks are semi-aquatic and they have a strong distinctive odor, somewhat like skunks. An hour later, a great blue heron landed and stayed for well over an hour. It continually looked into the bushes where the mink had gone, and ultimately disappeared into those same bushes. The next day, the great blue heron returned and headed straight for the bushes again. The webcam lost sight of it for a while, but caught up to it about 20 minutes later, and again, it headed for the bushes and could be seen walking in and out of the brush for the next hour or so.
All of this piqued SuzAnne's curiosity, so she headed down to the river to look in the bushes, where she found only a shallow pool with a log in the river right along the edge. The log would make a perfect hiding spot for the mink, and the area had a distinctive smell.  Was the great blue heron hunting for the mink? The answer is: possibly. Many of you who have been with Dunrovin for years, will remember the great blue heron who stationed itself above the holes of the local ground squirrel population and successfully caught a few.
A Quick Glimpse of a Mink

First Great Blue Heron in the Bushes
Second Great Blue Heron in the Bushes
December's Cold Moon Over the River - by SuzAnne Miller
The Old Farmer's Almanac claims that the full moon that occurs in December is most commonly known as the cold moon which is taken from a Mohawk name that signifies that the coldest part of the year has commenced. The full moon in December 2020 was particularly wonderful for Dunrovin. The moonrises, for several nights preceding the actual full moon on December 29th, occurred before sunset. 
On December 27th, the river camera was focused on a large herd of elk on the eastern mountain ridge just before sunset, which also caught the moonrise. You don't want to miss this scene:
The moon rose again before sunset on December 28th. The December 29th full moon rose after sunset, but while fog was still rising and falling along the river. These circumstances made for a couple of evenings of beautiful moonrises. Enjoy!

Animals as Helpers and Healers - by SuzAnne Miller
Gathering a Herd for Hugs
To conjure a horse is to summon beauty, strength, energy, and freedom in a single thought; a thought so powerful it can vanquish all others, freeing the mind from the troubles of the day that are ever so eager to invade.
For much of the last year, Covid-19 has reined us in, requiring us to distance ourselves from our herd for its, and our own, protection. We have wearily masked up and trotted on through months of fear and isolation. Now we find ourselves anxious just when patience is most needed. Emerging effective vaccines have shone a shaft of light into our darkness. Like thoroughbreds at the starting gate, we can barely contain our desire to bolt towards it, even knowing that to do so now would only further endanger us all. What the world needs now is a herd of horses to gallop in and take hold of our minds, distract us, and carry us through this final, most difficult stage of the pandemic. Enter Lorraine Turner.

Lorraine is an internationally known fabric artist, author, teacher, horsewoman, and owner of CalicoHorses.com who has brilliantly devised a global plan to not only bring us together, but to occupy our minds and creativity with horses. She has focused her talents and time on designing a simple-to-sew pattern for small, cuddly soft horses that can be homemade and sent out to the world to give hugs and fill worried minds with thoughts of dancing horses.
Lorraine intends to gather A Herd for Hugs by soliciting volunteers to sew an eclectic collection of calico stuffed horses to gift to friends, family, or complete strangers of all ages, from the tiniest of children to the oldest of seniors. These charming little horses will let the homebound and their caregivers know that they have not been forgotten, and that the world is full of people ready to embrace them with the healing energy of horses. Her design includes a colorful patch for seamstresses to affix a personal note honoring a beloved horse, to share an inspirational quote, or simply to say "Hello."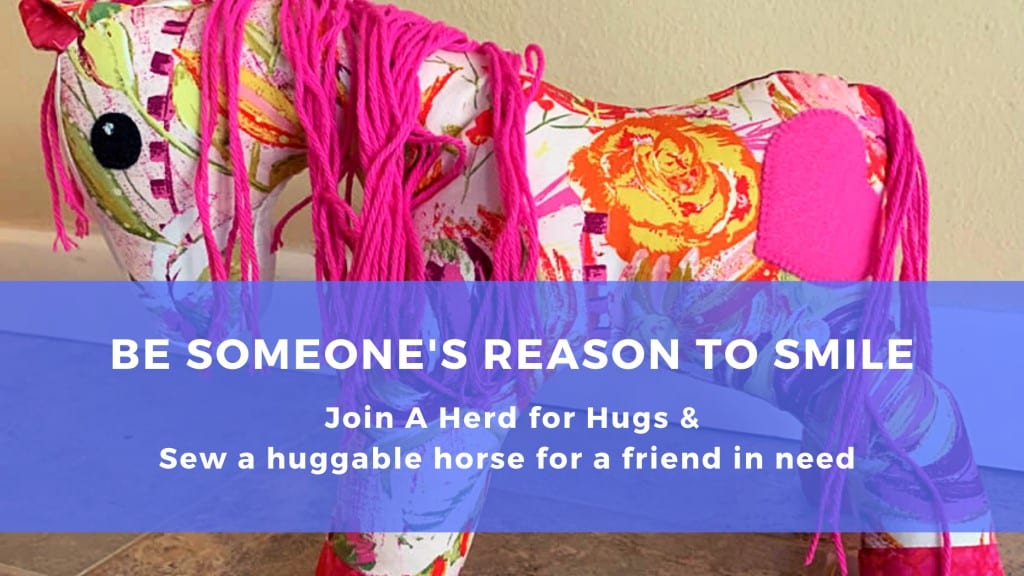 Happily, Lorraine reached out to DaysAtDunrovin.com to partner with her in this endeavor. As well as providing logistical support, Dunrovin offers a weekly virtual gathering session at MontanaSocials.org for volunteers to socialize as they work together under Lorraine's direction via live broadcasts.  You'll be chatting with others, seeing videos, and using a discussion board for questions, comments, and photos. This easy and fun post-holiday project begins on January 11th and continues through February 8th, which is just in time to drive the calico horses out of the barn to find their new homes in someone's arms by Valentine's Day or the Day of Random Acts of Kindness.
Visit A Herd for Hugs for the project schedule and details. There you can download the pattern, purchase a Calico Horse kit if you would rather not venture out to shop for materials, and offer the name of someone you know who would love to be surprised by receiving a huggable Calico Horse.
Animals as Helpers and Healers
This partnership with Lorraine's A Herd for Hugs project has inspired Dunrovin to develop an entire program centered on Animals as Helpers and Healers to be presented during our Monday gatherings at MontanaSocials.org. In addition to Lorraine's instructional broadcasts, this free livestream interactive program will showcase a wide range of people engaged in working with horses in various ways.

Each week we'll visit with horse trainer Brandon Carpenter from his ranch in central Montana and enlist him to coach (live, via our livestream broadcast network) Dunrovin employees.  Our folks will learn to drive a horse.  We'll also construct a stone boat for a horse to pull with hay to feed Dunrovin's herd in winter. What a perfect job for our three-year-old colt Oggy-- until he is old enough to ride! 

Author and storyteller, Lynn Backfield of Spirit Dance Equine Assisted Coaching, will host an interactive storytelling workshop helping people tell their stories of how horses have impacted their lives. Bonding with an equine can be a life-changing process, and we want to collect the stories that depict the richness of partnering with equines of all types – donkeys, horses, and mules.

Dr. Anne Perkins, retired professor and founder of Carroll College's Anthrozoology Program, will hold open discussions on what science tells us about the nature and importance of the bonds that people form with animals, especially with horses and dogs. Anne knows that our deep connections to animals is a fundamental and shared part of humanity.
The founder of the Equus International Film Festival and current development director of the Montana Center for Horsemanship, Janet Rose, has lined up four outstanding documentary films that passionately and forcefully convey the healing power of horses for veterans suffering from PTSD, foster children, people with disabilities, and even people at war with one another. These films show us the rewards that can be attained through equine-assisted programs that center on equines' abilities to see deep inside a person. 
MontanaSocials.org has a Mission
Dunrovin's goal for its free Monday social livestream programs at MontanaSocials.org is hand-in-glove with Lorraine's A Herd for Hugs: to fill these difficult times with opportunities to connect people of good faith, to promote kindness, respect, and understanding, and to foster friendships that cross the boundaries that so often divide us. The pandemic's demand that we physically distance has only highlighted the vital importance to all of us of strong social bonds. May we emerge from Covid-19's grip more committed than ever to cultivating social bonds that respect and nurture each of us.
The beauty of a hug is that it warms and benefits both the giver and the receiver. We feel it together. Dunrovin hopes to greet YOU during our MontanaSocial.org Monday programs. Come early for the sunrise tour; stay late to watch the films and meet with their producers. Join us this Monday and every Monday to explore, learn, collaborate, exchange stories, and embrace the goodness of people and animals.
Now let's start gathering Lorraine's herd of soft Calico Horses to give the world a hug and fill our imaginations with magical visions of flowing manes and galloping hooves! 
Get the weekly newsletter and broadcast schedule in your inbox every Sunday.