What a wonderful project it has been! A Herd for Hugs has resulted in over 200 handmade calico horses being sent out to seniors and children. As the calico horses thundered across the country, Dunrovin's Oggy made great progress with his training program under the guidance of Ashley and her coach Brandon.
Huggable Horses HIt the Trail!

pREVIOUS WEEKS BROADCASTS
A Herd For Hugs
Huggable Horses Head to New Homes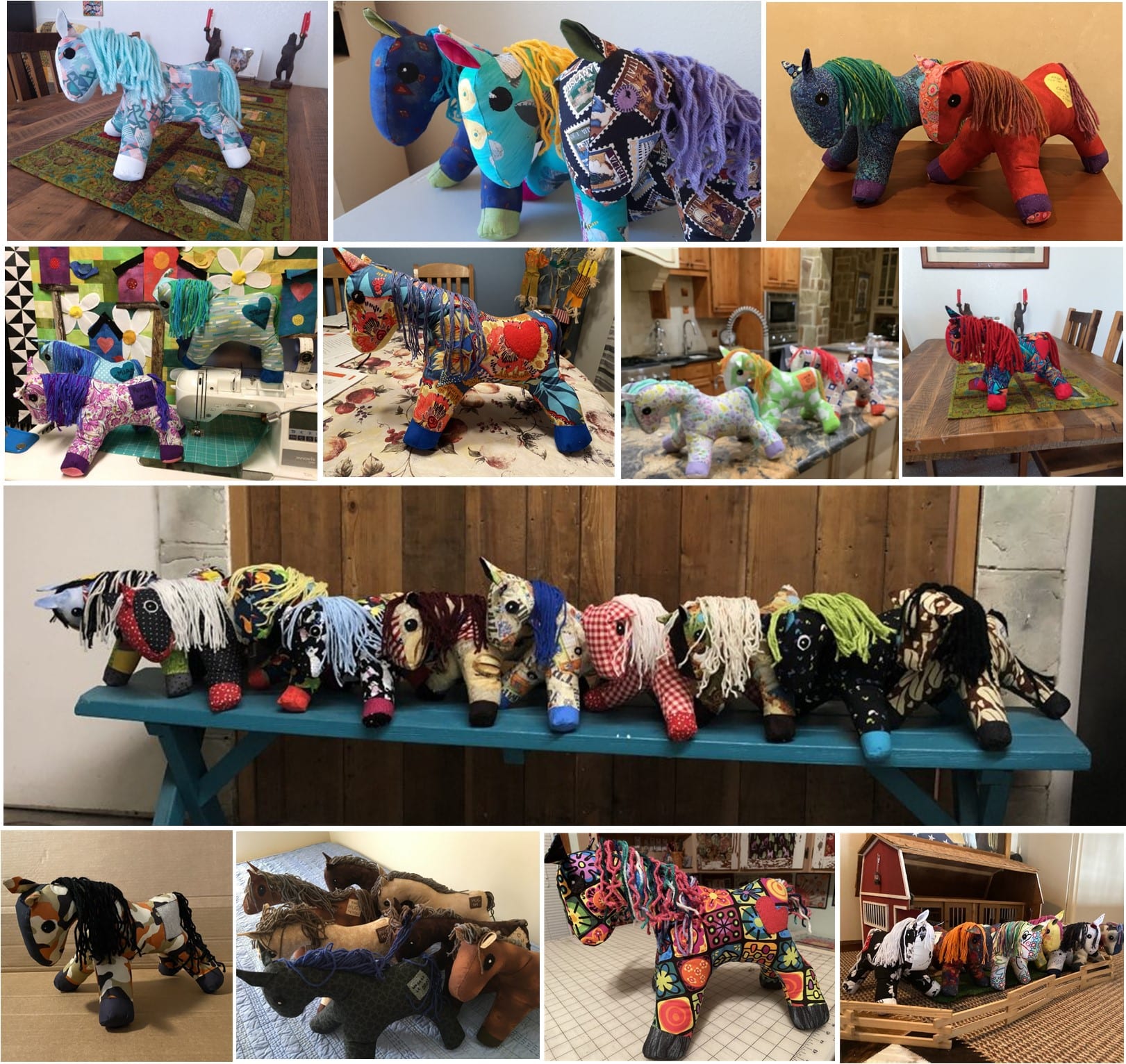 Over 200 adorable huggable calico horses made their way from their creators and into the hands of seniors and children needing a little TLC during the Covid19 pandemic. Dunrovin could not be happier to have been invited to collaborate with Fabric Artist Lorraine Turner to orchestrate her beautiful humanitarian effort A Herd for Hugs. We have sent the healing power of horses across the world to let people know that they are not alone during these trying times.The project's success is evident by the incredibly varied and creative calico horses that volunteers from across the United States and beyond created. We ALL enjoyed the smiles and laughter that characterized every "how to" broadcast hosted by Lorraine and Lorreen during February's Monday Socials. We will certainly miss that good cheer now that the project has concluded. Our hope is to track down some of the participants and ask them to share their stories during future Monday Social broadcasts.
News from Hashknife Ranch
James Begins to Construct the Stone-boat
Tech Guru Extraordinaire James Wasem has turned Dunrovin's dance hall into a woodworking shop as he follows - and improvises on - the plan that Brandon sent for making a stone-boat. Oggy will be trained to pull it and assist in the ranch feeding chores. As you will see, James turns his woodworking 'mistakes' into opportunities to get creative and strengthen the end product! Wotta guy!! 
Training Oggy
Step by Step, Ashley and Oggy Progress

If you have been following along with the stone-boat project, you have come to understand that teaching Oggy to pull it consists of breaking down that process into its individual components and training him to perform and accept many new things. He must be willing to carry a pack saddle that will be modified into a harness. He will need to hold a bit in his mouth and allow Ashley to drive him from behind, which means learning to turn, back up and go forward according to her commands. It's a lot to comprehend, especially since Ashley and Oggy are learning together. Oggy is the first horse that Ashley has attempted to train, and, of course, Oggy is new to every aspect of the project. Fortunately, they are both fast learners and respect one another. Behind it all is Brandon's horsemanship skill and teaching abilities. Together, these three are making thinking happen fast!
Clicking with Mackenzie
Letting the Animals be Creative
The love and regard that Mackenzie, the DIVAS, and Canner hold for one another is always evident in their training sessions. Mackenzie's way of integrating their individual personalities and their own creativity into the process reflects Mackenzie's underlying attitude toward animals. He treats them with the dignity that they deserve as the intelligent, fun, interesting and sentient beings that they are. You can watch Mackenzie in action as he open-heartedly laughs at the DIVAS' or Canner's antics and encourages them. For Mackenize, animal training is definitely a game of collaboration in which the roles of student and teacher are often reversed.  See them in action!
Dogs as Helpers with Ally Marshall
Ally Introduces Katie and Phoenix

It was a joy to welcome Ally Marshall back to Dunrovin Ranch. She is a professional animal trainer and falconer. She visited us last in her role as a falconer to explain and demonstrate how falcons and hawks are trained and maintained.
Last Monday, she returned to Dunrovin to introduce one of her star students, Katie Miklos, and her new service dog in training, Phoenix. Ally owns Wind River Canine Partnership in Florence, MT, which provides a full range of services for dogs: boarding, basic training, and service training. She most loves to work with people and their dogs to train them in whatever capacity is needed. Listen to Ally, Katie, Paula, and SuzAnne discuss the world of service dog training.
Is the Raven Eyeing Harriet's Nest?
Trouble may be brewing! Harriet Osprey is due to return to her sitting room by the first week of April, perhaps even on April Fools Day. If this raven, that keeps showing up at the nest to rearrange Harriet's furniture, is thinking it will bring along a partner and move in for the nesting season, a rude April Fool's Day joke may be in the offing. Harriet fiercely defends her nest and will simply dive bomb Mr. and Mrs. Raven should they be in residence when she returns.
Lest you doubt her ability to dislodge an intruder, remember the events of the spring of 2017 when she summarily threw out a goose that had already laid an egg in her nest. The ravens won't stand a chance!
Coyotes on the Prowl
Yup! It's THAT time of year in the world of coyotes. Mating season starts in late February and continues through mid March. This means that both males and females are on the prowl in search of a mate. The males can be very aggressive and could pose a danger to Dunrovin's dogs. You will NOT see Kola, Bunna, or Hudson out and about after dark or running around in daylight unaccompanied by a protective human!  
During the past week coyotes have made several appearances on the webcams. Here is a recording of a pair moving along the river in full sunlight and another clip of a young one with a slight limp that showed up at the bench looking for a meal about midnight.

The Animals as Helpers and Healers Program Continues
During Monday's broadcast at MontanaSocials.org, the following guest sessions will be broadcast:
  7:30AM - Sunrise Webcam Tour with James

  8:00AM - Morning Chores

  9:00AM - News from the Hashknife Ranch with

Brandon Carpenter

   9:30AM - Training Oggy with Ashley and

 Brandon Carpenter

 12:00PM - Finding Freddie

  2:00PM -  The Horses and Seaman of  the Lewis and Clark Expedition 

  3:00PM -  The Osprey Countdown Begins

  4:00PM -  Feeding the Herd
The Lewis and Clark Expedition
The Dog that Went with Them; The Horses They Used
It makes no logical sense whatsoever to take a 150-pound Newfoundland dog  on an expedition of discovery that would travel through thousands of un-mapped miles in the American West, encounter untold tribes of Indians, confront new wildlife species (such as the grizzly bear), and traverse some of America's most difficult terrain. Yet Captain Lewis loved his dog Seaman, and so Seaman became the only animal that completed the entire 1805-06 Corps of Discovery Expedition
On Monday, March 1st at 2PM, join Forest Service Education Coordinator Duane Buchi of the Lewis and Clark Interpretive Center as he takes us  along on the Expedition by sharing Seaman's stories.  It will include tales of the horses the Expedition received from local Indians, enabling them to successfully traverse the westen half of America. Duane will introduce us to William (Bill) Schueller and his Newfoundland dog, Butler, who is often present during Lewis and Clark presentations that include stories about Seaman. 
Bill will also tell us how he and Butler have learned to provide comfort to hospice patients.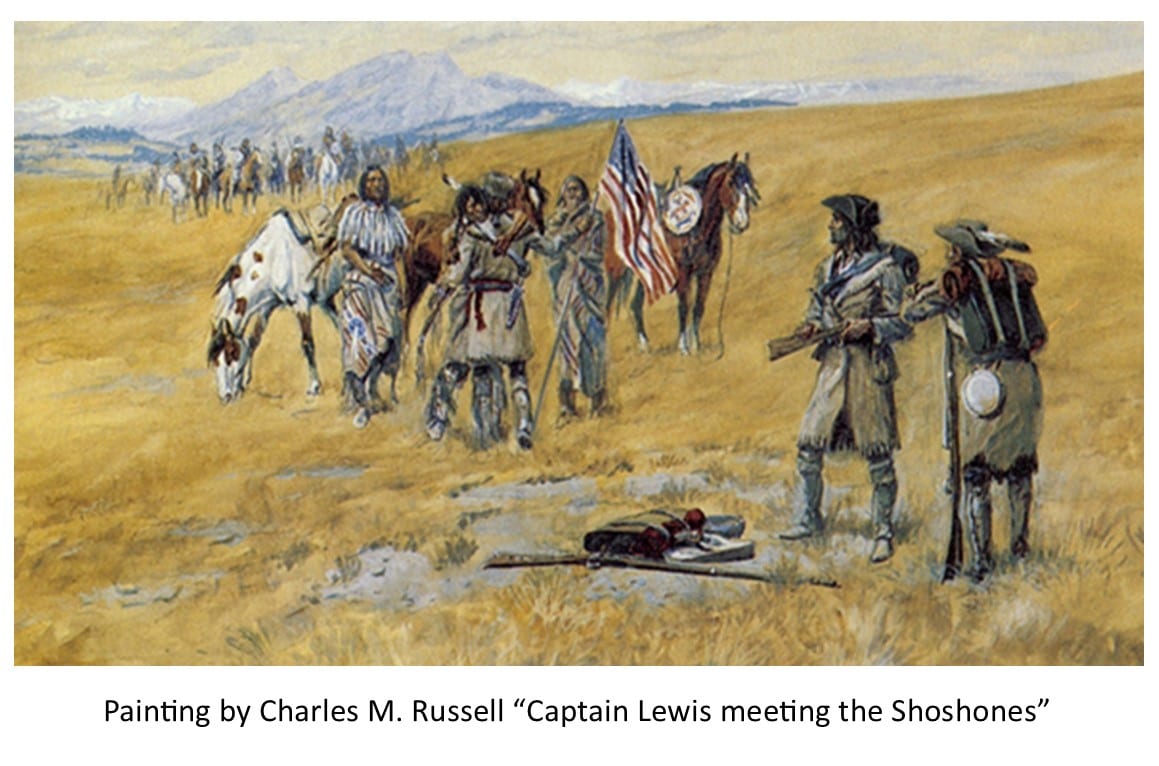 Get the weekly newsletter and broadcast schedule in your inbox every Sunday.