Duane Buchi, the Education Coordinator at the Lewis and Clark Interpretive Center, brought Captain Lewis and his dog Seaman to life during his presentation of the horses and the one dog that were part of Lewis' and Clark's Corps of Discovery in 1805 and 1806. Meanwhile James, Brandon, and Ashley continued their own journey of discovery in building a stone-boat and training Oggy to pull it. 

pREVIOUS WEEKS BROADCASTS
The Dog of the Corps of Discovery
Seaman Accompanied Lewis and Clark on Their Expedition
Duane Buchi, the Education Coordinator at the Lewis and Clark Interpretive Center in Great Falls, Montana, is more than a little enthusiastic about his subject. His knowledge of all things associated with the Corps of Discovery that Captains Lewis and Clark led in 1805 and 1806 is surpassed only by his delight in engaging audiences with their stories. Dressed as Merriweather Lewis, Duane shares the story of Seaman, the dog that Captain Lewis purchased at a high price specifically to escort them on their arduous expedition. We learn why Lewis chose the large Newfoundland breed and how the dog played a critical role at various times along their journey. Duane introduces us to Bill Schueller and his dog, Butler, often plays the role of Seaman during educational presentations.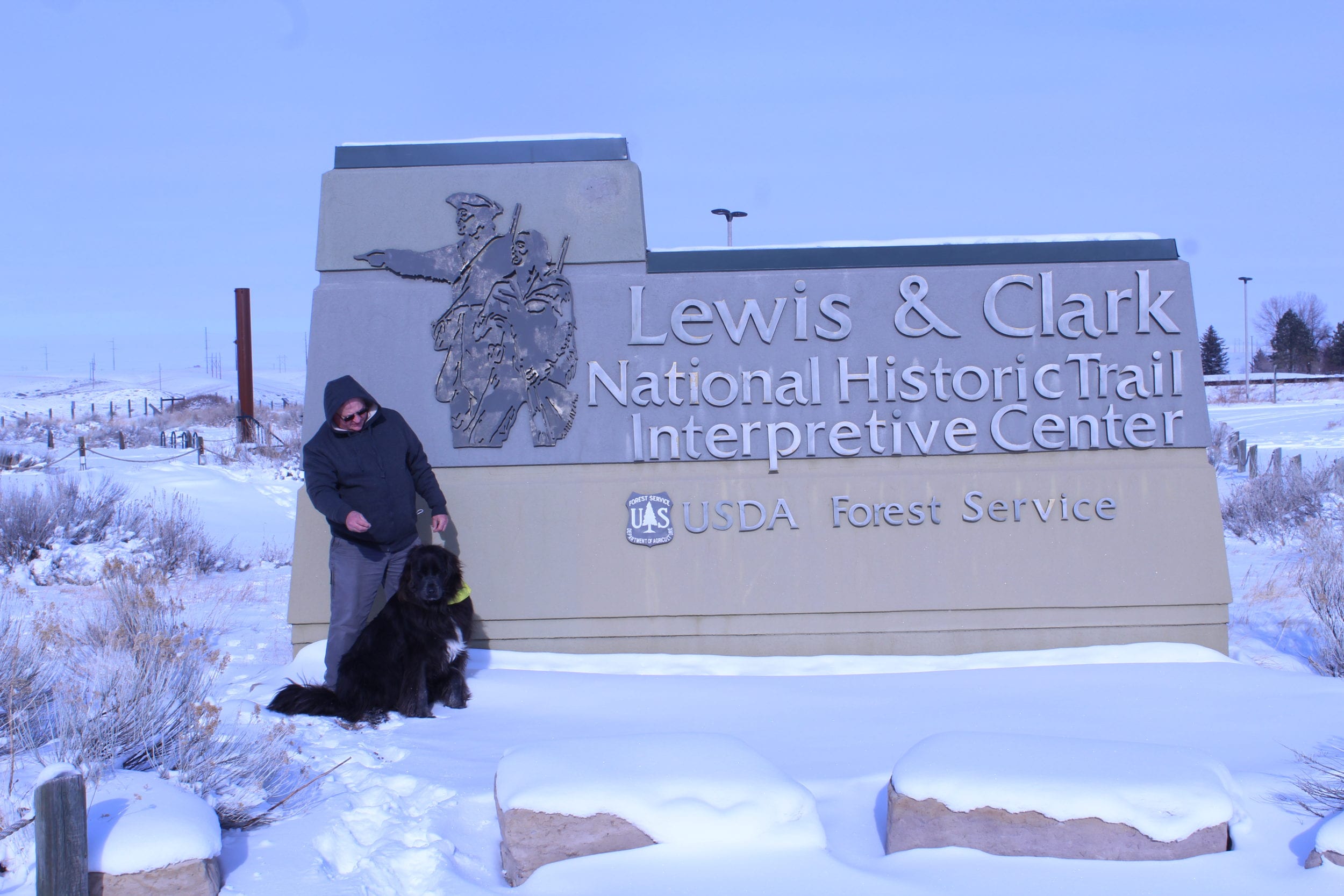 Duane also explains how the Lewis and Clark expedition met the critical, yet unexpected, need for horses to take them through the Rocky Mountains.  
News from Hashknife Ranch
The Stone-boat Comes Together
Naturally, warm weather returns to Dunrovin just as James finishes up nearly all of the woodwork necessary to complete the stone-boat. No more cold mornings in the dance hall turned wood shop for James. His attention now turns to finding some plastic to cover the runners and a welder to fashion the shafts.
Training Oggy
Tension Builds as Oggy is Asked to Drag Poles
The first half of last week's training session with Oggy was quiet and calm.  It was evident that Oggy retained the driving lessons from the previous week. Ashley easily drove Oggy out of the round pen, into the arena, and put him through his paces with several turns calling "Gee, Haw, Forward, Whoa, and Back."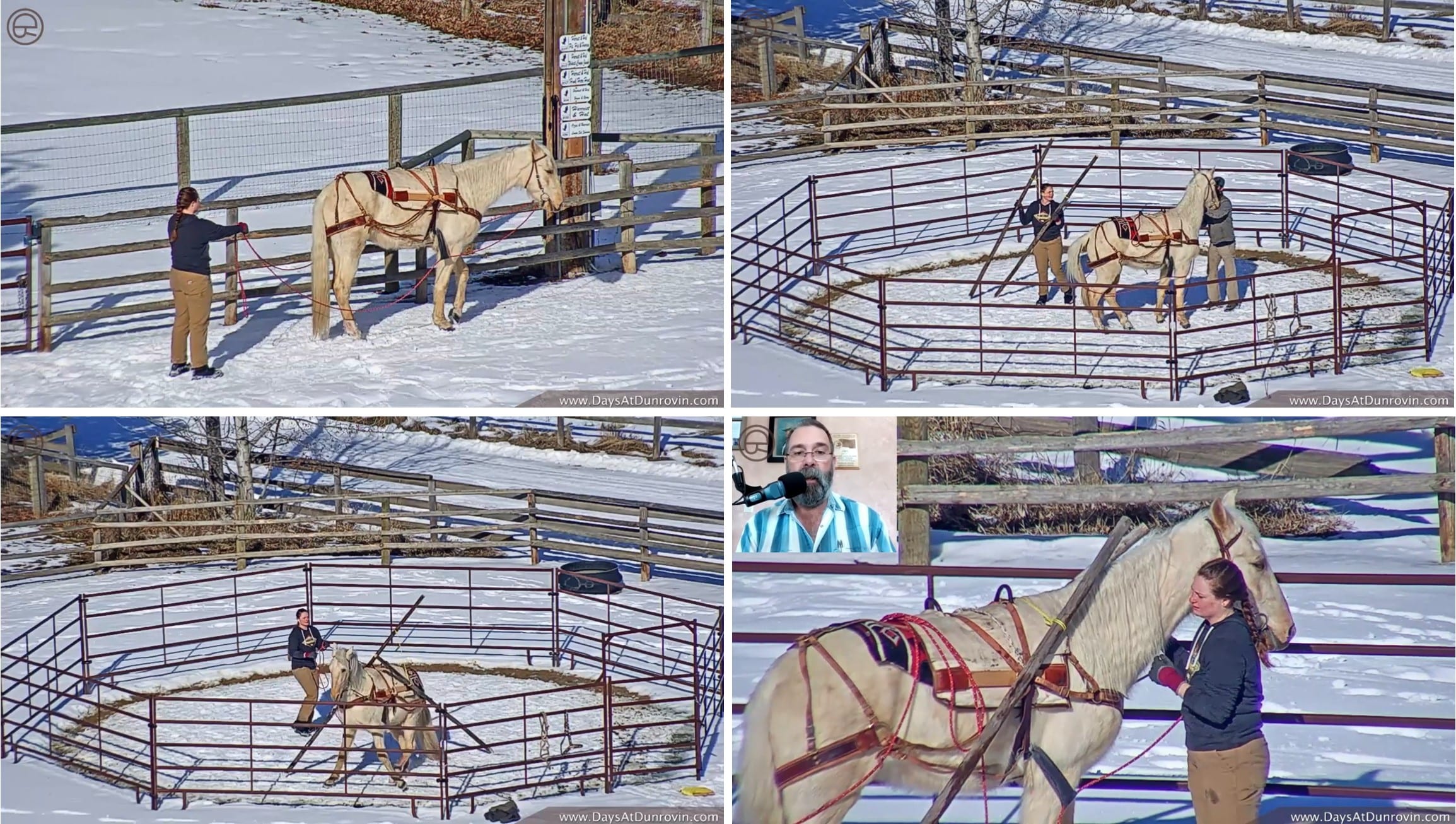 The second half of the session was anything but calm. The tension was palpable as Ashley rigged up two poles to place on Oggy's back to have him drag around the pen. She needed assistance from James to keep Oggy standing still while she lifted the pole up and onto his back. As soon as James let go, Oggy made a sharp turn that caused the poles to point into opposite directions and brought him to a stop with a look of total frustration on his face. It is at moments like this that the value of the long and patient training sessions is apparent. Oggy remained composed in spite of his frustration because he trusted Ashley who retained her calm because she trusts Brandon. It was a victory for all involved as Oggy then cautiously, but calmly, moved forward for multiple trips in both directions around the pen dragging a couple of long poles.
The Osprey Countdown Begins
Waiting for Harriet with Fingers Crossed.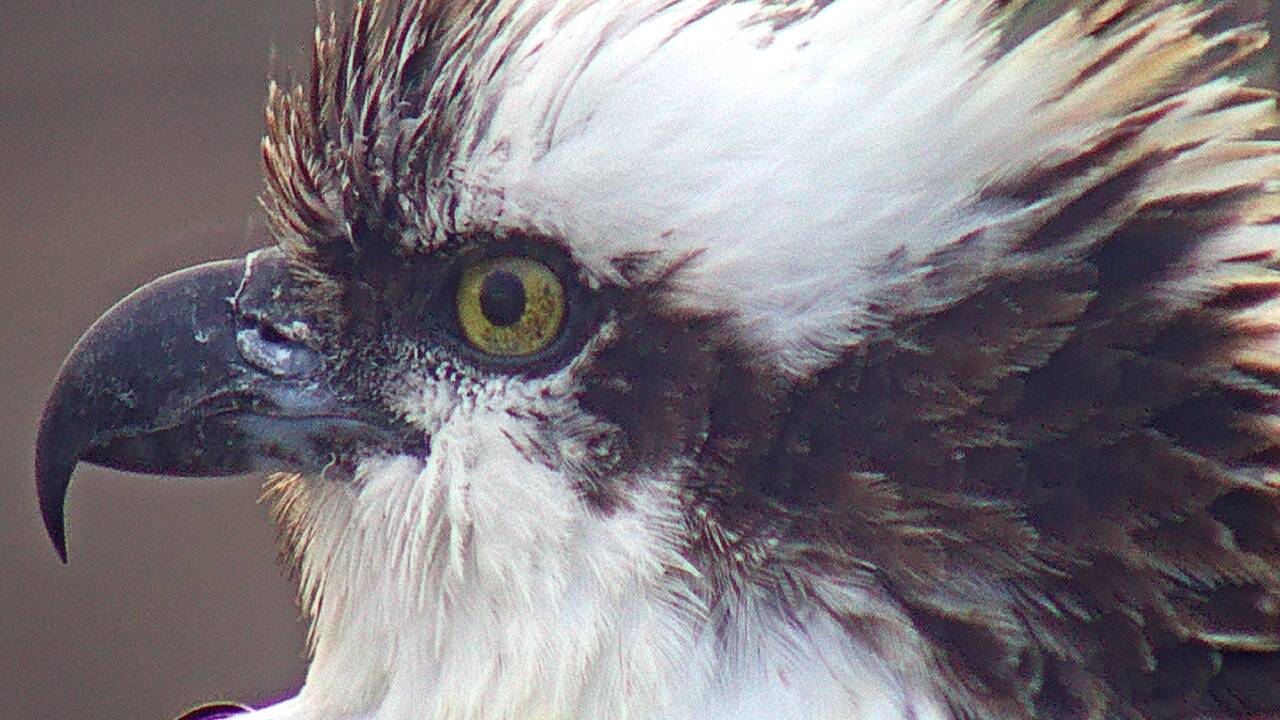 Oh, how we long to see those bright yellow eyes with the distinctive black flecks! Harriet Osprey is one-of-a-kind. And she's ours!
When March arrives everyone connected to Dunrovin literally counts the days until Harriet returns to her nest. It is never a sure thing. How well did she fare during her winter along the Gulf of Mexico? Was she injured in any of the terrible storms that rolled through since last September? She is getting older. Is she still capable of her annual long migration? Harriet has added a sense of mystery, delight, and total angst to our spring. We are on edge and our hearts are not content until she shows up in all her majesty and reclaims her throne. And even then, the tension does not abate until she settles in with a mate. Will it be Swoop again this year or another of her many suitors? Oh, how we love to worry!
The Ordinary Canada Geese Take Center Stage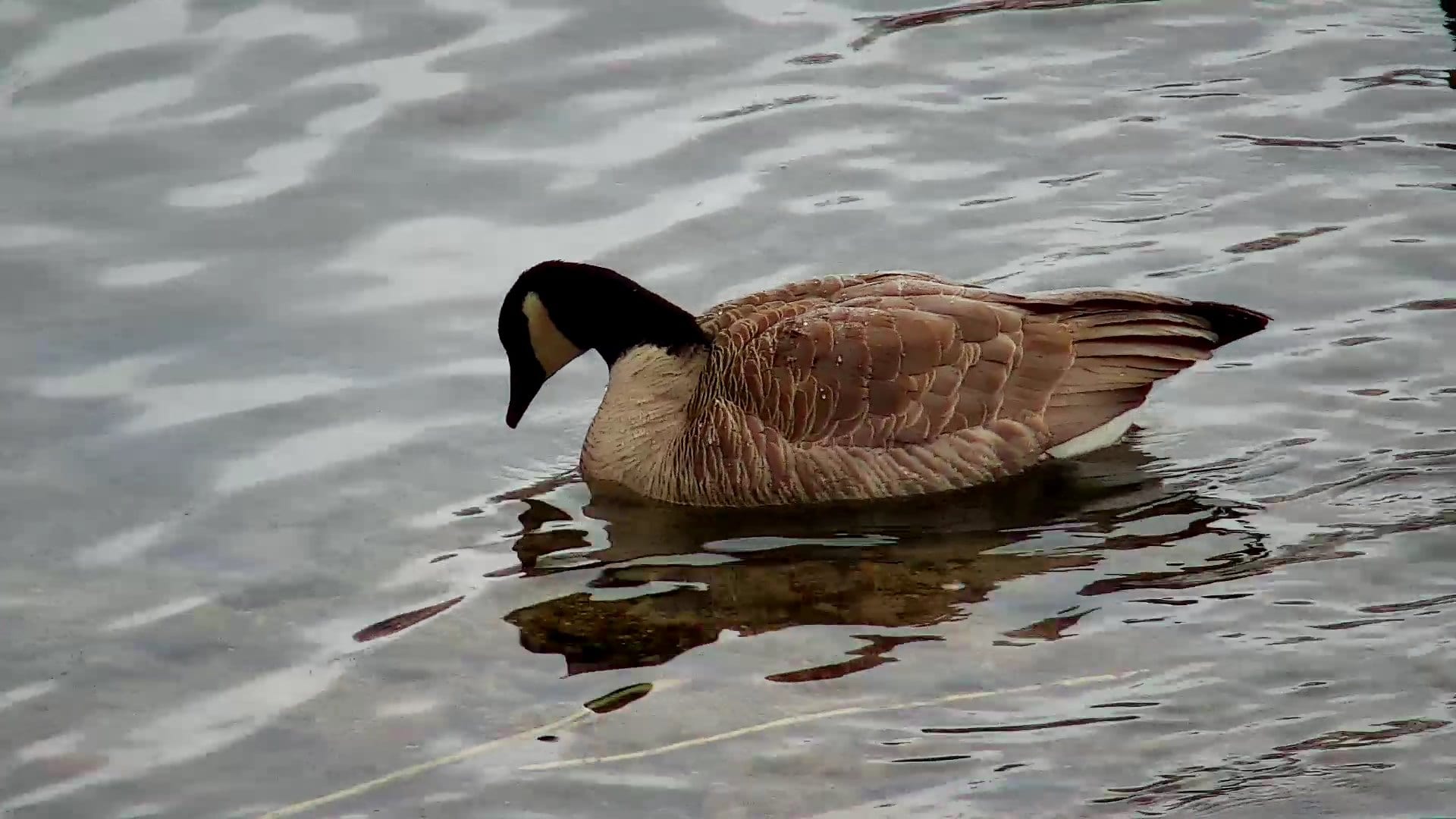 Yes, they are common and are seen daily on the Bitterroot River. They are so common that we may not really see and appreciate their individual beauty. Recently several Canada geese fed themselves right under Dunrovin's river webcam which allowed us to appreciate anew these lovely creatures as they lingered within arm's reach.
Mr or Mrs Fox Dines on the Bench
The bench bird feeding station has become a veritable buffet for various critters. The small birds come for the seeds. The woodpeckers and magpies come for the suet. Several species of hawks stop by with the hope of grabbing a distracted pigeon or sparrow. Flying squirrels literally drop in at night to take their share. The deer, mice, raccoons, and the fox and ground squirrels convene to clean up the ground covered with the seeds scattered by the competing birds. All this ground activity then attracts the predators. The foxes and the coyotes arrive coveting the hanging suet and looking to dig up a ground squirrel or catch a mouse too slow to scurry away. Recently a handsome fox has been turning up to hunt - and its successes have kept it returning again and again.

The Animals as Helpers and Healers Program Continues
During Monday's broadcast at MontanaSocials.org, the following guest sessions will be broadcast:
  7:30AM - Sunrise Webcam Tour with James

  8:00AM - Morning Chores

  9:00AM - News from the Hashknife Ranch with

Brandon Carpenter

  9:30AM - Training Oggy with Ashley and

 Brandon Carpenter

12:00PM - The In's and Out's of the DaysAtDunrovin Website

  1:00PM - Clicker Training with Mackenzie and Michal

  2:00PM -  Gracie, the Glacier National Park Canine Assistant

  3:00PM - Mystery Ranch Chore 

  4:00PM - Feeding the Herd
Gracie the Canine Assistant in Glacier National Park
A Puppy Sparks an Idea
Like many animal-loving couples Mark and Alice Biel decided to get a puppy.  The minute Gracie moved in, everybody fell in love.  Can you blame them?

Gracie's entrance into their lives led to much more than simply sharing their household with this beautiful, lovely and lively dog.
Mark is Natural Resources Program Manager in Glacier National Park. Mark continually deals with keeping the human visitors to the park and the resident wildlife safe from one another. People want to see and enjoy the park's wildlife from a safe distance, yet wildlife can become so habituated to humans that it disrupts their natural life cycles as well as poses a danger to visitors. Keeping wildlife and people within viewing distance, yet preventing close interactions, can be a taxing job for park rangers.
Mark didn't just wonder if Gracie could be useful in separating humans and wildlife, he launched himself on a mission to make it happen. Join us this Monday at 2Pm to meet Gracie and hear the story. 

Clicker Training with Mackenzie Returns This Week
Spring Refresher Training
Spring is back and it's a great time to refresh and strengthen Recall training, generally known as COME. Mackenzie and Michal will demonstrate some of the basics of this training with that dashing duo, the Dunrovin DIVAS. They'll talk about the main considerations in shaping a strong recall, whether it's with a donkey, horse, dog, or human and then see how far the DIVAS will come from!

Afterwards, Mackenzie will discuss Canner's recall and how it has been weakened from poisoning by bad interactions with people.   He will also discuss how and why recall can be a super helpful behavior to teach horses. Then they'll do some work together and try to build some enthusiasm into Canner's recall!
Get the weekly newsletter and broadcast schedule in your inbox every Sunday.