Dunrovin's crew member Ryen showed another one of her creative sides this week by working with D@D members to develop Dunrovin's version of Jeopardy which proved to be a big hit during our Monday Social. It was so fun that we are contemplating instituting it as a regular monthly feature. What do you think?
Ryen's Brainchild: Jeopardy
Ryen is certainly proving her mettle as a Dunrovin crew member with all kinds of fun ideas and interactions with our DaysAtDunrovin community. She has taken over all of our social media presence and has really connected with all things Dunrovin and its great community. She put the word out that she was looking for suggestions for different categories to use in a game of Dunrovin Jeopardy. She and the members settled on six categories that covered some of Dunrovin's many features: The Herd, Diva Donkeys, Birds, Bitterroot River, DR Wildlife  Then she went to work scouring the DaysAtDunroivn.com website for all kinds of obscure information in each category to stump the audience. James got into the spirit and put together a very interactive broadcast for our Monday Socal participants to play. Ryen, Ashley, and James pulled the whole thing together and soon the DaysAtDunrovin members were trying to outdo one another with their guesses. The entire game lasted a full hour and had many of us bent over laughing half the time. We think Ryen has found a new job at Dunrovin - the Jeopardy Queen!
Oggy's Owie
Our ranch hand Ashley has done an outstanding job of working with our new vet, Dr. Matt Witzel, to clear up the infection that Oggy got in his right hind leg; and it required a lot of her. She had to learn to give him injections of antibiotics twice a day, wrap his lower leg, take his temperature, dispense and disguise his oral meds, keep a health chart to track his progress, and stay in communication with Dr. Witzel throughout. Most of this was entirely new to Ashley, but she is clearly a very quick study and stepped right up to the job.
She did an equally great job of putting all the information about Oggy's medical ordeal into a PowerPoint presentation that she then presented to our community members last Monday.
We, all of Oggy's many adoring fans, thank you, Ashley, for all the TLC that you have shown him in getting him better and we look forward to watching you continue with his training this winter.
Hashknife Ranch
It is always a fun learning experience to join Brandon Carpenter as he takes us along on his cattle and horse ranch chores which are totally routine to him but seem exotic to those of us who live an urban lifestyle. This week Brandon had us on horseback with him as he, his son Braden, and his wife Lisa sorted the pregnant cows from the heifers (young cows not yet ready for breeding) to get each cow in the chute for the vet to sonogram for pregnancy. The whole operation made clear the benefits of the system of corrals, chutes, and gates that Brandon had set up and described during our previous visit. The life of a cattle rancher obviously consists of many varied tasks that must take place at the right time regardless of the weather.
Training Mystery
Since Oggy remains in sick bay, Mystery was the equine student of the week. Not only did Ashley spend time learning to train Mystery with Brandon's coaching, she struck out on her own this week with two additional sessions with Mystery in the round pen. Getting practice on your own is one of the best ways to learn and to quickly identify any aspects of the process that you are not really understanding. Things always go more smoothly with the coach there to guide you. Ashley's individual sessions did, indeed, raise some questions that she is anxious to bring to Brandon's attention.
Kingfisher Perch
Nearly everyone who spends much time watching the river cam ends up noting the sounds of the kingfisher. It has a most distinctive call. Check it out by listening to Cornell University's All About Birds' Kingfisher Sounds, which they describe as strident, mechanical calls when disturbed and all out screams when threatened. Sound is not the only unique feature of these magical  and beautifully colored little birds. Dunrovin crew member Paula pointed out that kingfishers have been used as an example of biomimicry (human creations inspired by nature) in that Japanese engineers used the kingfisher's pointed beak as the pattern for the front of the Shinkansen Bullet Train, which is one of the fastest trains in the world. The beak form adds to the streamlining of the train and prevents noise and increases efficiency. 
The idea that there are kingfishers hanging out at the Bitterroot River, using the river cam occasionally as a perch, yet normally hanging out beyond its viewing range, has gotten Dunrovin to thinking about how it might lure them in for better viewing. Let Dunrovin Ranch owner SuzAnne explain her fascination with building both a perch and a nesting tunnel to try to capture more of these lovely creatures on the river webcam.
Sand and Gravel
That early snow and cold spell at the end of October really put a dent in Dunrovin's winter preparation activities. It snowed before we were able to get some sand and gravel delivered and spread in order to level the area.  We do this to eliminate low spots where pooling water can freeze and create some dangerous winter walking conditions for both the critters and the staff. As soon as temperatures climbed back above freezing to melt the snow, James ordered up a load of sand and gravel and brought in a big boy toy complete with a big boy operator to get the job done - well, almost done. It seems we will need to add some more as soon as we are able.  Here's the video in fast action!
Clicking with the DIVAS and Mackenzie
In our last episode, the DIVAS began Ranch Parkour in earnest by way of working on combining behaviors into chains. They practiced climbing up a gravel pile, running to their mats, and going over the log! Behavior chains will tire you out! The DIVAS know it, and so do professional trainers! So what is a behavior chain? It's a link of successive behaviors, where completion of one behavior signals the beginning of the next. 
I think it's helpful to build towards drive oriented behaviors for Parkour. So I like to train those intensively at first, and then queue them before I reward a chain of behaviors. It also makes a clear pattern of: a-behavior, b-behavior, c-behavior... z-behavior, CELEBRATE, EAT, you did it, you're done now! If we end on a behavior like the DIVAS YEEHAW(a fun run), we can expect that each of the behaviors before that will amp in successive chains. Tune in to the next episode to see these chains get longer and even more fun!
Thanksgiving Day Turkeys and Survey
It's that time of year when the turkeys who frequent the bench bird feeding station get nervous and look to the DIVAS for assistance. Last year the turkeys wrote a letter to the DIVAS and they actually got some Advice from the Wise Asses that made a little sense!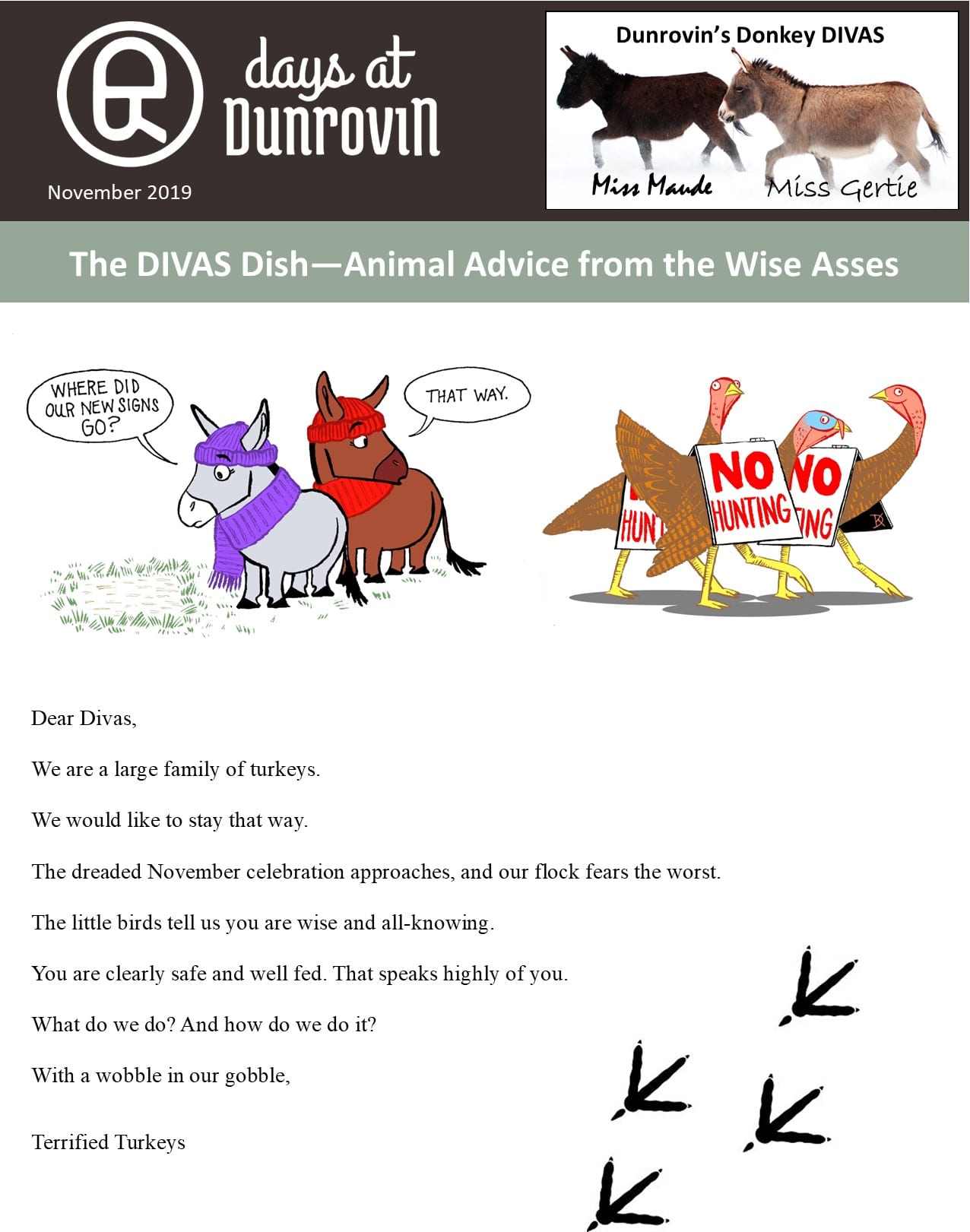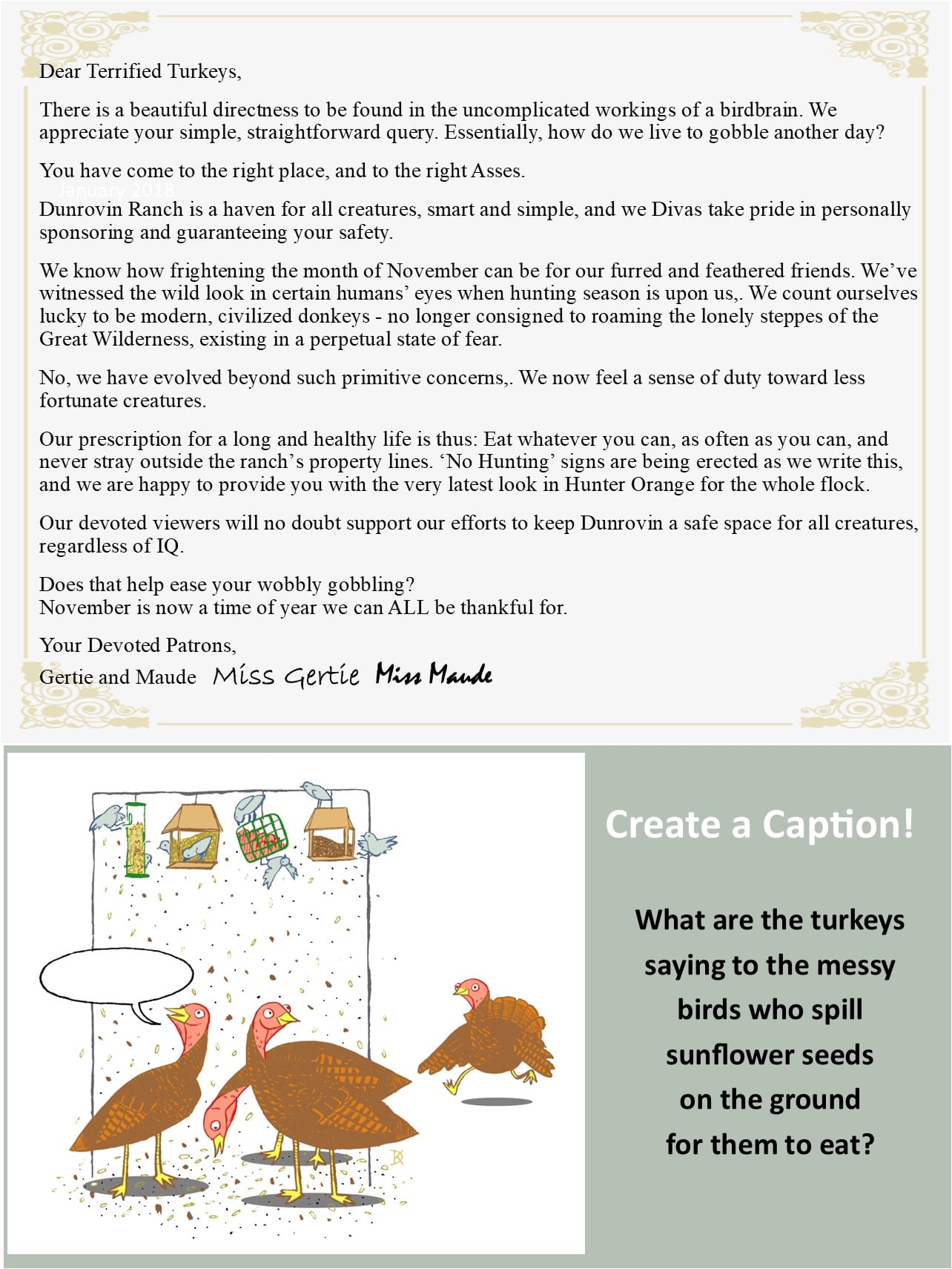 Please take a few minutes to add your Thanksgiving stories to our Thanksgiving Survey. Be assured that your responses are anonymous. We will share the results with everyone during the Monday Socials broadcast on November 30th.
We want to hear from you!
We welcome comments and suggestions. Please leave a comment telling us what you liked, what you found confusing, what you would like to see in the future, and any other constructive comment you would like to bring to our attention. This is the place to let us know what you are thinking? Be sure to give us feedback by answering the question of the week
Question for the Week: What Dunrovin Jeopardy category would like us to create for out next game?
Get the weekly newsletter and broadcast schedule in your inbox every Sunday.