This was Ryen Perno's first week of working at Dunrovin and from all indications, it a great match for both her and us. She is learning the ropes from Ashley Chapin and together they will take us all safely through the winter. We feel very fortunate to have them. This coming week we will welcome our great friend and expert horseman, Brandon Carpenter as he returns to get Ashley started working with Oggy and get set up for some "tele-training" sessions throughout the winter.
Two wonderful women to help
A big Montana howdy to our DaysAtDunrovin Members and Monday Socials Visitors!
Our usual Monday morning newsletter has just migrated to Sunday evening to better inform everyone of the broadcast schedule for the next day's Monday Social. Hopefully, you have had a fun-filled weekend and are ready to gather with us at the ranch tomorrow.
Dunrovin's Winter Crew – Two Capable Young Women
Please give a big welcome to Ryen Perno as she joins Ashley Chapin as the second member of Dunrovin Ranch winter crew. Ryen comes to Dunrovin via Portland where she settled after Covid-19 forced her to leave her Peace Corp position as a rural educator in the Central Province of Zambia. Ryen's love for physical challenges lead her to serve first as a guide and then as the supervisor of the Challenge Course Program at North Carolina State University where she graduated with a degree in human biology.
While Ryen has a limited background in caring for horses, the photos below clearly indicate her delight at having landed at a horse ranch. The photos also reveal that Ashley is the perfect horsemanship mentor for Ryen. Ashley has gotten to know and love the Dunrovin herd and insists on making every chore an opportunity for fun and affection! Dunrovin feels incredibly lucky to have been able to recruit two such hard working, animal-loving, responsible, and playful women to take us all through the winter. Thanks to Jes Kumm for the terrific photos.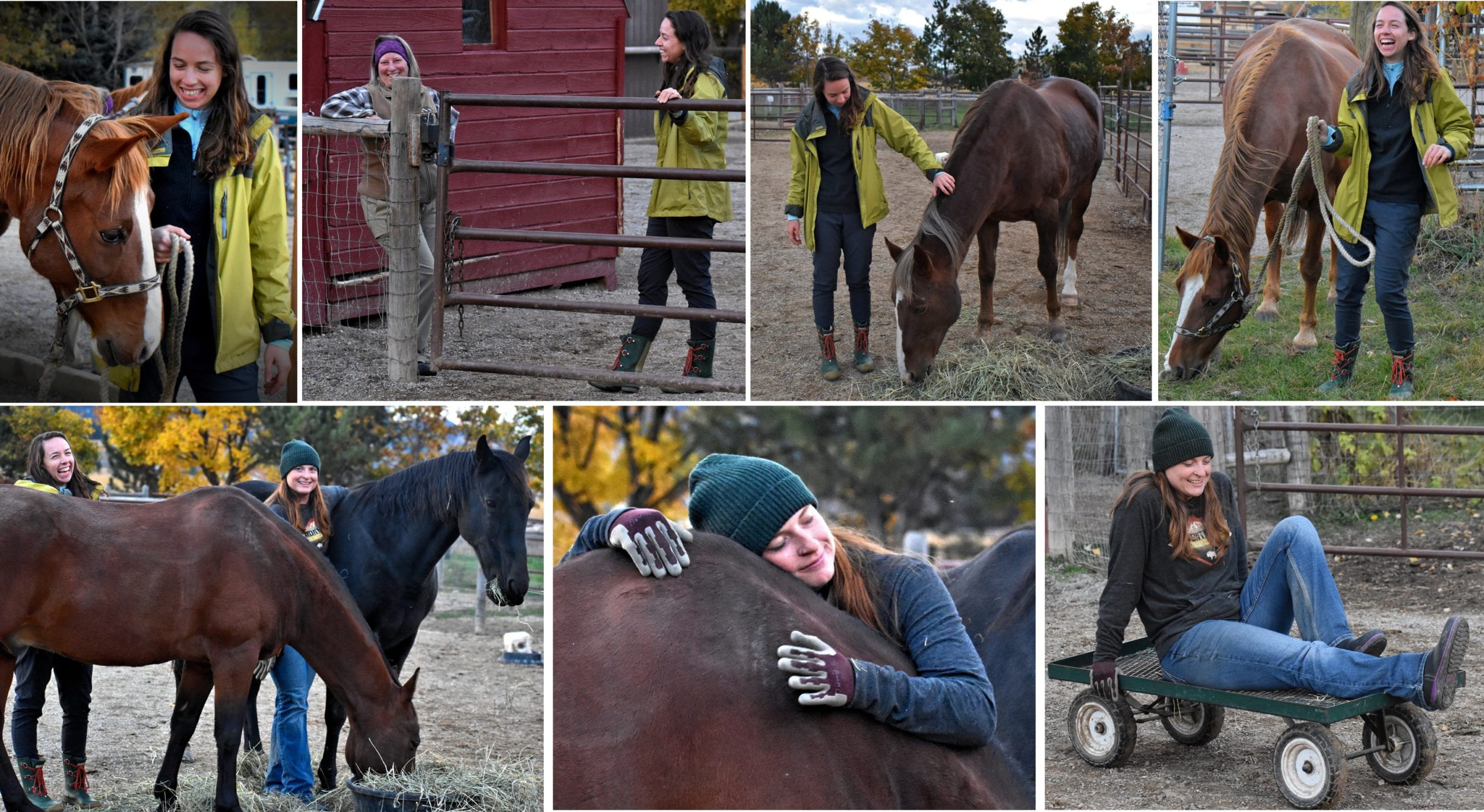 Muskrats on Parade
Recently during the sunrise webcam tours that James conducts to kick off every Monday Social, the river webcam has been sighting a mammal swimming by in the distance. The animal(s) have not been within close enough view of the webcam for a positive identification. The dim early morning light hasn't helped either. The Bitterroot River is home to three different aquatic mammals that could be the subject of these early morning sightings: the beaver, the muskrat, and the river otter. All three of these have been seen at Dunrovin. The river otter is the most elusive of the three while the muskrat is the most common.
Earlier this summer a muskrat family happily foraged on the beach right under Dunrovin's river webcam, giving us some terrific views of them both before and after nightfall.
Brandon Carpenter Returns to Dunrovin
We are excited to announce that Brandon Carpenter will be at Dunrovin Ranch for horse training sessions on both Monday and Tuesday of this week. Our long time D@D members well remember and embrace our good friend and expert horseman, Brandon. His multiple generation love affair with Tennessee Walking Horses (TWH) stems from their track record of a smooth and ground-covering gait, friendly nature, durable and strong physical constitution, and versatile talents. His family's TWH's have packed them into Montana's high country in search of elk to put in their freezer, moved their cattle herd across the plains, helped them separate and rope the calves, and won them blue ribbons in show rings across the country.  To say that Brandon has been in integral part of the Dunrovin Ranch from the beginning is to shortchange his contributions. You can read about his long association with us in this post.
Several years ago, Dunrovin and Brandon collaborated on a unique form of training that we have dubbed 'tele-training'. From the comfort of his ranch house couch some 400 miles east of Dunrovin, Brandon coaches the Dunrovin staff on training a horse. Using the magic of our webcams together with cell phones, Brandon speaks to staff in real time to guide them in the training process while at the same time responding to questions from our D@D members. We have all learned a great deal from participating in these sessions with Brandon – and most importantly, he has successfully helped our staff train Mystery to be a trusted mount and to get Oggy started with the essential, like loading into a horse trailer. To learn more and watch some recordings of previous sessions with both Mystery and Oggy, please visit this post.

The Never-Ending Training with the DIVAS  - by Mackenzie Cole
Last episode, the DIVAS were feeling pretty frisky. We worked on counting, biking, and laid out some options for new training goals. Counting has been fun, but we'd like to mix it up with a new focus so watch out for the next blog post where you can vote on what we do next! And tune in this Sunday when we demonstrate the basics of some of our options: donkey parkour, nose work, dancing, and more!
Unfortunately, Dunrovin experienced some technical difficulties in recording the Sunday, October 11th session and it is not available. Please check out the recording from Sunday, October 4th to acquaint yourself with all the fun and frolicking that happens during these Clicking with the DIVAS sessions.
To accommodate the loss of daylight hours, Mackenzie's Clicking with the DIVAS will now start at 4PM on Sundays.
Jewel Celebrates Her 17th Birthday – She's an Old Dog Now!
Jewel has been the queen canine of Dunrovin Ranch for the last 14 years since SuzAnne brought her home from the Western Montana Humane Society. Jewel had cycled through three previous adoptions before landing at Dunrovin as her "forever" home. None of these failed adoptions had anything to do with Jewel's many outstanding qualities. Rather, with each adoption something happened within the family, such as a job transfer to a big city, that meant she needed to be returned to the shelter. Given her history, the caregivers at the shelter estimated her age to be three when she was brought home to Dunrovin on October 10, 2006. Hence, we celebrate her birthday on her "coming to Dunrovin" day.
These photos show her during the first two years (top row) and the most recent two years of her life with us. Jewel hopes that you will want to read her story in this Celebrating Jewel post.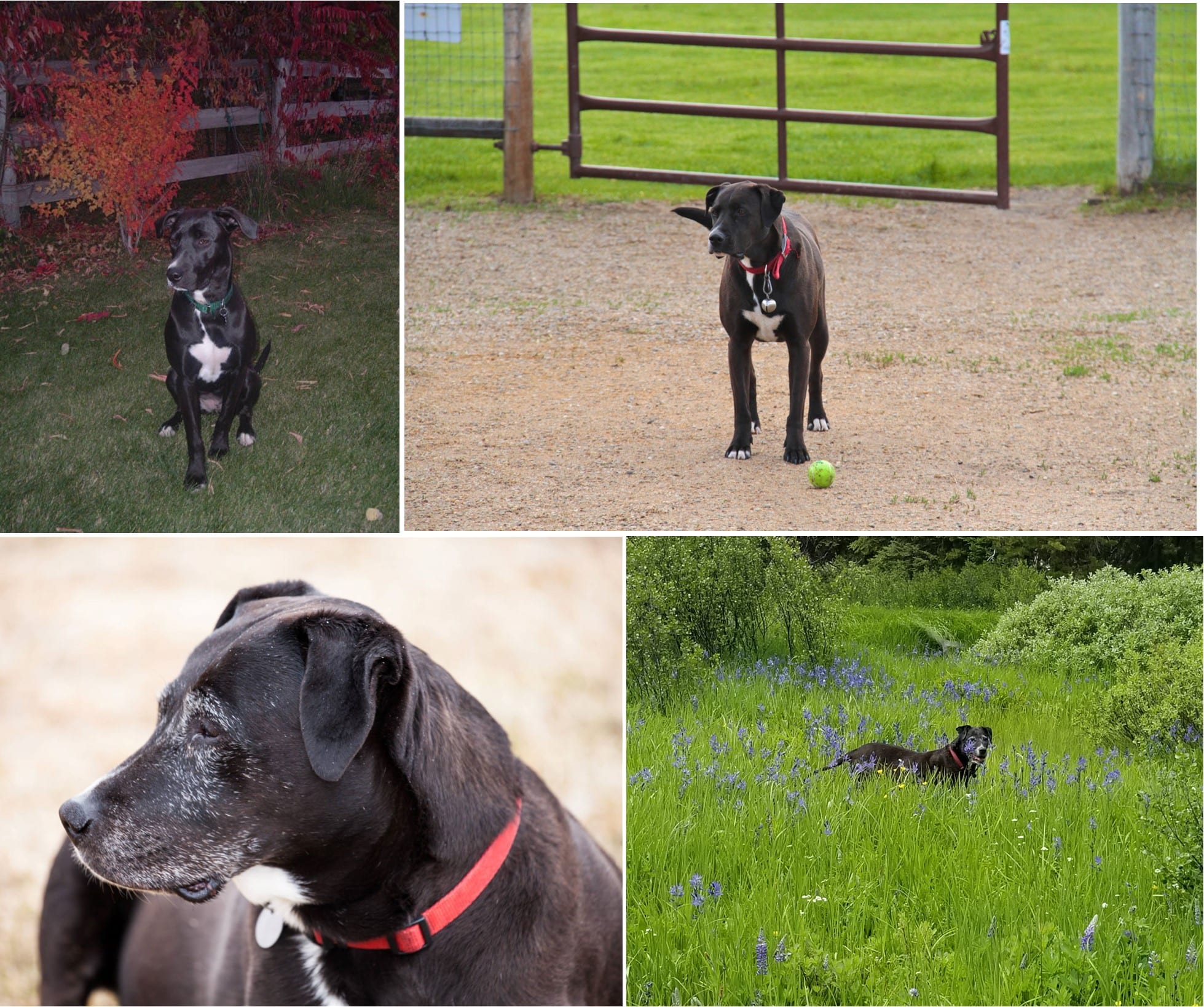 Monday Socials Schedule for October 19, 2020
7AM        Sunrise Tour with James Wasem
8AM        Feeding the Herd and Ranch Chores with Ashley and Ryen
10AM       Dunrovin Birds with SuzAnne
11AM       Finding Freddie with James and a D@D Volunteer Cam Operator
1PM        Horsemanship Training with Brandon Carpenter and Ashley
5PM        Horsing Around with Brandon, SuzAnne, Ashley, Ryen, Paula, Kate, and Jes
6PM        Feeding the Herd with Ashley and Ryen
The schedule for other activities throughout the rest of the week can be found on the D@D website calendar.
Have a Great Week
We are all looking forward to seeing you tomorrow and throughout the week at Dunrovin. Please invite your friends and family members to stop by and visit during our Monday Socials. The more the merrier!
SuzAnne, James, and all the Dunrovin crew.