Home Range
Ospreys can live almost anywhere there is shallow water with safe nesting sites and plenty of fish, so it's no wonder osprey are found on every continent except Antarctica. This makes them one of the most widely distributed predatory birds.
In North America, ospreys are found from Alaska and Newfoundland all the way south to Florida and the Gulf Coast. Montana serves primarily as a breeding ground for the industrious birds. Below is a copy of the map from Cornell University's website AllAboutBirds.org.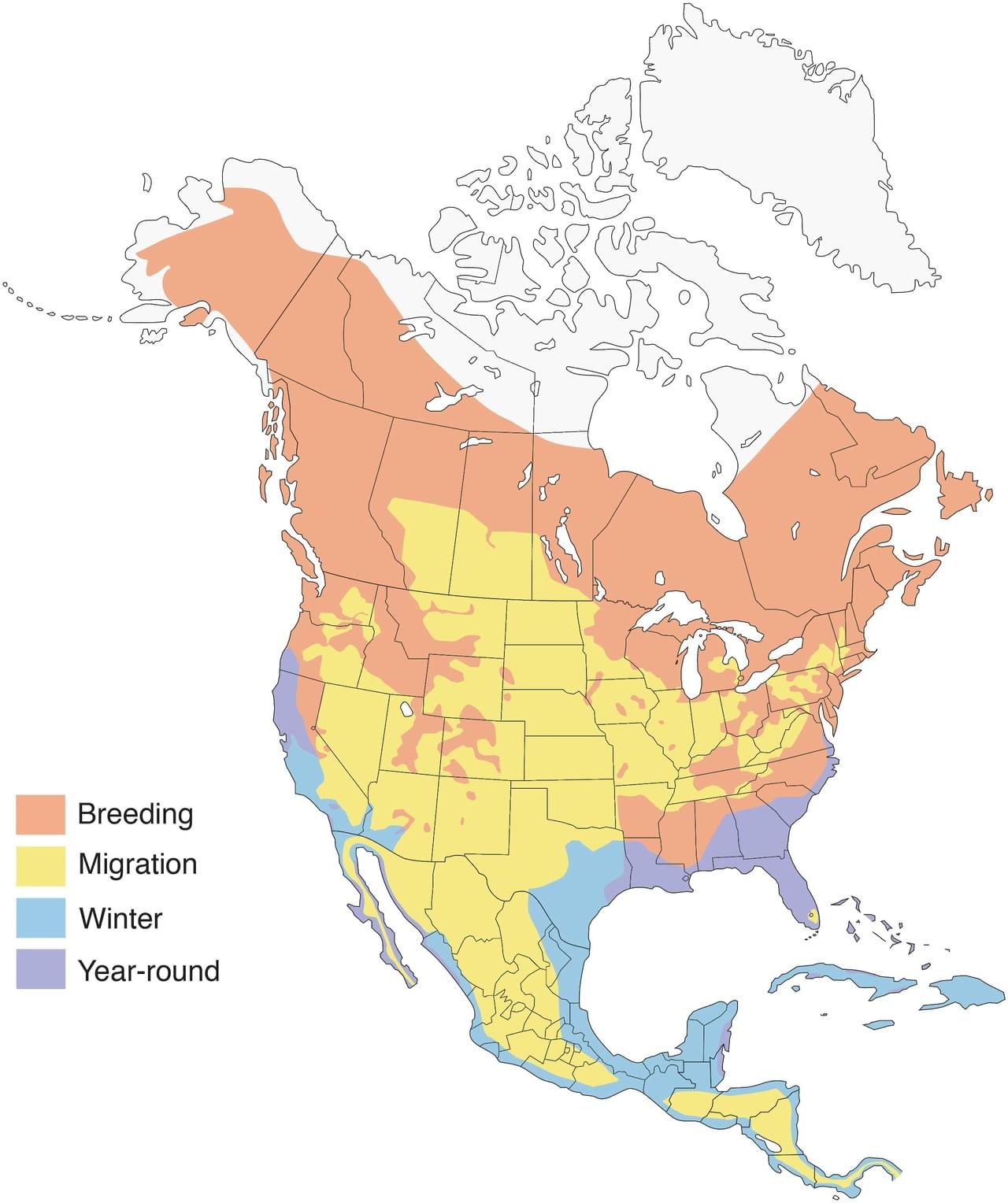 Notice that Western Montana falls contains only breeding pairs of ospreys who migrate to southern areas during the winter, non-breeding season.
Migration
Most ospreys breed in one location and spend winter in another. In parts of Australia and the southern United States, however, some birds will remain at the nest site year-round. Ospreys who do not migrate save vast amounts of energy and can focus on foraging, nest building, and raising their young. Non-migratory populations breed between December and March, while migratory populations (like what we have in Montana) often don't return to the nest to start breeding until April or May. In addition, the early bird gets the worm, or in the case of ospreys, the non-migrating ospreys get to choose the best nesting sites.
Scientists learn about bird migration by placing bands on the leg of birds that do not inhibit them in any way, yet allow scientists to track their movements. Occasionally, scientists also affix small radio transmitters on the back of birds to follow their daily movements.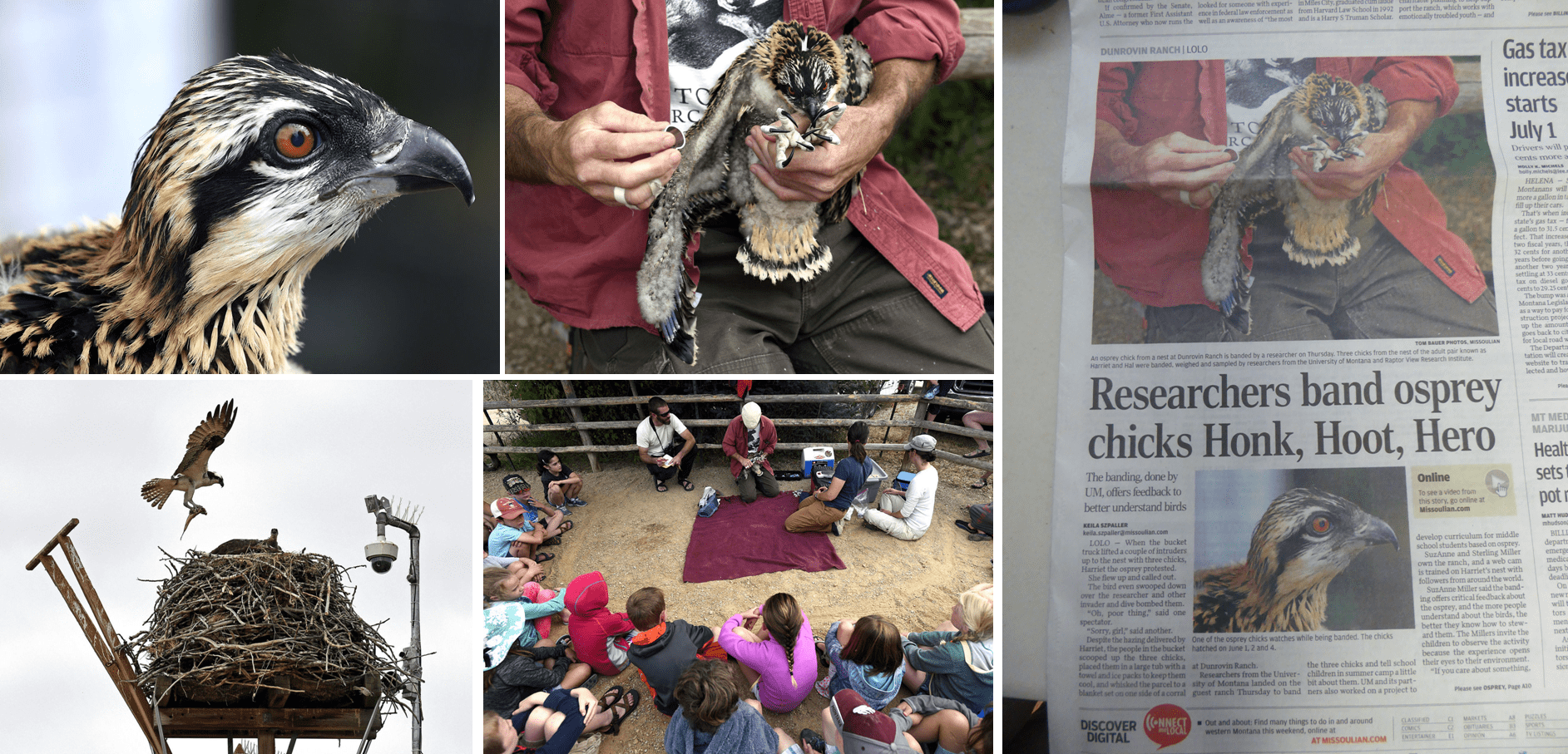 While we'd like Hal and Harriet to stick around Dunrovin all year, like most northwestern ospreys, they migrate for the winter. We're not sure where Hal and Harriet go, because they are not banded or radio tagged, but here is some great information from Dr. Erick Greene of the  Montana Osprey Project (University of Montana) regarding osprey migration in 2013:
To give you an idea of how spread out osprey migration can be, in collaboration with our research colleagues, last summer we put satellite transmitters on some ospreys at two nests about ten miles from the Hellgate nest in Missoula, Montana. The adult female spent the entire winter in one very small bay on the Nicaragua-Costa Rica border on the Pacific Ocean. The bay must be a great place to fish, since she barely flew more than several hundred yards every day all winter. At about 8 AM on 29 March she started flying north. She is headed back up towards Montana, but she is still in Mexico now. Her mate spent the winter in a mangrove swamp in Mexico on the Gulf of California. He just started north a few days ago, and he is crossing the Sonoran desert now.
Often, the female osprey will take some of her young with her on the beginning of her migration to show them the ropes. Usually, they split up along the way. The male adult osprey will stay with any lingering young until they are ready to leave the nest. In the summer of 2012, the adult male at the Hellgate nest in Missoula, Montana stayed to help one of his offspring who had a wing injury.
In North America, young ospreys follow the coastline south to Central and South America in their first fall migration. Typically, young ospreys will remain south for one-and-a-half years before returning North to establish a home territory, seek a mate, and build their first nest. Most young osprey pairs will not successfully breed until they are three years old.
Lifespan
With an average lifespan of 7 to 10 years, ospreys live a relatively long time in comparison to other bird species. One European osprey lived to be over thirty years old! In North America, the oldest known female was twenty-three and the oldest male was twenty-five. It is rare that individuals reach this age.
We're not sure how old the Dunrovin Ospreys are. The osprey nest preceded the Millers at Dunrovin Ranch and it was very difficult to identify individual ospreys until the streaming camera went up in 2011. Harriet was positively identified using close-up photographs from the web camera in 2011, making her at least 7 years old. Hal joined the nest in the year 2015 after Harriet's first mate Ozzie died, making Hal at least 3 years old. Hal arrived at the nest with an entry level resume, at best. Hal's clumsy mating techniques and irregular fish deliveries in the beginning are consistent with a young, inexperienced male osprey.
Size
Ospreys are considered medium to large raptors. Their body length is typically between 21-24.5 inches, with an average weight of 3 to 4.5 pounds. The average osprey wingspan measures an impressive five to six feet!
Geographically, ospreys vary in size based on whether or not they migrate north to breed. Tropical and subtropical species tend to be smaller than their northern breeding counterparts. Montana ospreys are on the larger end of the spectrum.
Diet
Fish make up 99% of the osprey diet. Osprey are not particular about what fish species they eat and will generally eat what is most easily accessible. On rare occasions, Ospreys have also been known to prey on rodents, rabbits, hares, other birds, and small amphibians and reptiles.
North American Ospreys have been known to eat more than 80 different species of fish. Usually, there are two or three fish species that dominate the diet of ospreys in a specific area. Trout, cutthroat, and bull trout are native fish species of the Bitterroot River where Hal and Harriet fish. In addition, rainbow, brook, and brown trout have also been found in the Bitterroot River.
One might think that all this time around water would mean that ospreys drink the stuff, but they typically don't. It seems that their diet of fresh fish gives them enough water.
Ospreys are not known to cache fish. Leftovers are sometimes ignored and left in the nest. It is not uncommon for a ranch hand to find leftover fish in the horse corrals.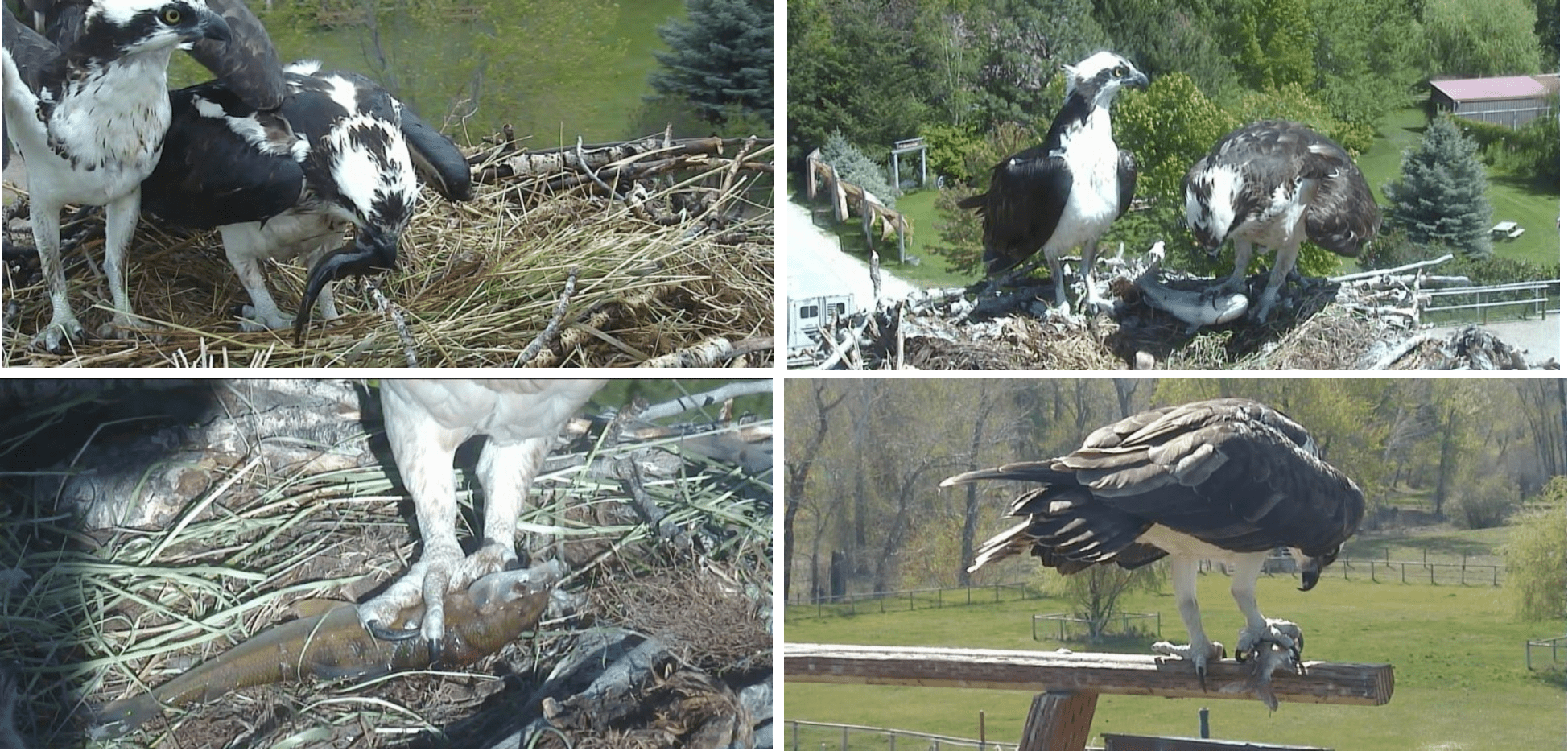 Identifying Characteristics

All ospreys have a white head with a dark stripe around each eye called the malar stripe or mask. Their short tails alternate dark and white bands of feathers, and they have white underbellies.Osprey wings are long, narrow, and have four finger-like flight feathers with a shorter fifth. In addition, when in flight, the silhouette of the osprey's wings form a distinct "M" shape.

All ospreys have a black beak that coordinates well with their pale blueish white feet and black talons. Ospreys also have several distinguishing features among birds of prey. They have toes that are of equal length, and the bones in their feet are reticulate (or net-like). They have rounded talons, instead of grooved talons. The ospreys' outer toe is reversible – a trait it only shares with owls. This allows them to carry their prey with two toes in the front and two behind, pincer-like. Other features of ospreys include gripping pads or spicules on their feet, as well as reversed scales that act as barbs. With all these fancy feet-ures, one might argue that there is no better way to grasp a slippery fish!

Ospreys have unique markings which are specific to individual birds. The pictures above show different markings on Hal and Harriet. In the picture with both birds (Harriet on the left; Hal on the right) each has speckled markings on their chest. This is known as the necklace. Harriet has more speckles in her necklace than Hal. Also, Hal (center picture) has white markings on his forehead just above the beak. In contrast, Harriet (right picture) has dark markings on her forehead that touch the beak.
Hunting
Ospreys hunt in flight; it is rare to see them hunt from a perch. Gliding 30-100 feet above the water, they use their excellent eyesight to look for fish just under the water's surface. Once they've spotted their prey, they hover above it, then dive towards the water. At the last moment, before hitting the water, the osprey swings its legs forward and bends its wings back, so that its feet hit the water first. There is often a wild display of splashing and struggling as the bird makes contact with a fish.

Even though ospreys have nostrils that open and close and thick plumage to protect them during a dive, they can't swim. They must use their powerful wings to lift them out and away from the water with their prey in their talons. On a rare occasion, an osprey will drown after getting its talons caught in a fish that is too heavy to lift.
If you are lucky enough to see an osprey catch a fish, you will notice that its wing beats are almost horizontal when it is lifting the fish out of the water. This is when some of the greatest acrobatics occur, because once the osprey clears the water with a fish, it may reposition the fish so that the catch is headfirst to cut down on wind resistance.
Occasionally, you may witness other acrobatics. Ospreys and eagles fish in similar habitats. Sometimes an eagle will battle an osprey for its catch, forcing the osprey to drop the fish. If you are lucky enough, you may witness the eagle catch the osprey's fish in mid-air.
Hunting success depends on the skill of individual birds, weather, and water conditions (like the tide in coastal areas). Still, dives are quite successful: At the lower end, 1 in 4 dives will catch a fish. In ideal conditions, ospreys will catch a fish 3 out of 4 times.
Vocalizations