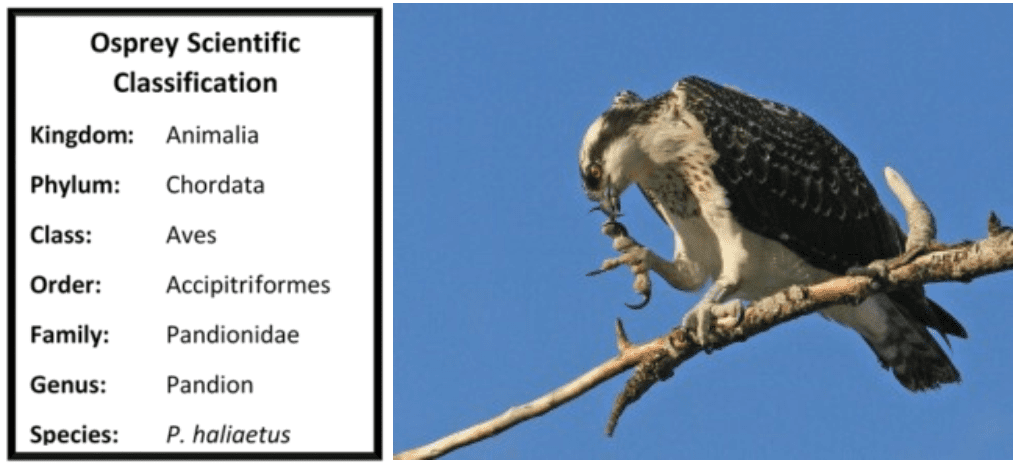 Osprey and other raptors such as hawks, eagles, and harriers belong to the order Accipitriformes. While ospreys are sometimes call sea hawks or fish hawks, hawks and ospreys belong to different families. Hawks, eagles, and harriers are part of the family Accipitridae, whereas osprey are the sole members of the family Pandionidae.
There are four recognized subspecies of osprey, differentiated by geographic region, with few differences between them: Pandion haliaetus carolinensis, P. h. haliaetus, P. h. ridgwayi, and P. h. leucocephalus.
The genus name, Pandion, comes from the mythical Greek king of the same name, who transformed into an eagle. Haliaetus is derived from the Greek word for sea eagle, although ospreys are not considered a sea eagle.
The common name, osprey, comes from the Anglo-French word ospriet and the Medieval Latin word avis prede or "bird of prey," which, in turn, derives from the Latin avis praedae. There may also be an association with the Latin word ossifragaor or "bone breaker."
Ospreys have been around for a very long time. Bones belonging to an earlier species of Pandion have been found in both California and Florida and are estimated to be 13 million years old.
Lifespan
With an average lifespan of 7 to 10 years, ospreys live a relatively long time in comparison to other bird species. One European osprey lived to be over thirty years old! In North America, the oldest known female was twenty-three and the oldest male was twenty-five. It is rare that individuals reach this age.
We're not sure how old the Dunrovin Ospreys are. The osprey nest preceded the Millers at Dunrovin Ranch and it was very difficult to identify individual ospreys until the web camera went up in 2011. Harriet was positively identified using close-up photographs from the web camera in 2011, making her at least 9 years old. This year' male, Howler,  is new to the Dunrovin nest. He must be at least 3 years old to be breeding.
Size
Ospreys are considered medium to large raptors. Their body length is typically between 21-24.5 inches, with an average weight of 3 to 4.5 pounds. The average osprey wingspan measures an impressive five to six feet!
Geographically, ospreys vary in size based on whether or not they migrate north to breed. Tropical and subtropical species tend to be smaller than their northern breeding counterparts. Montana ospreys are on the larger end of the spectrum.
Identifying Characteristics

All ospreys have a white head with a dark stripe around each eye called the malar stripe or mask which may cut down on the sun's glare over water. Their short tails alternate dark and white bands of feathers, and they have white underbellies.Osprey wings are long, narrow, and have four finger-like flight feathers with a shorter fifth. In addition, when in flight, the silhouette of the osprey's wings form a distinct "M" shape.

All ospreys have a black beak that coordinates well with their pale blueish white feet and black talons. Ospreys also have several distinguishing features among birds of prey. They have toes that are of equal length, and the bones in their feet are reticulated (or net-like). They have rounded talons, instead of grooved talons. The ospreys' outer toe is reversible – a trait it only shares with owls. This allows them to carry their prey with two toes in the front and two behind, pincer-like. Other features of ospreys include gripping pads or spicules on their feet, as well as reversed scales that act as barbs. With all these fancy feet-ures, one might argue that there is no better way to grasp a slippery fish!

Ospreys have unique markings which are specific to individual birds. The pictures above show different markings on Hal ( the males at Dunrovin during 2015 through 2019) and Harriet. In the picture with both birds (Harriet on the left; Hal on the right) each has speckled markings on their chest. This is known as the necklace. Harriet has more speckles in her necklace than Hal. Also, Hal (center picture) has white markings on his forehead just above the beak. In contrast, Harriet (right picture) has dark markings on her forehead that touch the beak.
Raptors
People sometimes confuse ospreys with eagles, but the white underbelly of an osprey (left) is a dead giveaway. Ospreys are rightfully leery of eagles. Eagles often attack ospreys to steal the fish that ospreys catch. This is, in fact, how the first male osprey featured at the Dunrovin nest webcam died (see Remembering Ozzie Osprey). Eagles can also prey on osprey chicks as videos from an osprey nest webcam at Hog island Maine captured.

Both ospreys and eagle are raptors, also called birds of prey. All raptors have several similar behavioral and physical characteristics. They are carnivorous with strong, hooked bills for tearing flesh, powerful feet with long talons (claws) for grasping prey, and forward-facing eyes for acute long-distance vision. Most raptors molt their feathers in such a way that efficient flight is maintained at all times. They do not lose their flight feathers at the same time, but rather molt their primaries gradually, and in successive waves, starting near the body on each wing and working out toward the tip. Adjacent flight feathers are never molted at the same time.
There are many kinds of raptors, including ospreys, owls, hawks, eagles, falcons and vultures. Each kind of raptor has characteristics that distinguish it from other raptors. Ospreys are large, fish-eating hawks that plunge into the water from high above to catch fish with their talons. Osprey feet have a pivoting outer toe and sharp scales, which enable them to catch and grasp slippery fish.
Owls are silent, mostly nocturnal (nighttime) hunters. They have large eyes that gather large amounts of light, enabling them to hunt in darkness. They also have cup-like facial disks around their eyes, which help focus sound and improve hearing. Falcons have narrow, pointed wings that help them to fly fast and maneuver skillfully. They have black eyes, hooked talons and conspicuously notched bills (tomial teeth).
Vultures are scavengers (carrion eaters). They have unfeathered heads, which is an important adaptation for carrion-eating birds that poke their heads into carcasses to feed. Strong feet and sharp talons are not as important to carrion eaters because they don't catch and transport live prey.
Accipiters are woodland-dwelling hawks. They have long, squarish tails and short, rounded wings that enable them to maneuver through trees as they hunt for small birds. These characteristics are adaptations that enable raptors to survive in their unique environments.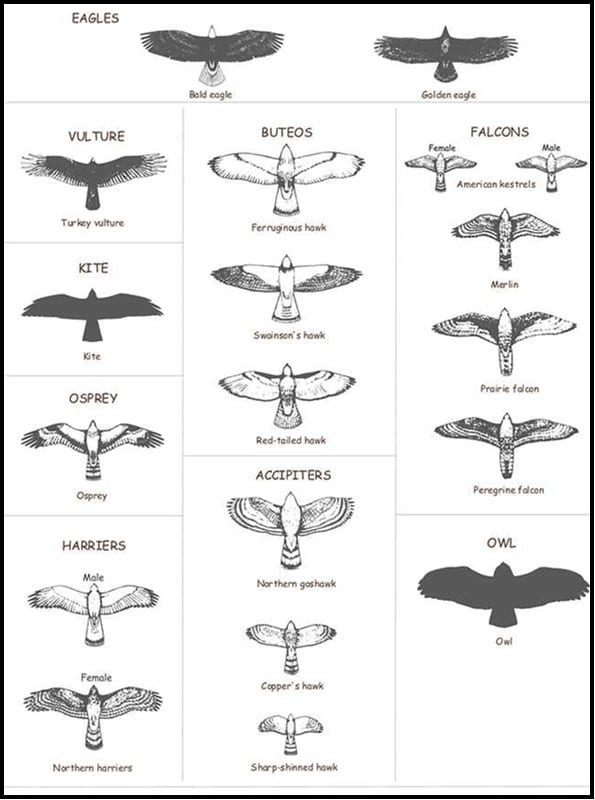 Raptors' Survival Advantages
strong, hooked bill tearing flesh
powerful talons grasping prey
small, unfeathered head keeping clean while eating carrion
broad, long wings soaring, searching for food
long, narrow, pointed wings skillful maneuvering and speed
short, rounded wings maneuvering through trees
short flight muscles long distance flying
notched bill (tomial tooth) shearing neck of vertebrate prey
soft fluffy feathers muffling sound
large eyes good vision at night
facial disks keen hearing
Ospreys' Survival Advantages
    Talons designed for catching and grasping slippery, wiggling fish
very long and sharp
can snap shut in 2/100 second
base of footpads and toes covered with short, sharp spines
flexible outer toe that can reverseposition, so there are two toes forward and two back
    Legs for reaching well-down into the water
    Beaks adapted for pulling and tearing loose bites of fish
strong and hooked
cutting edge
    Plumage needs to be waterproof and arranged to enable flight at all times
dense and oily
preen gland
molt flight feathers gradually and in successive waves
    Wings for strong flight for carrying fish out of the water and long migrations
powerful muscles
slightly bent shape
long