Sterling here! SuzAnne asked me to put together some information about the dynamics among our osprey chicks this year (2014), with the first-hatched ("Lunar" or #1) picking on the 3rd- hatched ("Shadow" or #3) and, more recently, the 2nd hatched ("Sol"or #2) joining in the aggression. There is only 48 hours difference in hatching time between #1 and #3 but #1 is significantly bigger and #3 significantly smaller than their siblings.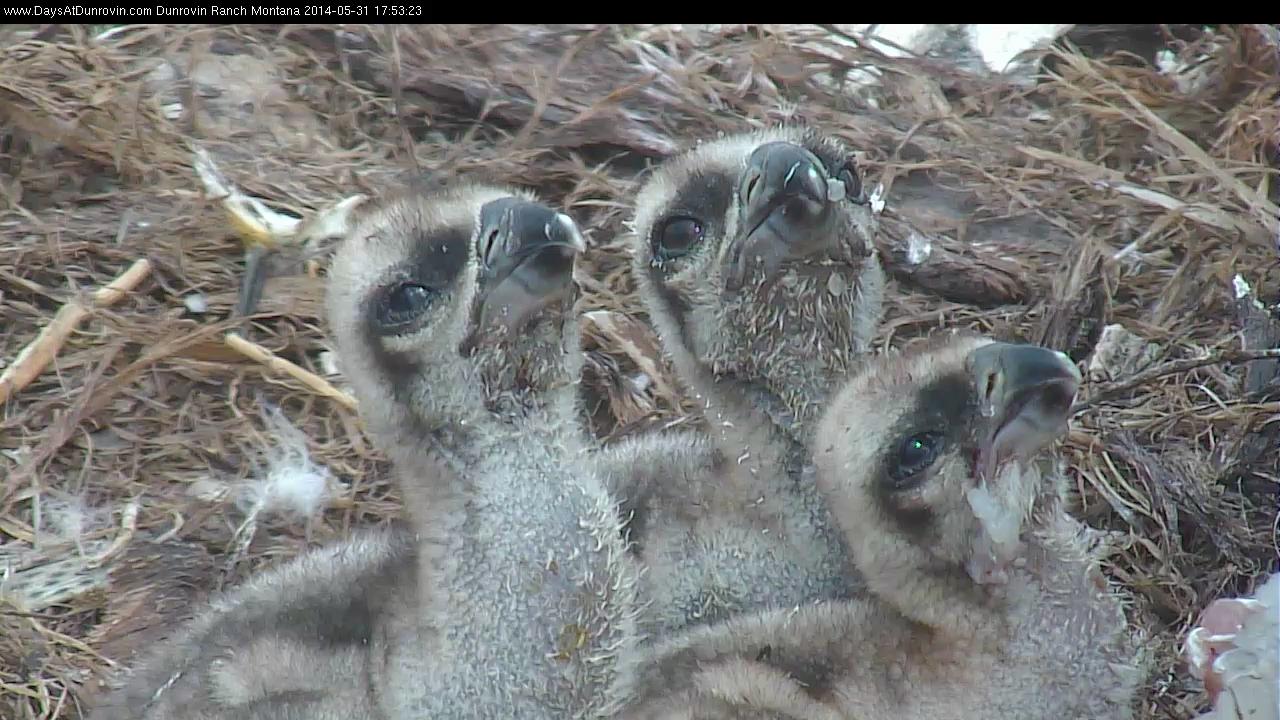 We don't know the sex of these chicks (and won't) but females are larger than males. And, of course, better-fed chicks are larger than chicks who are last in line for food. As we've observed, the mother ("Harriet") feeds the more-aggressive #1 first and this contributes to her/him being the largest, while  #3 is last in line to be fed and this likely is at least part of the reason s/he is smaller than the others.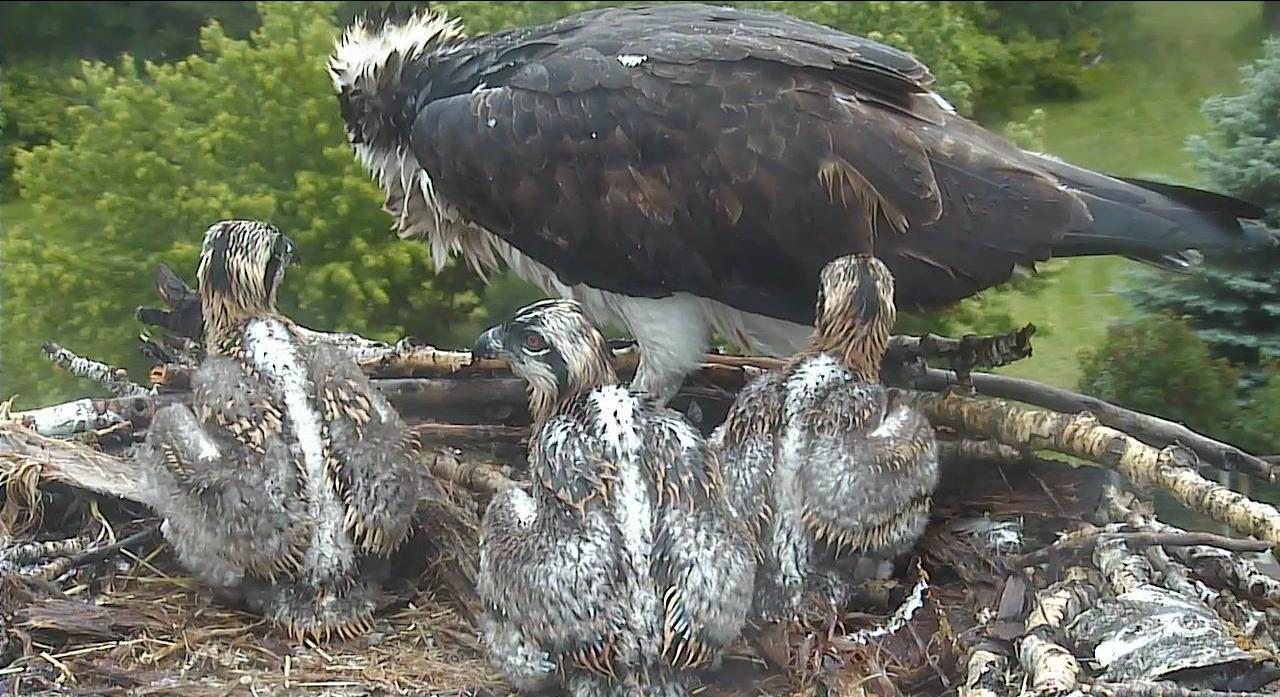 Fortunately, the male ("Ozzie") is an outstanding provider and brings in enough fish so all the chicks ultimately get fed. Later in the season, when the chicks require more food, Ozzie may not be able to assure that #1 and #2 get satiated thereby allowing #3 to survive. If fish become really scarce, #2 also may not get enough. From the parents' evolutionary standpoint, this makes sense: they are better off to assure that at least one chick survives than to distribute the food equally to all three, thereby potentially underfeeding all of them and making the whole nesting season a "loss" in terms of producing any surviving offspring. Biologists have long understood that the driving force behind evolution is the production of offspring that survive and carry their parents' genes on to successive generations.
What is somewhat surprising, to me, about this year's nest at Dunrovin is the level of aggression demonstrated by #1 especially and #2, to a lesser degree,  against #3. We didn't see this last year with another clutch of 3 chicks. Why the early aggressive behavior this year against chick #3 when, so far, there is no shortage of fish?
Perhaps #1 and #2 are establishing an early level of dominance against #3 as a mechanism to protect against a potential shortage of fish later in the season. This explanation requires also believing that the differences between last year and this year reflect differences in what might be called the individual "personalities" of the chicks. Among animals, humans are at the end of the spectrum where many behaviors are mediated by experience (learning) while insects or fish, for example, are at the other end where most behavior is instinctual (directed by genes).  No doubt osprey, like humans, have both learned and instinctual behaviors but the early behavior of chicks in the nest (what I've called here "personality") must be almost entirely instinctive.
I'm not aware of studies on the selective advantages of different personalities in chicks. However, I speculate  that over time the personality differences might benefit the parents by affecting chick survival differently in years with low and high food availability. This could act as a bulwark in places where food supply is unpredictable between years (as it is almost everywhere).
In years when food is abundant throughout the nesting period it would be better for chicks to tolerate and not pick on their siblings. After all, siblings have half of the same genes as their brothers and sisters in the same nest. Behaviors that enhance the survival of your genetic relatives is called "kin selection"  by evolutionary biologists. However, in years when food supply isn't adequate, it would be better for the parents to have chicks with personalities like we see this year where the "pecking order" is established early and aggressively. Over the lifetime of the pair bond, perhaps this variability in personalities of chicks would result in more offspring surviving than if all the chicks hatched with the same personality.
We may not like #1's personality much and we may agonize if #3 dies, but it is all part of the natural process that the osprey themselves, over the eons of their evolution through natural selection, have got right in the sense that it works best for them.
Postscript by SuzAnne Miller
After Sterling wrote this post, a very cold and rainy period of weather resulted in the Bitterroot River becoming very turbid, fast, and flooded. Ozzie was unable to deliver sufficient fish for all the chicks to survive and the smallest one named Shadow did die. Read: Casting a Shadow.