Huggable calico horses take shape through the loving hands of seamstresses across the world. Anthropological research reveals that the emotional benefits of relationships between humans and horses are felt by both parties. Oggy continues to make training progress as Brandon coaches Ashley.  Dunrovin's Animals as Helpers and Healers program continues to delight us all during our social gathering each Monday at Montana Socials.org.

pREVIOUS WEEKS BROADCASTS
Anthrozoology with Dr. Anne Perkins
Dr. Anne Perkins loves to think about the nature of the human/animal bond and to pose questions that can then be turned into research studies. Last week she showed us research results that indicated that horses are not only able to read human emotions, but human intent. This week, she explores how horses and humans may have impacted one another's evolution and asks us to contemplate the ways in which that co-evolution may be apparent in humans today  
Interview with Janet Rose from Equus International Film Festival
Janet Rose, the founder of the Equus International Film Festival, traces the lines of experience and education that crossed her love of horses with her love of journalism, storytelling, and filmmaking to take on the challenging task of creating a film festival devoted to horses. THIS is the backstory you'll enjoy hearing!!
A Herd For Hugs
Safe Eyes and Personal Patches
Lorraine and Loreen demonstrated how to affix the eyes and the personal patch to the calico horse. They reiterated how important it is that the huggable horses be completely safe for people of all ages, even tiny children who might put parts of the stuffed animal in their mouths. For that reason, the eyes and the personal patches must be made from felt and affixed with a blanket stitch to prevent them from coming off.   
Calico horses are popping up all over America and will soon be galloping into the arms of people who need a little extra TLC during the pandemic!  The map that James created to show where each calico horse was made has been filling up. Go to MontanaSocials.org and scroll down to the map. Click on each horse symbol to see a photo of the calico horse made at that location along with the creator's first name and city of residence.  Like the Pony Express, we are connecting Americans!  
News from Hashknife Ranch
You can't escape paperwork just because you work on a ranch. Brandon Carpenter explains how to collect mane samples for DNA analysis to prove the lineage of the Tennessee Walking Horses that he breeds and sells. While this is a necessary part of being a professional horse breeder, Brandon and SuzAnne discuss the issues that they have with the Tennessee Walking Horse Breeders and Exhibitors Association, to whom they must report.
Training Oggy
While Oggy's medical problem with the cellulitis in his leg continues to be an issue, it does not hinder his training progress with Ashley and Brandon. Oggy's laid back personality again shows itself in his reactions to the "sacking out" that Brandon has instructed Ashley to do with him. Exposing Oggy to all manner of objects on all parts of his body in a safe and uneventful way, builds his ability to approach new experiences with curiosity rather than fear.
Clicking with Mackenzie
As you will see in the video, last week Mackenzie and Michal had some fun with target training and halters
On the next episode of clicker training with Mackenzie, they'll go over how you get a donkey to stand in place without tying! And how that can be super handy.
They will also talk about grooming and basic husbandry with Canner. Early on, he was quite terrified of human touch and I'll go over how he recovered from that to actively seeking grooming and even enjoying having his teeth brushed! Be sure and join us this Sunday at 4 pm mountain or catch the broadcast Monday at 1!
Oggy's Owie Saga Continues
The vet has been back and forth to Dunrovin to confront Oggy's bout with cellulitis (see the This Week at Dunrovin for November 22, 2020). Our objective is to prevent permanent damage to Oggy's tendon and to preserve his athletic future.  At times like this, Dunrovin is grateful to share a relationship of trust with Matt Witzel of Western Montana Equine Veterinary Services .  Thank you, Dr. Witzel!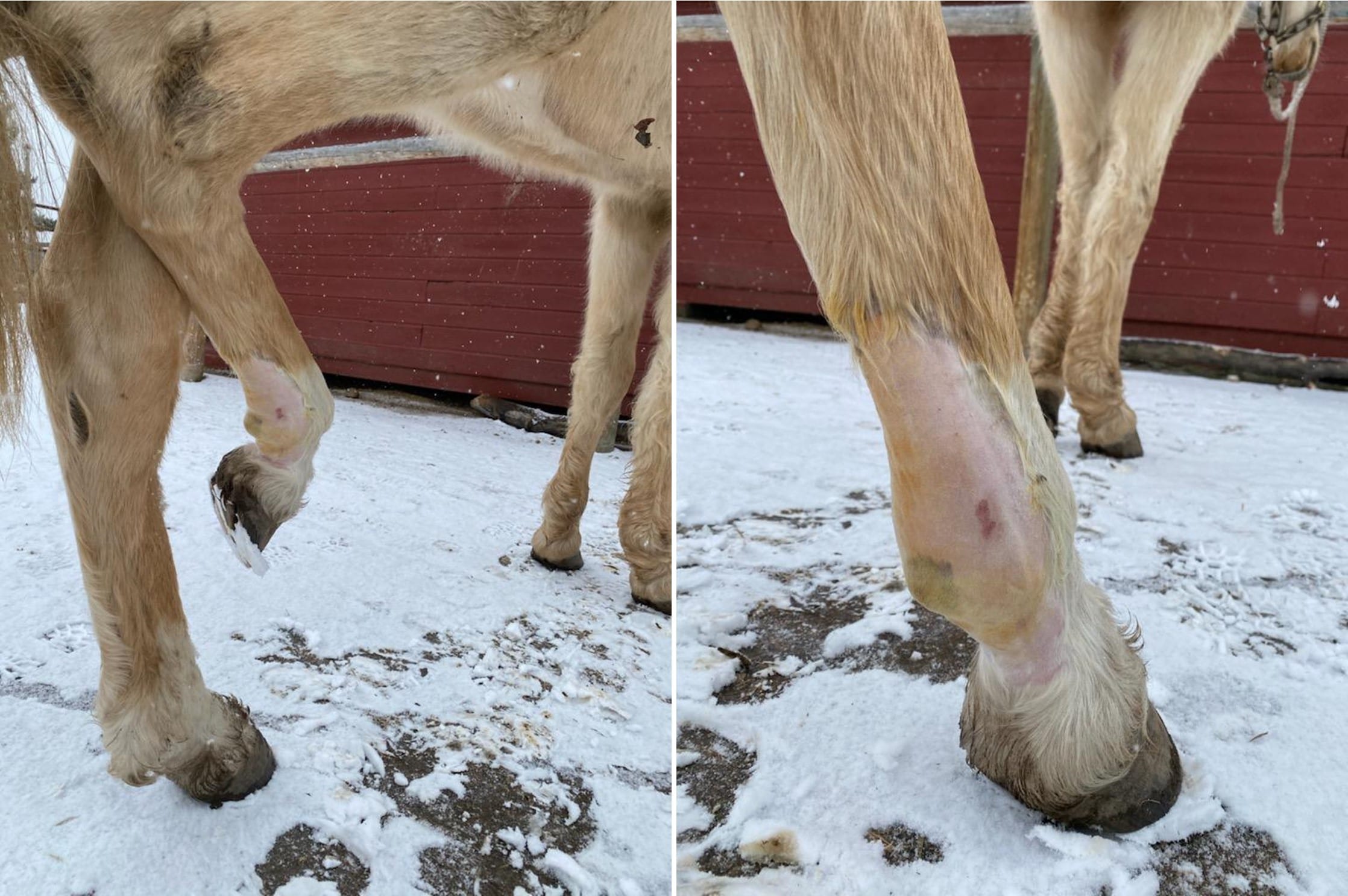 A Young Sharp-shinned Hawk Hangs Out at the Nest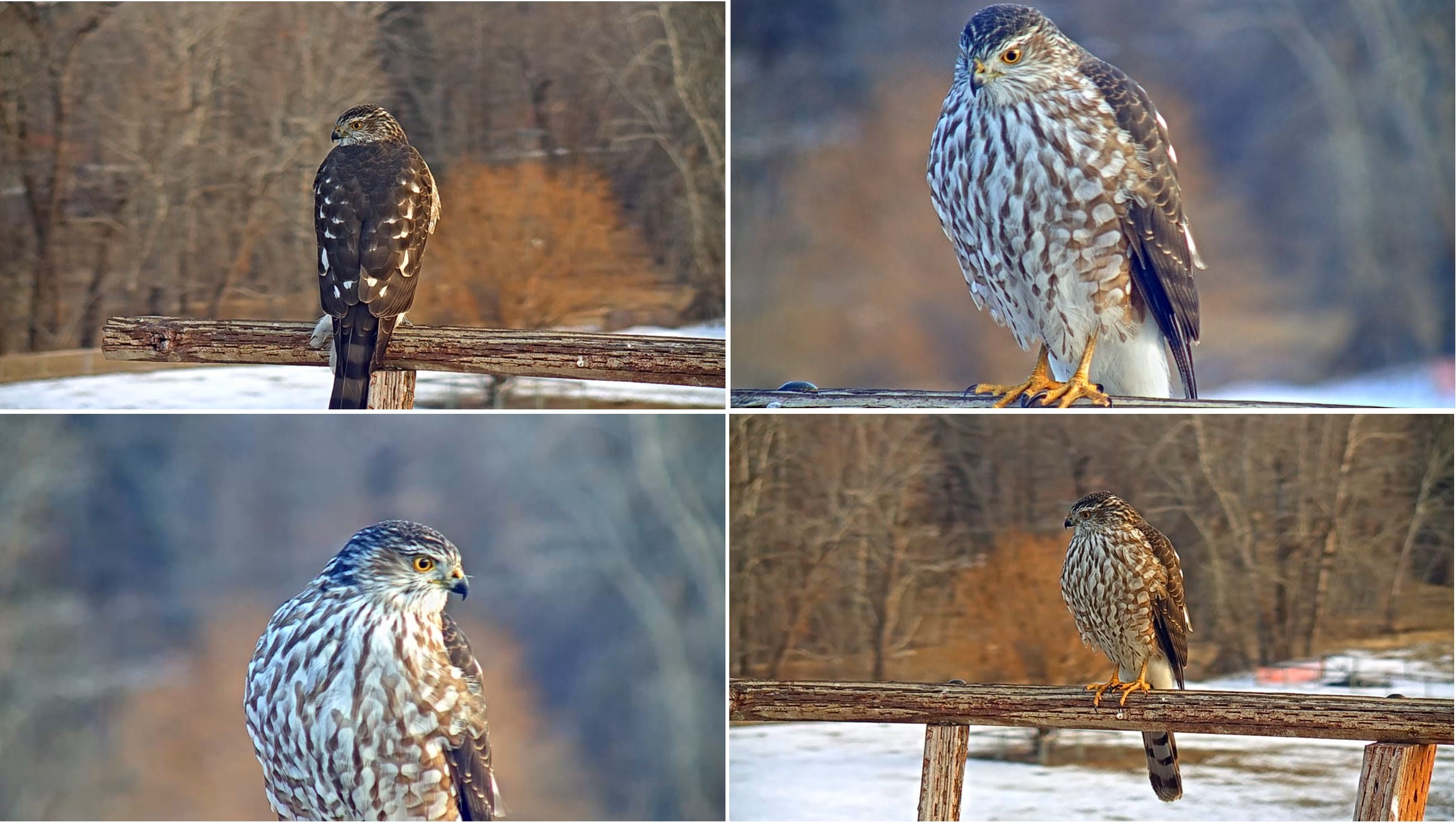 This lovely immature sharp-shinned hawk has recently made several appearances on the ospreys' nest. Twice now it has been seen scanning the skies, sighting a lone bird (both times it looked to be the size and color of a starling), and jumping into the air in hot pursuit. Unfortunately the final action of either hunting success or failure has been out of range of any of the cameras. In this short video, we use three different webcams to tell the story.
A Winter Sunrise Fills Every Webcam with Color!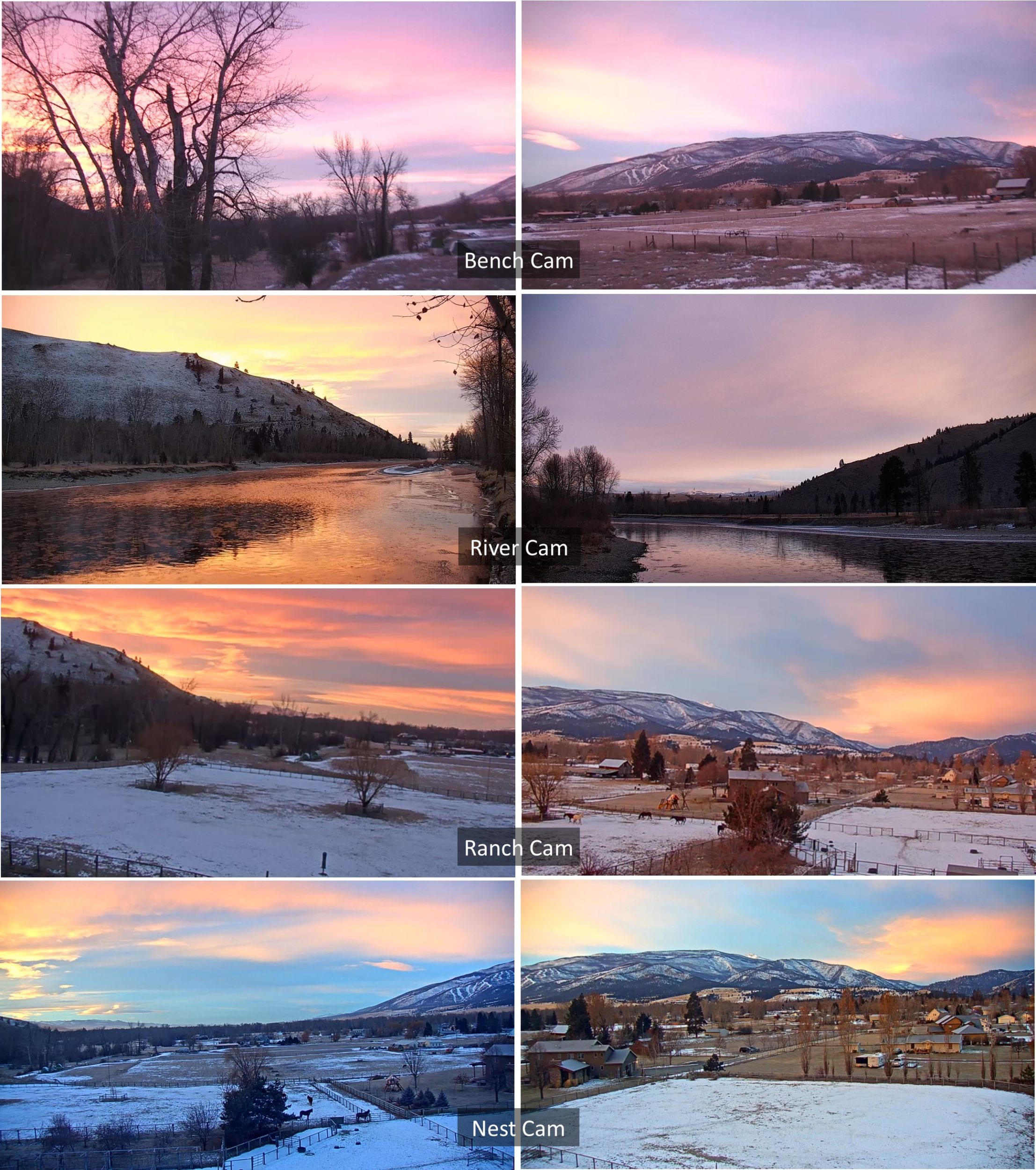 Last week we highlighted a delightfully purple winter sunset This week, we were treated to a most unusual and colorful sunrise.We're calling it a kaleidoscopic sunrise because of the many colors that just kept turning and changing. The purples and pinks turned to oranges and yellows which turned to grays and blues. Just when you thought the whole display was over, it started again! Take a breather to enjoy a musical colorbath from our nest backup webcam.

The Animals as Helpers and Healers Program Continues
The Monday's broadcast schedule at MontanaSocials.org is full with sessions  with exciting guests:
Be sure to check back frequently to MontanaSocials.org to see James' map that displays a photo at the location where each calico horse was sewn for A Herd for Hugs. If you haven't already joined the fun, hurry on over to the web page for A Herd for Hugs and get signed up. You can easily catch up by watching the  instructional broadcast recordings that can be found by clicking on the Previous Broadcasts button.
The Iceman Cometh!
It seems that James's pile of junk is finally turning into a very decorative piece of ice art that beguiles us both day and night. 

James made this short video of his efforts thus far. With a warming trend on the horizon, keep our eyes on what's next for this yet unnamed ice structure.
Get the weekly newsletter and broadcast schedule in your inbox every Sunday.