Animals pulling people seemed to be the theme this past week at Dunrovin. First we hear from Judy Krieth about her adventures using dogs to take her flying through the Alaska winter by harnessing the dogs to pull her on skis. Next we visit our stone boat project and the adventure of training Oggy to pull it.
Using Dogs and Horses to Pull

pREVIOUS WEEKS BROADCASTS
When Dogs are Welcome on Ski Adventures
Judy Combines her Love of Moving and Animals in the Sport of Skijoring
Judy Combines her Love of Moving and Animals in the Sport of Skijoring
Judy Krieth makes her living by gracefully moving her body. She is a professional dancer who as a young woman moved to Fairbanks, Alaska to teach dance at the University of Alaska. Anyone who has ever lived in the far north understands the rigors and mental challenges of long, cold, and dark winters. You must embrace them by finding an activity that pulls you outside regardless of the weather or the lack of light. Skijoring tapped right into Judy's love of dogs, her strong dancer's sense of balance, and her years of skiing from growing up in Colorado. As you will hear and see from her presentation on skijoring, she enthusiastically embraced this new sport, and traveled many miles in the Alaskan wilderness with dear friends and her loyal, hardworking Alaskan Huskies.
The Stone-Boat Nears Completion
Welding the Shafts is the Last Step
The design for the stone-boat started with Brandon sending James a drawing. Dunrovin lacks welding gear and James is not an experienced welder, so the metal shafts would have to be fabricated by a third person. This, of course, only increases the chances for miscommunication as James conveys Brandon's design to another person. James, being the careful and precise guy that he is, wants to be absolutely sure of what's needed before he gives the green light to the welder. After all, once welded, if it is wrong, you get to start over! Listen to James and Brandon iron out the details.
Oggy Makes Great Progress
Brandon Accelerates the Training Speed 
All the basic training steps that Brandon and Ashley have been taking to build a foundation of trust and clear communication is paying off. The training trio of Brandon, Ashley, and Oggy have reached their cruising speed. Ashley anticipates what to do and is reinforced by Brandon. Oggy may show reluctance, but his delay is driven by laziness more than fear. The trust is there.  He generally understands and is unafraid, but may simply prefer to be back with his pals doing nothing (like a few of my best friends!) Once he realizes that resistance is futile, he accepts new tasks. As you will see in this video, Brandon and Ashley are doing a terrific job of accelerating the training process.
Raptor Talk with Chelsea: Hawks
Dunrovin is Home to Several Species of Hawks
What a delight to have Chelsea working at Dunrovin this winter! Her interest and education in wildlife biology and ornithology make her an ideal guide through the world of raptors. Here is her first of four Raptor Talk sessions focused on the hawks that have been seen at Dunrovin.
This Monday at 2PM, she will present her second session on falcon. Stay tuned!

Ranch Chores with Ashley
New Hay Feeders Take Shape
Experimenting is Dunrovin's middle name and Ashley has totally adopted it as her own. She is determined to "get it right" and put together some hay feeders that will keep the hay off the ground, prevent the horses from throwing it out onto the ground, and be easy for the wrangler to fill during the busy summer season. She and James have been trying various methods and materials. Take a look.
Clicking with Mackenzie
Can a Horse Smile?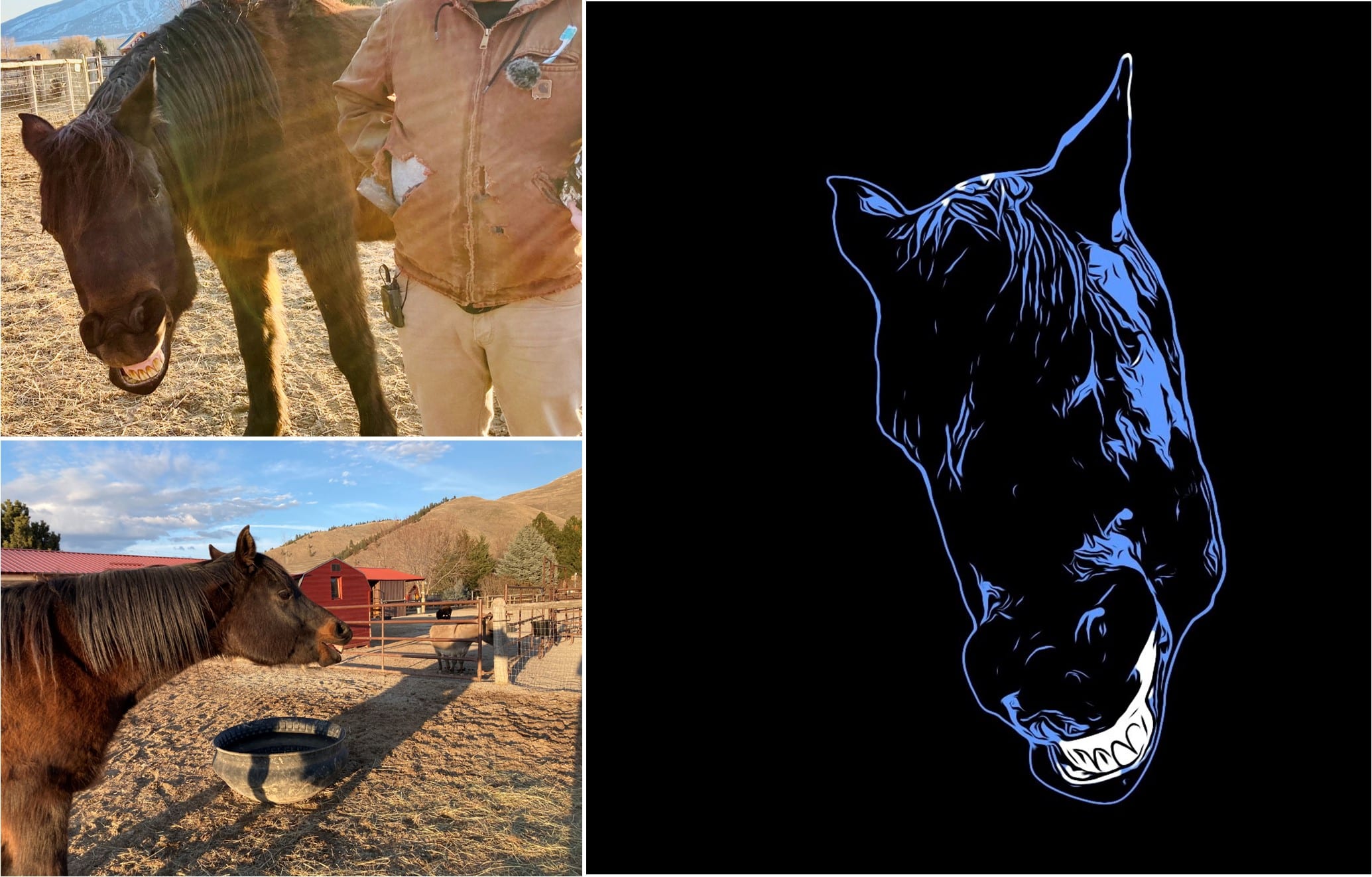 On this episode of Clicking with Mackenzie, the whole barnyard was smiling – or trying to! The DIVAS had a great go of learning to smile but needed a little more shaping to get there. They made up for it with loads of springtime enthusiasm. Canner on the other hand picked it up in barely a minute of training and spent the rest of the session adding "smile" to everything he knows how to do. He quickly came up with several novel combinations on his own:  Bow and Smile, Stomp and Smile, and Brush Your Teeth and Smile! Apparently, he has always just wanted to be in a pageant to show off his great big grin.
Next episode, they'll keep the smiles coming and see if Gertie and Maude can catch up to Canner's proficiency. They'll also take some inspiration from Canner and let all three equines invent their own tricks! Join us Monday at 6:30 PM Ranch time to catch all the antics! See you on Monday at 6:30PM.
Ruby Has Been a Year Round Resident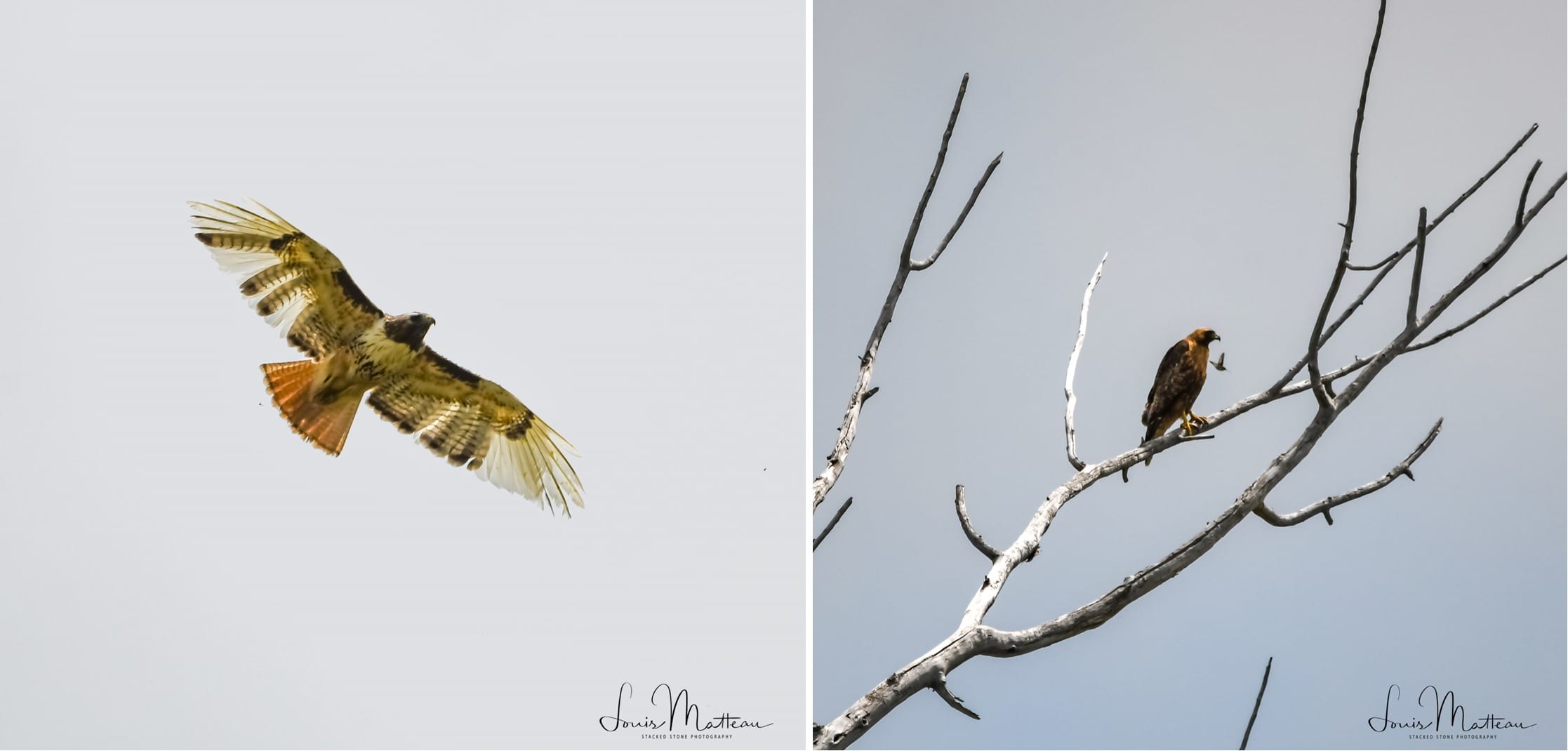 Ruby, the red-tailed hawk that nested here last summer with that gorgeous and unusual fellow Luc, has remained within sight of the web cameras all year. Luc was named for his coloring.  He is leucitic and sports numerous white, rather than brown, feathers. We haven't seen him return to Dunrovin yet, but this is not unusual for him. While he has made an appearance every year for the past four, he has not been seen outside of the breeding season. Hopefully he will return to Ruby to raise another couple of chicks. We had such fun watching the family all last summer.
Midnight Flyers

The flying squirrels have again been sighted at the bench bird feeding station. Dunrovin didn't even know that it was home to these nocturnal creatures until one of our volunteer cam operators had a restless night and was able to capture them in action. Unfortunately they visit during the early morning hours when a webcam operator is generally not on hand to retrieve close-ups. A digital zoom was used on this video to show more details

Don't Forget to Join Us for the Monday Socials!
  7:30AM - Sunrise Webcam Tour with James

  8:00AM - Morning Chores

  9:00AM - News from the Hashknife Ranch with

Brandon Carpenter

   9:30AM - Training Oggy with Ashley and

 Brandon Carpenter

 12:00PM - Mystery Ranch Chore with Ashley

  1:00PM -  Welcoming Spring with Hobie Hare

  2:00PM -  Avalanche Rescue with David Moss

  3:00PM - Raptor Talk with Chelsea: Falcons

  4:00PM - Feeding the Herd

 6:30 PM - Clicking with Mackenzie
Avalanche! 
David and His Friend Miraculously Survive
Dunrovin Ranch owners SuzAnne and Sterling Miller feel blessed to belong to a large, eclectic and loving family known as the Miller-Leeper clan. Among its many members are Cedar (Sterling's stepsister) and her husband David. Both Cedar and David are spiritual advisors and creative writers. David is a retired ordained minister of the United Methodist Church, while Cedar is a spiritual guide and healer within the shamanic tradition. They have led lives of service to others and their individual writing reflects a world view molded by their experiences.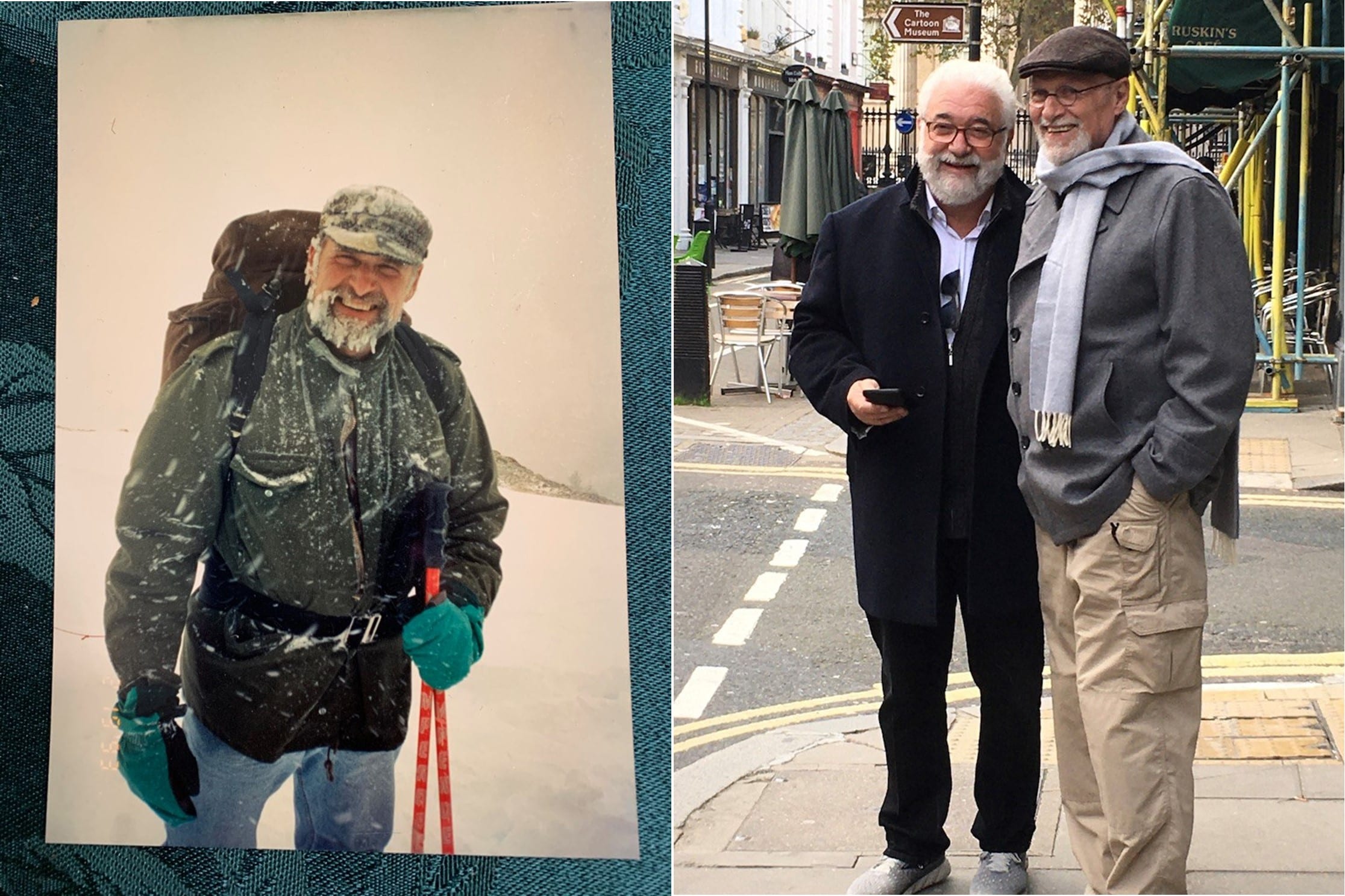 Recently David wrote a piece describing an event that few survive - an avalanche in the northern California Sierra Nevada mountains. Not only did he survive but, against all odds, he and members of a rescue team that included a dog, rescued his long time friend and fellow spiritual leader. It was a profound experience for all involved. Please read David's beautifully written story and then join us on Monday at 2PM to watch a national televised re-enactment of the event followed by a conversation with David and SuzAnne.
Spring Officially Arrived This Week
Welcoming Spring with Hobie Hare
This spring is especially welcomed as we begin to emerge from our long winter that coincided with one of the most challenging periods we have all faced: that of the Covid-19 pandemic. Hobie helps us find inspiration and healing in nature. During his upcoming broadcast he will draw from his recent article We Will Grow from This.  He encourages us to "spend more time immersed in nature, by yourself and with others. Notice and observe what stands out for you. Whenever you make time for consistent nature connection, you're creating boundless opportunities to grow, thrive and prosper."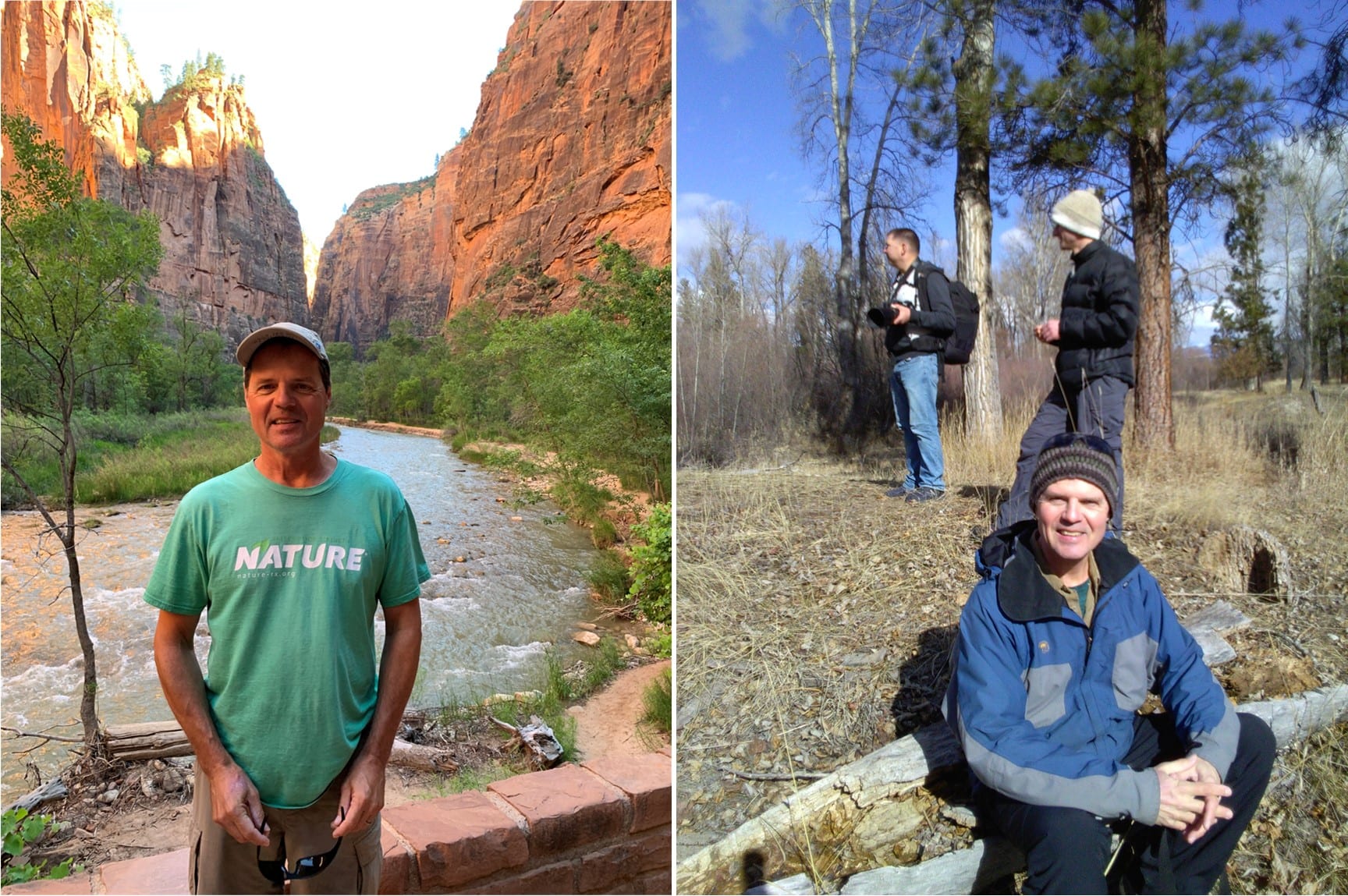 Get the weekly newsletter and broadcast schedule in your inbox every Sunday.